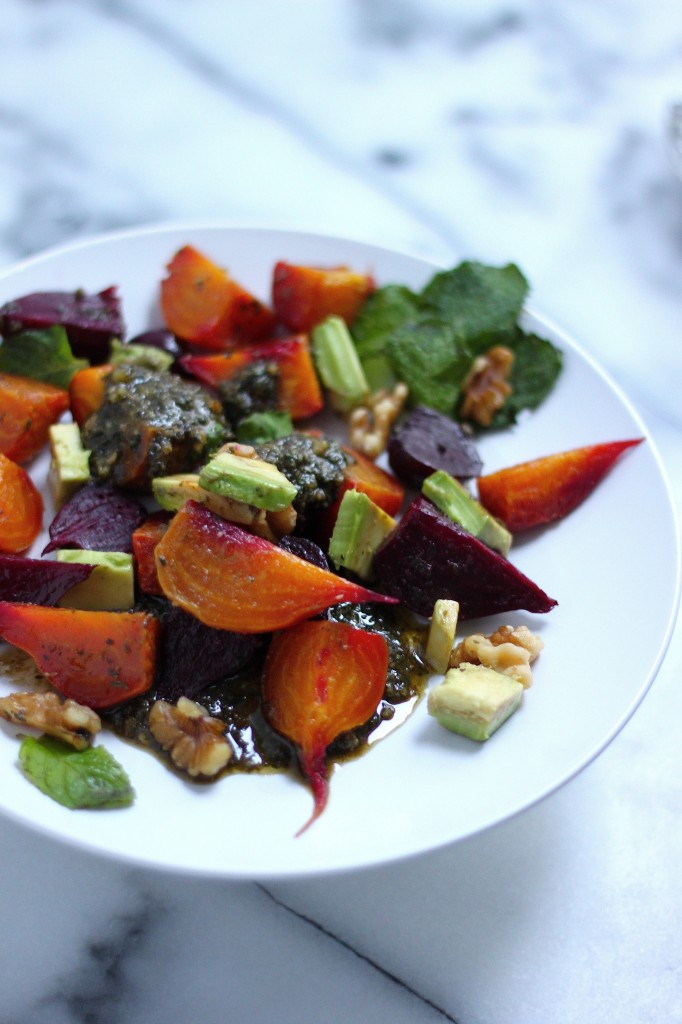 Hi guys! So after eating wonton soup and pizza for almost a week straight (I'm a junk food binger when the going gets tough), I was so excited to mosey down to the market and veggie-it-UP! Baby beets, creamy avocados, and fresh mint all made their way home with me, and more importantly, into this lovely salad. Yay!
This salad is so simple and pretty, but has a huge punch of flavor thanks to the walnut mint pesto. Mmm! It's also vegan, which makes it a great option for your menu when non-dairy consumers are gracing your table. All around, it's a (delicious) winner!
Happy Friday, friends! We're heading home this weekend to see my mom, and our adorable baby niece. I think we might go pumpkin picking
So excited!!!
What are you guys up to? xo
Baby Beet & Avocado Salad with Walnut-Mint Pesto – Baker by Nature
Serves 4-6
Ingredients:
For the beets:
2 bunches red baby beets
2 bunches golden baby beets
4 tablespoons olive oil
For the Walnut – Mint Pesto:
1 cup fresh mint
1/2 cup fresh parsley
1/4 cup walnuts
1 garlic clove, smashed
1/2 teaspoon salt
1/4 cup + 2 tablespoons olive oil
For the salad:
1 ripe avocado, diced into small chunks
2 tablespoons walnuts, roughly chopped (optional)
Salt and pepper to taste
Instructions:
For the beets:
Preheat oven to 350 degrees (F). Wash and dry beets. Place each beet in a piece of tin foil, drizzle with a small amount of oil, and wrap foil around tightly. Place beets in a deep baking dish, and bake for 50-55 minutes, or until beets are pierced easily with a fork and the skin peels right off. Let beets cool completely before peeling; they'll be very hot!
Once peeled, cut beets into quarters and arrange on a large serving platter.
For the walnut-mint pesto:
In a food processor puree the mint, parsley, walnuts, garlic, and salt. With the processor runner, add the oil, and blend until fully incorporated. Transfer pesto to a small bowl, and mix in the remaining oil.
For the salad assembly:
Add diced avocado to the platter of beets. Drizzle pesto over top, and sprinkle with walnuts, salt and pepper. Serve at once, or keep refrigerated until serving.