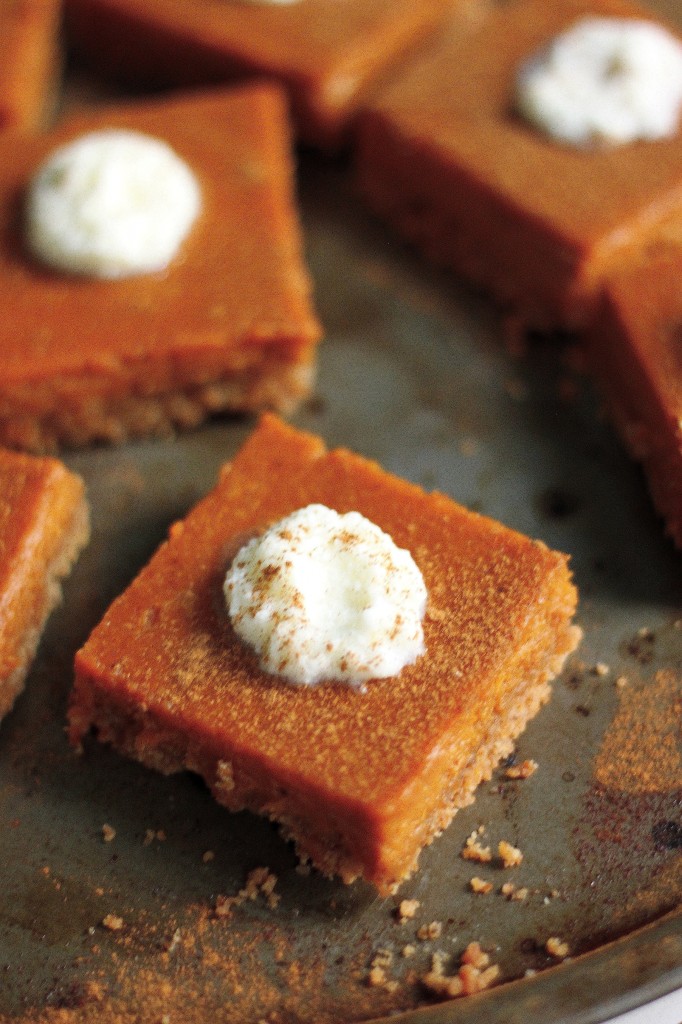 Hi friends!
Recently I felt inspired to try my hand at a fun little twist on pumpkin pie. I love the classic pumpk pie as much as the next guy, but variety's the very spice of life! And I like to shake things up once in awhile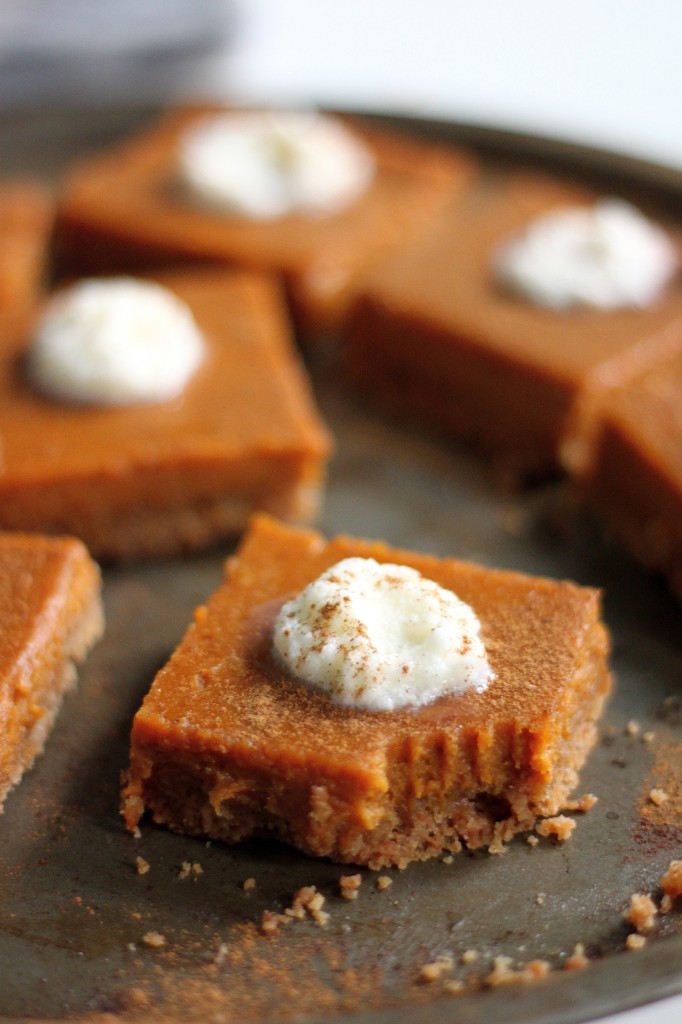 If you're a fan of rich, creamy pumpkin pie and are looking to pop it up a notch with some fun friends like brown butter, salty pretzels, and bourbon whipped cream, this is SO the recipe for you!
Just be warned… sharing these sweet little squares is HARD! I highly suggest hiding 5 in the fridge before company comes over. Xo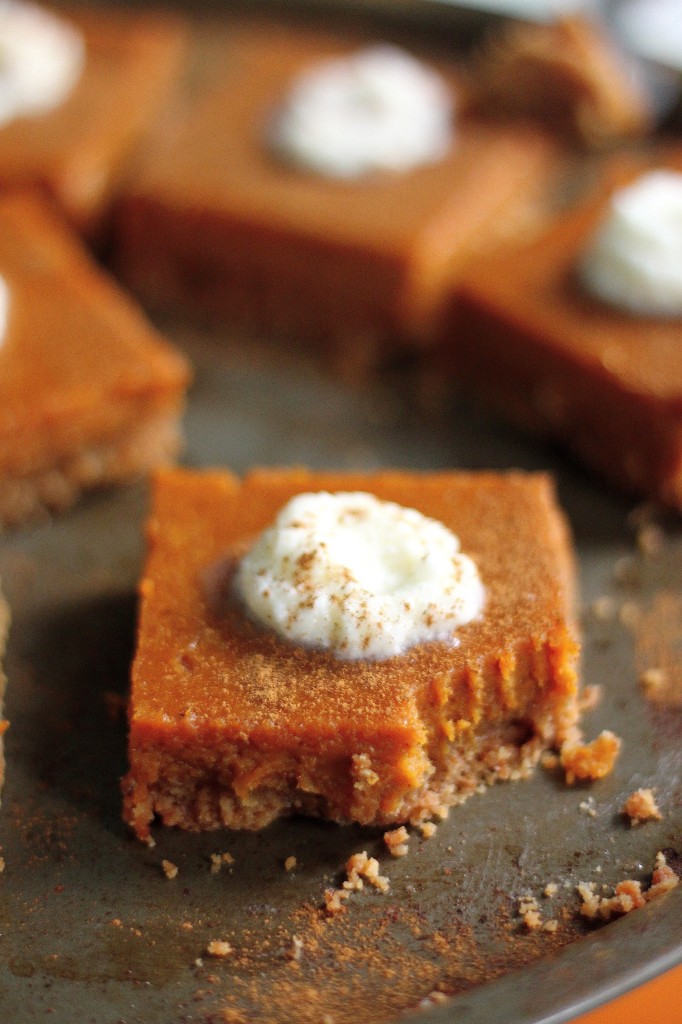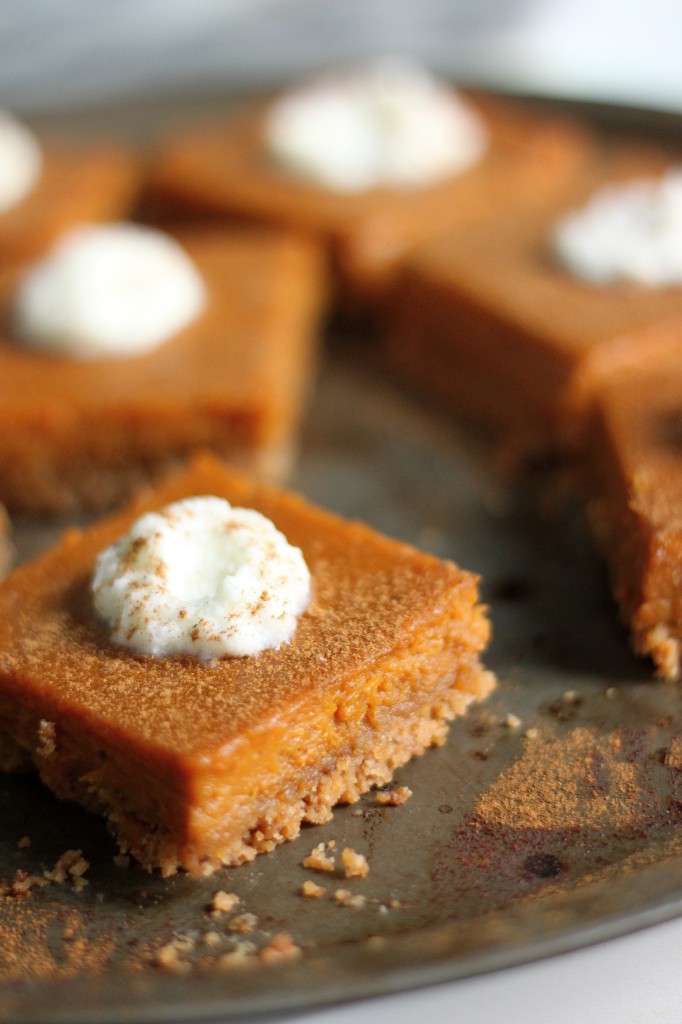 Silky Brown Butter Pumpkin Pie Bars with Brown Butter Pretzel Crust and Bourbon Whipped Cream – Baker by Nature
For the Brown Butter Pretzel Crust:
2 cups salted pretzels, pulsed into crumbs
6 tablespoons unsalted butter, browned
1/3 cup + 1 tablespoon granulated sugar
1/2 teaspoon vanilla
1/2 teaspoon cinnamon
1/4 teaspoon salt
Instructions:
Grease a 9 x 13 x 2 inch baking pan, line it with parchment paper, then grease the parchment paper; set aside.
In the body of a blender combine pretzels, cinnamon, salt, sugar, and vanilla. Pulse until the pretzels have been completely smashed into tiny crumbs. Add melted browned butter; stir well to combine. Press mixture evenly into prepared pan. Pour pumpkin mixture on top of crust when ready to bake.
For the Bourbon Whipped Cream:
1 cup heavy cream
3/4 cup powdered sugar (plus more if a sweeter cream is desired)
1 teaspoon orange zest
1 – 2 tablespoons kentucky bourbon
1/2 teaspoon vanilla
Instructions:
Place the cream in a stand mixer with the whisk attachment and beat on high until stiff peaks begin to form. Add sugar, bourbon, orange zest, and vanilla, and beat for another 2 minutes. Dollop on top of pumpkin pie bars, or place in the refrigerator until needed. Keeps for 48 hours.
For the Silky Brown Butter Pumpkin Pie Filling:
7 tablespoons unsalted butter, browned
2 1/4 cups granulated sugar
(1) 8 ounce package cream cheese, cut into cubes and at room temperature
(1) 15 ounce can of pumpkin puree (Not pumpkin pie filling)
3 large eggs + 1 egg yolk, at room temperature
2 teaspoons vanilla extract
1 teaspoon cinnamon
1/4 teaspoon ground ginger
1/4 teaspoon nutmeg
1/8 teaspoon cloves
Instructions:
Preheat oven to 350 degrees (F).
Place butter in a small sauce pan and cook over medium low heat – stirring almost constantly – until it browns slightly and begins to smell nutty. Remove pan from heat and set aside.
Place sugar in the body of a blender and pulse for 45-60 seconds, or until it's become powdery and white. Add cream cheese and beat for about 2 minutes, or until light and fluffy. Add pumpkin and beat for another 2 minutes, then add browned butter and beat for an additional minute. Add eggs, vanilla, and spices, and blend mixture – stopping once or twice to stir with a rubber spatula – for 2-3 minutes, or until the mixture is completely combined.
Pour mixture in to prepared pan over the crust, and spread evenly with a rubber spatula. Bake for 45 minutes – 1 hour, or until the center is set. Mine was done at exactly 51 minutes.
Cool squares in the pan until they're cool to the touch – about one hour – then cut into small pieces or refrigerate until serving.
When you're ready to serve, top each square with a dollop of whipped cream and a dash of cinnamon.