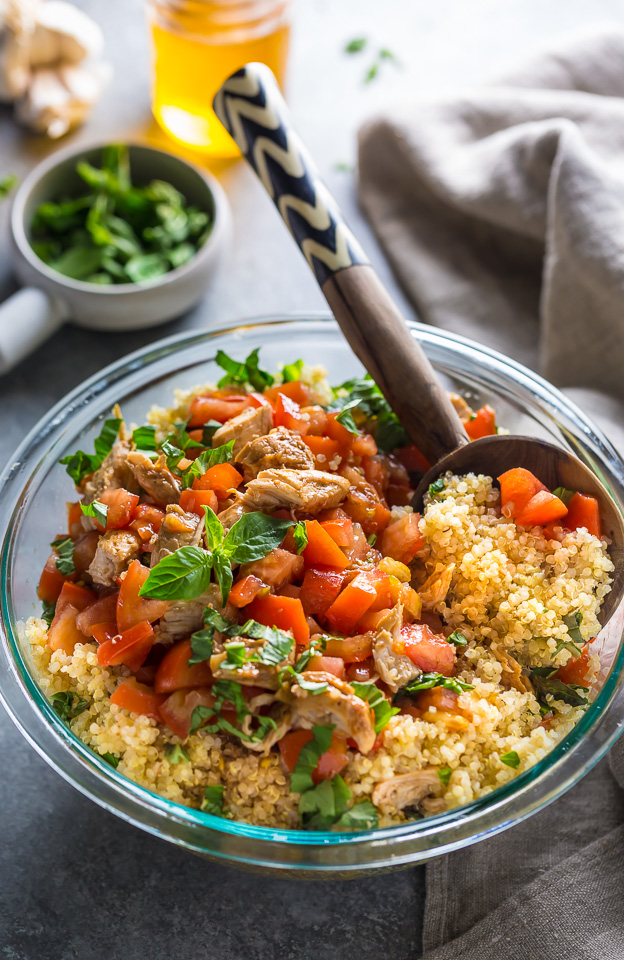 20-Minute Chicken Bruschetta Quinoa Salad
Yield 8 servings
This 20-Minute Chicken Bruschetta Quinoa Salad is the perfect Summer meal!
Ingredients
For the Quinoa:
2 tablespoons olive oil
1 cup pre-washed quinoa
1/2 teaspoon salt
2 cups chicken broth (or water)
For the Bruschetta:
6 ripe vine tomatoes, diced
3 cloves of garlic, minced
1/4 cup extra virgin olive oil
3 tablespoons balsamic vinegar
(1) 4 ounce package fresh basil, thinly sliced
1 teaspoon salt
1/2 teaspoon freshly ground black pepper
1 rotisserie chicken, shredded into bite-sized pieces
Instructions
For the Quinoa:
Heat 2 tablespoons of olive oil in a medium sauce pan over medium heat. Add the dry quinoa and cook, stirring constantly, for 2 minutes. Add broth and salt. Turn the heat up to high and bring to a boil. Cover pan tightly with lid, turn heat down to low and simmer for about 10 minutes, or until all of the liquid has been absorbed and the quinoa is cooked. Spoon the cooked quinoa to a heat safe mixing bowl and set in the fridge to cool for a few minutes while you prepare the Bruschetta.
For the Bruschetta:
In a large bowl combine the diced tomatoes, garlic, olive oil, balsamic vinegar, basil, salt, and pepper.
Assembly:
In a large bowl combine the quinoa, Bruschetta, and chicken. Serve at once, or chill until needed.
Courses Dinner
Cuisine Italian
Recipe by Baker by Nature at https://bakerbynature.com/20-minute-chicken-bruschetta-quinoa-salad/