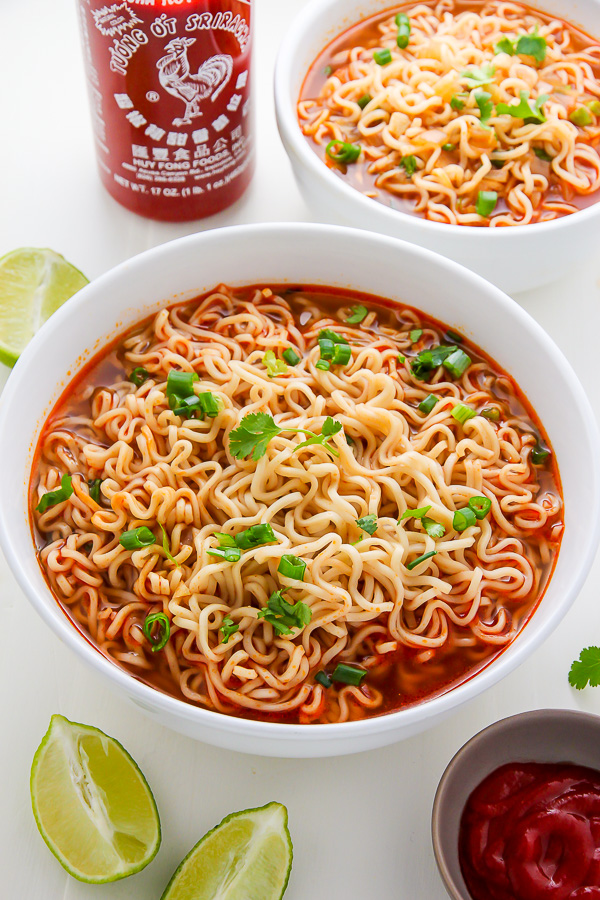 20-Minute Spicy Sriracha Ramen Noodle Soup (Video)
Yield 4 bowls
A spicy ramen noodle soup spiked with sriracha hot sauce and ready in just 20 minutes!
Ingredients
2 tablespoons sesame oil
2 tablespoons sriracha hot sauce
1 small onion, diced
1 small roma tomato, diced
1 tablespoon ginger, grated
5 cloves garlic, minced
1/2 teaspoon garlic powder
1/2 teaspoon celery salt
2 cups water
4 cups vegetable broth
1 tablespoon soy sauce
1 teaspoon rice vinegar (optional; only if you like tang)
3 packages ramen noodles
1/2 cup scallions, chopped
1/2 cup cilantro, chopped
4 poached eggs (optional)
Instructions
Add the sesame oil and sriracha to a large stockpot and bring to a simmer over medium-heat. Add the onion and tomato and cook for 4 minutes, stirring occasionally. Add the ginger, garlic, and seasonings; cook for 2 minutes or until fragrant. Add 2 cups of water and transfer mixture to a blender or food processor and pulse until smooth. Return mixture to the pot and add the broth.
Bring to a simmer; add soy sauce and vinegar (if using), and simmer for 8-10 minutes. Taste and adjust seasonings as needed.
Add the ramen noodles to the broth and simmer for an additional 2-3 minutes, or until the noodles have softened. Remove pan from heat, ladle soup into bowls, and top with scallions, cilantro, and eggs (if using). Enjoy!
Notes
If you plan to make this ahead of time, I advise making the broth and noodles separately. Drain the noodles and pat them dry, then stir them in right before re-heating and serving. This will help avoid the noodles becoming soggy and soaking up all of the broth.
Courses Dinner
Cuisine Asian
Amount Per Serving
% Daily Value
Recipe by Baker by Nature at https://bakerbynature.com/20-minute-spicy-sriracha-ramen-noodle-soup/