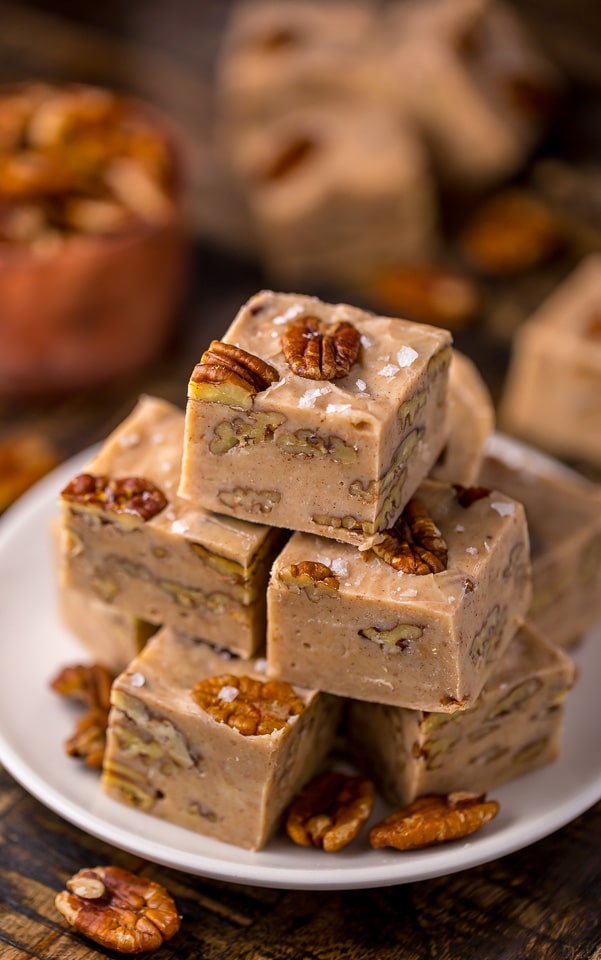 6-Ingredient Butter Pecan Fudge
Yield 24 Pieces
Butter Pecan Fudge Made with just 6 simple ingredients! Perfect for cookie trays and homemade holiday gifts!
Ingredients
For the Buttered Pecans:
1 and 1/2 tablespoons unsalted butter
1 and 1/2 cups pecan halves
For the White Chocolate Butter Pecan Fudge:
3 tablespoons unsalted butter, melted until browned
(1) 14 ounce can sweetened condensed milk
20 ounces high-quality white chocolate, roughly chopped
1 teaspoon vanilla extract
1/8 teaspoon salt
1 and 1/2 teaspoons ground cinnamon
Instructions
For the Buttered Pecans:
Melt butter in a large skillet over medium heat. Add in pecans and cook, stirring occasionally, for 4 to 5 minutes, or until lightly toasted. Using a large slotted spoon, transfer pecans to clean plate and set aside until needed.
For the White Chocolate Butter Pecan Fudge:
Line an 8x8-inch baking pan with parchment paper, allowing excess paper to overhang on two of the sides. Grease the parchment paper, and any exposed pan, and set it aside.

Melt the butter in a small heavy saucepan over medium heat. Once the butter has melted, reduce the heat to low and continue cooking, until the solids sink to the bottom of the pan and turn golden brown, about 5 minutes. Remove from heat, pour browned butter into a small bowl, and set aside until needed.

Fill a medium pot one-third full with water and bring it to a low simmer over medium heat. Place a heatproof bowl that will fit on top of the pan snugly, but will not touch the simmering water, on top of the pan. Reduce the heat to low and add the sweetened condensed milk, chopped white chocolate, and browned butter into the bowl over the pot. Heat until the chocolate is completely melted, stirring occasionally with a silicon spatula. Once the chocolate is completely melted, stir the mixture smooth, then carefully remove the bowl from the heat. Whisk in the vanilla, salt, and ground cinnamon. Using a rubber spatula, fold in the buttered pecans.

Scrape the fudge into the prepared pan and smooth the top. Sprinkle with sea salt, if using. Refrigerate for at least 2 hours.

Gently run a butter knife around the edge of the pan to loosen the fudge. Remove the fudge and transfer it to a cutting board. Peel off parchment paper, then slice the fudge into small pieces.

Store in an airtight container, in the refrigerator, for up to 1 month. You may also freeze the fudge, in an airtight freezer safe container, for up to 2 months.
Courses Dessert
Cuisine American
Recipe by Baker by Nature at https://bakerbynature.com/6-ingredient-butter-pecan-fudge/