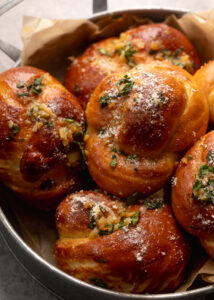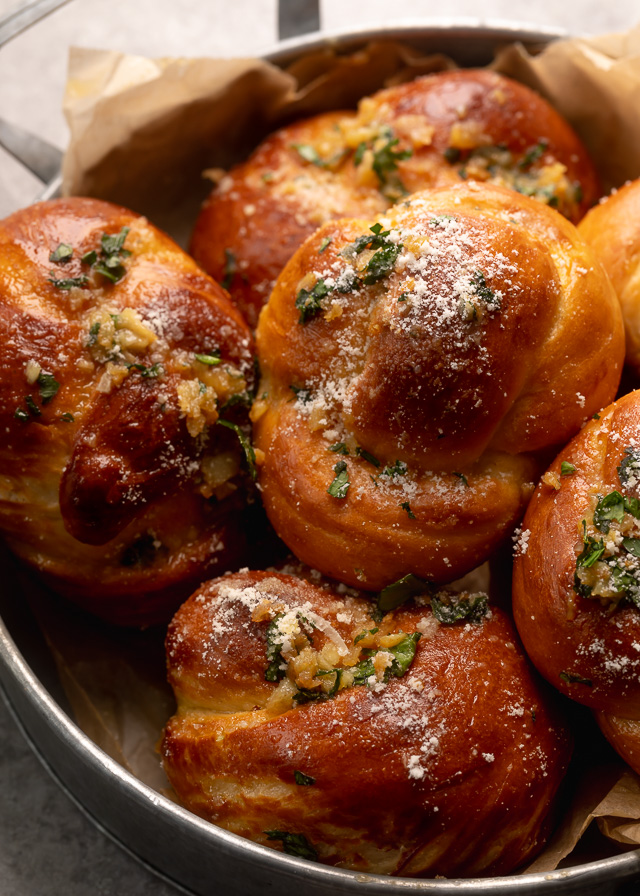 Soft Pretzel Garlic Knots
Yield 16 servings
Soft Pretzel Garlic Knots are chewy, flavorful, and so delicious! Made with a simple soft pretzel dough, they're shaped like knots and baked until golden brown. Then topped with garlic butter and parmesan cheese!
Ingredients
For the Dough:
1 and 1/2 cups warm water (between 110-115 degrees F)
(1) 0.25 ounce package active dry yeast
1 and 1/2 tablespoons granulated sugar
1 and 3/4 teaspoons salt
4 and 1/3 cups (520 grams) all-purpose flour
6 tablespoons unsalted butter, very soft
Cooking Liquid:
10 cups water
3/4 cup baking soda (yes, 3/4 CUP)
Egg wash:
1 large egg, beaten
2 teaspoons water 
For the garlic coating:
1 stick (4 ounces) unsalted butter, melted 
5 cloves garlic, minced
1/4 teaspoon salt 
1/4 teaspoon garlic powder 
1/2 cup fresh parsley, minced
1/4 cup Parmesan cheese, grated
Instructions
For the Dough:
In a large glass measuring cup, combine water, yeast, and sugar. Let stand for 10 minutes, or until mixture begins to foam. 
Pour the yeast mixture into the bowl of a stand mixer fitted with the dough hook attachment.
Add the salt, flour, and butter and knead on medium-speed for 12 minutes.
Cover dough with a warm damp cloth and place in a warm area of your house to rise for an hour, or until the dough has doubled in size.
Shape the Knots:
Turn the dough out onto a lightly floured surface and divide it into 2 equal pieces.
Place each round of dough onto a piece plastic wrap and let them rest for 10 minutes.
Dust the top of each round of dough with a light sprinkling of flour and, using a sharp knife, slice each into quarters. Then slice each quarter in half. You should have 16 pieces of dough. 
Roll out each quarter into an 8" rope, then tie it into a knot. Place the knots on the prepared baking sheets, cover loosely with plastic wrap, and set aside for 20 minutes. The knots will rise more during this time.
Assembly and Cooking:
Preheat oven to 425 degrees (F). Line two large baking sheets with parchment paper; set aside.
Add water and baking soda to a large pot and bring to a boil.
Place pretzel knots, one at a time, into the boiling cooking liquid. Cook for 30 seconds each. 
Remove pretzel knots with a slotted spoon, allowing any excess water to drip back into the pot before transferring back onto the prepared baking sheet. Repeat with all pretzel knots. 
Once all pretzels have been boiled, brush the top of each with egg wash.
Place the pan in the oven and bake for 18 to 20 minutes, or until deeply golden brown. 
Cool on the baking sheet for 5 minutes before topping with garlic butter. Serve warm.
For the Garlic Coating:
Melt the butter in a small pan over medium-low heat. Add in the garlic and simmer for 1-2 minutes, or until fragrant (be sure not to over cook it here).
Add in the salt, garlic powder, and parsley, and stir to combine. Taste to season (add more salt, if needed), then remove from heat. 
Brush the freshly baked knots with the garlic coating. Sprinkle with cheese and serve warm!
Courses Appetizer, Snack
Cuisine Italian
Recipe by Baker by Nature at https://bakerbynature.com/soft-pretzel-garlic-knots/