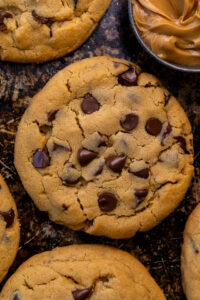 Bakery-Style Peanut Butter Chocolate Chip Cookies
Yield 2 dozen cookies
These Bakery-Style Peanut Butter Chocolate Chip Cookies are super thick, rich in peanut butter flavor, and loaded with gooey chocolate chips! Press extra chocolate chips on top and sprinkle with sea salt for an impressive presentation! A must bake for anyone who loves the combination of chocolate and peanut butter! 
Ingredients
2 and 2/3 cups flour (321 grams) 
2 teaspoons baking powder 
3/4 teaspoon baking soda 
1/8 teaspoon ground cinnamon (optional)
1 cup creamy peanut butter (269 grams) 
1 cup (227 grams) unsalted butter, at room temperature
1 cup (199 grams) granulated sugar
3/4 cup (142g) light brown sugar, packed
2 large eggs plus 1 egg yolk, at room temperature
2 teaspoons vanilla extract 
2 cups semi-sweet chocolate chips, plus extra for decorating
Flaky sea salt, for sprinkling (optional) 
Instructions
Preheat oven to 350 degrees (F). Line two large baking sheets with parchment paper and set aside. 
In a large bowl whisk together the flour, baking powder, baking soda, and cinnamon (if using). Set aside. 
In the bowl of a stand mixer fitted with the paddle attachment, or in a large bowl using a handheld electric mixer, beat the peanut butter and butter until smooth. 
Gradually add in both sugars, one at a time, and beat until well combined, about 2 minutes. 
On low speed, add in the eggs and egg yolk, one at a time, beating well after each addition, and scraping the sides and bottom of the bowl as needed. Beat in the vanilla. 
Gradually add in the dry ingredients, beating on low speed until just combined. Turn the mixer off. 
Using a rubber spatula, fold in the chocolate chips. 
Using a large cookie scoop, scoop out 1/4 cup portions of the cookie dough and roll it into balls. Place the balls on the prepared baking sheets, leaving at least 2-inches between each cookie for spreading. Gently press down on each cookie ball, slightly flattening the ball. This will help them spread evenly in the oven. 
Bake, one tray at a time, for 14 to 16 minutes, or until golden brown and set. Repeat with all cookie dough. 
When the cookies come out of the oven, press a few extra chocolate chips on top while they're still warm, and sprinkle with sea salt, if desired. Serve warm or cooled!
Notes
If you're not using a digital scale to weigh your ingredients, you may want to reduce the flour to 2 and 1/2 cups. Fluff up your flour first, then gently spoon it into the measuring cup and level it off with a knife. But for best results, weigh your ingredients.
Do not use natural peanut butter for this recipe. I recommend a regular creamy peanut butter like JIF or Skippy.
I have not tested this recipe with crunchy peanut butter and do not know how it will work.
Courses Dessert
Cuisine American
Recipe by Baker by Nature at https://bakerbynature.com/bakery-style-peanut-butter-chocolate-chip-cookies/