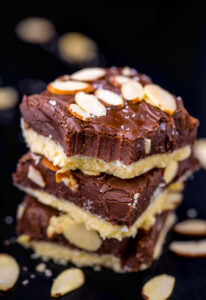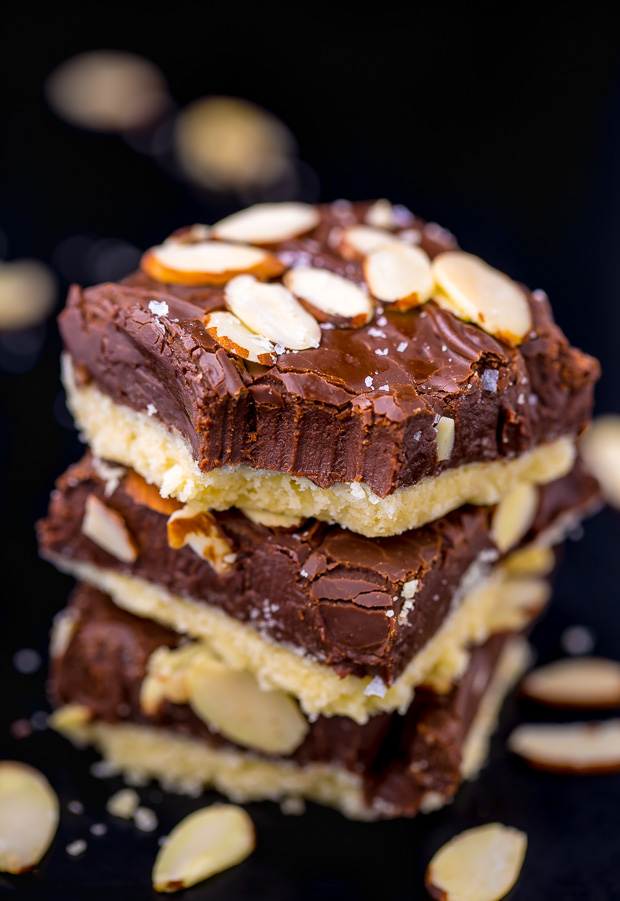 Almond Fudge Shortbread Bars
Yield 8 x8 pan, about 40 small squares
Incredibly decadent Almond Fudge Shortbread Bars are perfect for picnics, potlucks, holiday cookie parties, and more!
Ingredients
For the Shortbread Base:
1/2 cup unsalted butter, at room temperature
1/4 teaspoon almond extract
1/4 cup confectioners' sugar
1/4 teaspoon salt
1 cup all-purpose flour
For the Fudge Topping:
16 ounces semi-sweet chocolate, chopped
(1) 14 ounce can sweetened condensed milk
1 tablespoon unsalted butter, cut into small bits
3/4 teaspoon almond extract
1/3 cup sliced almonds, toasted
Instructions
For the Shortbread Base:
Preheat oven to 350 degrees (F). Line an 8x8-in baking pan with parchment paper, allowing two of the sides to overlap. Spray the parchment - and any exposed pan - with non-stick baking spray; set aside.
In the bowl of a stand mixer fitted with the paddle attachment, or in a large bowl using a handheld electric mixer, beat the butter, almond extract, confectioners' sugar, and salt until light and fluffy; 2 to 3 minutes. Gradually beat in the flour, mixing just until combined. The mixture will be a little crumbly.
Dump the mixture into the prepared pan and spread (or press firmly, if need be) it into an even layer. Bake for 13 to 15 minutes, or until lightly browned. Set aside to cool while you prepare the fudge topping.
For the Fudge Topping:
In a microwave-safe bowl, combine the chopped chocolate, sweetened condensed milk and butter. Microwave, uncovered, on low in 30 second increments, stirring in between, until the chocolate is completely melted; stir mixture smooth. Stir in almond extract. Spread mixture over the shortbread, smoothing with a spatula into an even layer. Sprinkle with the toasted almonds and press down on them slightly so they stick. Refrigerate until firm; about 2 hours. Cut into small squares and serve.
Courses Dessert
Cuisine Cookies
Amount Per Serving
% Daily Value
Recipe by Baker by Nature at https://bakerbynature.com/almond-fudge-shortbread-bars/