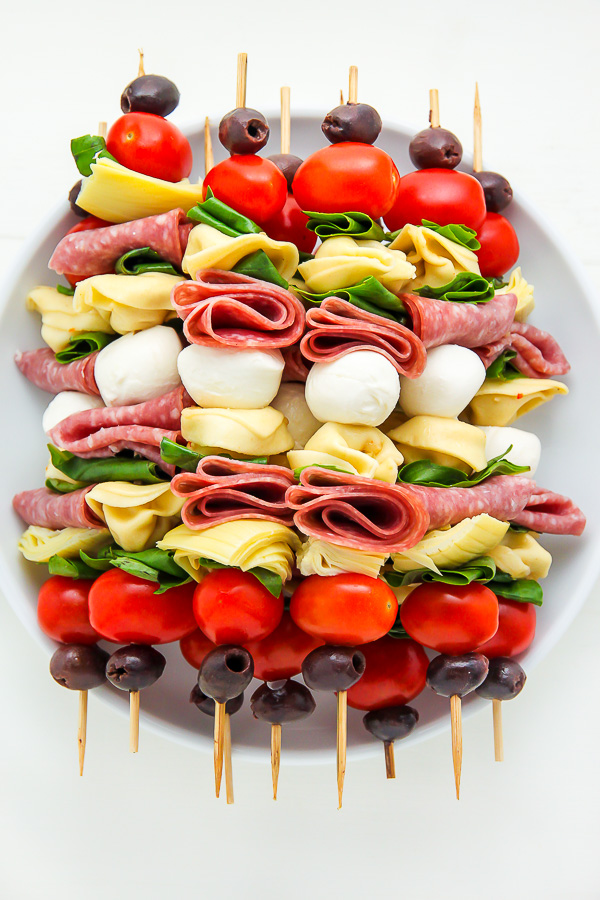 Antipasto Skewers
Yield 20 skewers
Easy and amazing antipasto skewers! The perfect party appetizer.
Ingredients
20 long wooden skewers
(1) 9 ounce package cheese tortellini
1/2 cup zesty Italian salad dressing
1/2 teaspoon tabasco sauce (optional, but it adds a nice kick)
40 olives (I used Kalamata but any kind you enjoy will work)
40 grape tomatoes
40 thin slices Genoa salami
20 baby mozzarella balls
40 pieces basil, torn
20 pieces chopped artichoke hearts
Instructions
Cook tortellini according to package directions; drain and quickly rinse in cold water. In a large resealable plastic bag, combine the tortellini with salad dressing and hot sauce, seal the bag, and turn it around a few times to coat; refrigerate for at least 15 minutes and up to 4 hours.
When ready to assemble, drain and discard any remaining marinade.
For each skewer, I threaded an olive, tomato, basil, tortellini, basil, folded salami slice, mozzarella ball, tortellini, basil, folded salami piece, artichoke heart, tomato, olive. You can switch up the arrangement if you like, but I find this order is visually appealing and delicious.
Notes
Double recipe as needed. Recipe may also be cut in half.
Courses Appetizer
Cuisine Italian
Amount Per Serving
% Daily Value
Recipe by Baker by Nature at https://bakerbynature.com/antipasto-skewers/