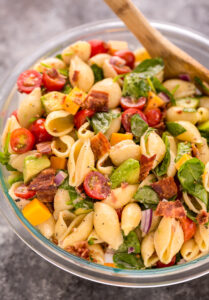 Avocado BLT Pasta Salad
Yield 8 servings
This Creamy Avocado BLT Pasta Salad is so easy and perfect for Summer celebrations! Loaded with crispy bacon, juicy tomatoes, spinach, avocado, and cheddar cheese. This flavorful pasta salad is always a crowd-pleaser!
Ingredients
1 pound shell pasta 
1 cup zesty Italian salad dressing
3/4 cup creamy Ranch salad dressing
1 pound thick cut bacon, fried until crispy 
1 and 1/2 cups cherry tomatoes, sliced in half 
2 large handfuls of baby spinach, roughly chopped
1/3 cup red onion, diced
2 avocados, diced 
4 ounces sharp cheddar cheese, cubed 
Salt and pepper, to taste
Instructions
Bring a large pot of salted water to boil. Add pasta and cook until al dente, about 10 minutes.
Drain pasta and rinse under cold water until cool.
While the water is coming to a boil, heat a skillet over medium heat. Add bacon strips, and cook until crispy, about 4 minutes on each side. Transfer bacon to a paper towel lined plate.
Place pasta in a large serving bowl and set aside.
In a small bowl combine zesty Italian dressing and ranch, mix well. Add dressing to pasta and toss well to coat pasta.
Add bacon, tomatoes, spinach, onion, avocado, and cheese to the pasta bowl, mix well to combine, and season with salt and pepper as desired. Serve at once, or chill until needed.
Courses Dinner
Cuisine American
Recipe by Baker by Nature at https://bakerbynature.com/avocado-blt-pasta-salad/