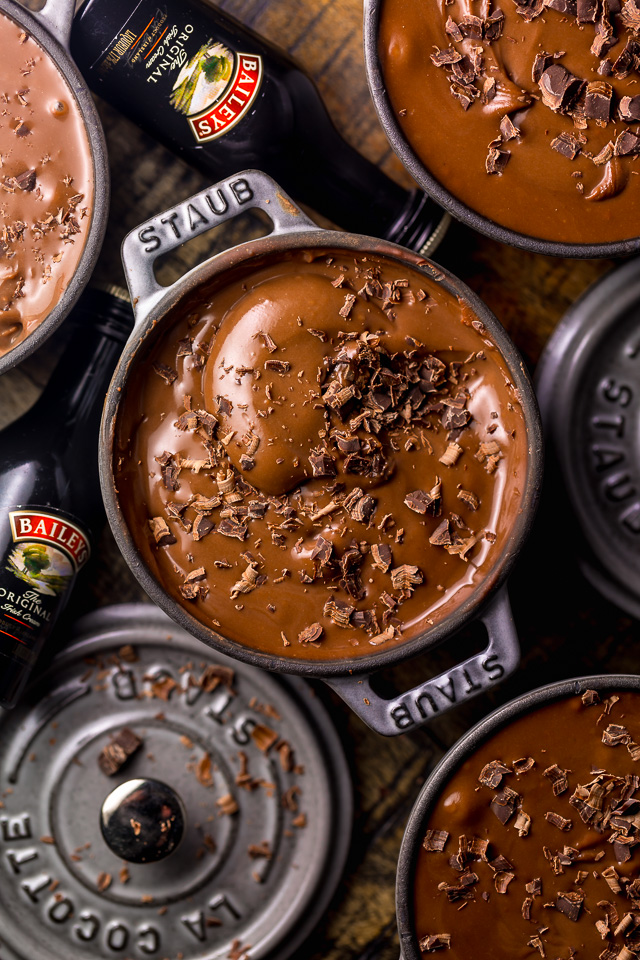 Baileys Irish Cream Chocolate Pudding
Yield 6 servings
Baileys Irish Cream Chocolate Pudding is thick, creamy, and utterly decadent! The perfect make-ahead dessert to celebrate St. Patrick's Day! To serve, spoon into small serving dishes and top the individual servings with shaved chocolate!
Ingredients
2 and 1/2 cups (20 ounces) milk, divided 
1/2 cup (4 ounces) Baileys Irish Cream 
1/2 cup (3.5 ounces) granulated sugar
8 ounces semisweet chocolate, coarsely chopped
1/8 teaspoon salt (tiny pinch)
1/4 teaspoon cinnamon
1 teaspoon espresso powder 
1/3 cup cornstarch 
2 teaspoons pure vanilla extract
Instructions
In a heavy-bottomed medium saucepan, combine 2 and 1/4 cups the milk (18 ounces), Baileys Irish Cream, sugar, chocolate, salt, cinnamon, and espresso powder. 
Cook over medium-low heat, stirring occasionally, until the chocolate is completely melted. About 6 to 8 minutes. 
In a small bowl, combine remaining milk (2 ounces) and cornstarch; whisk smooth. Slowly add the cornstarch/milk mixture into the saucepan.
Increase the heat to medium, and - whisking constantly - bring the mixture to a simmer. Reduce heat. and continue cooking for 2 to 3 minutes, or until thickened.
Remove from the heat, and stir in vanilla.
Pour the pudding into a large bowl or individual cups, then press plastic wrap directly onto the surface.
Refrigerate for at least 2 hours, or up to 3 days. 
Courses Dessert
Cuisine American
Recipe by Baker by Nature at https://bakerbynature.com/baileys-irish-cream-chocolate-pudding/