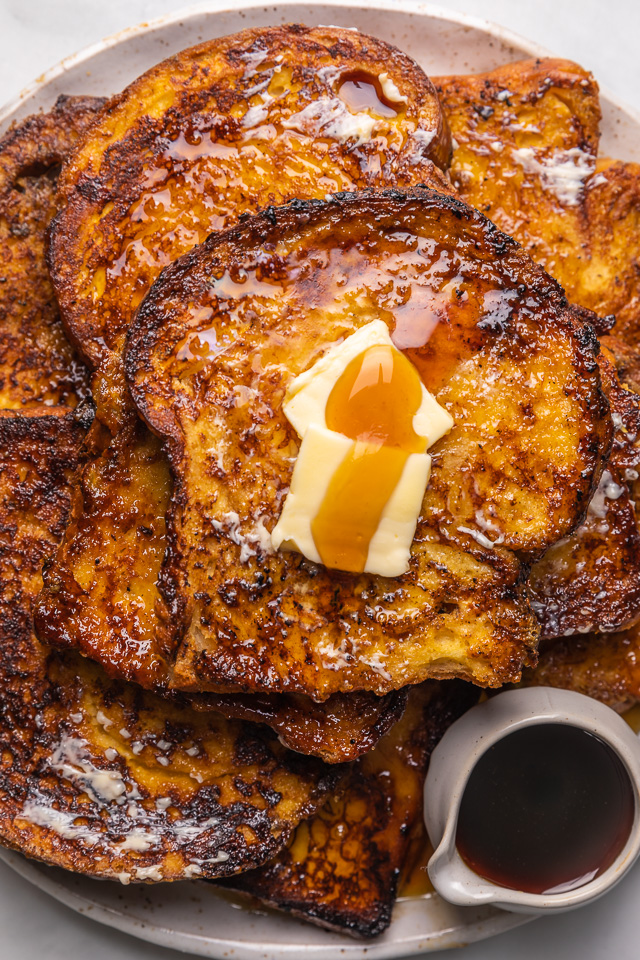 Best Easy Homemade French Toast
Yield 4 servings
Today I'm teaching you how to make the BEST Easy Homemade French Toast! And you won't believe how quick and easy it is! Top with fresh berries, powdered sugar, or maple syrup, this is sure to become one of your favorite breakfasts!
Ingredients
1/2 cup butter
4 large eggs plus 4 large egg yolks
3/4 teaspoon ground cinnamon
1/4 teaspoon ground nutmeg
2 and 1/2  Tablespoons granulated sugar 
1 and 1/2 Tablespoons light brown sugar
1/2 cup milk
1/2 cup heavy cream
1 Tablespoon vanilla extract
10 slices challah or brioche bread, sliced 3/4-inch thick
Instructions
Melt a few Tablespoons of the butter in a large skillet over medium-heat. 
In a large shallow bowl or pie plate, whisk the eggs and egg yolks until well combined. Add in the cinnamon, nutmeg, and both sugars, and whisk until well combined. Finally, whisk in the milk, heavy cream, and vanilla.
Dip as many slices of bread into the egg mixture as possible, allowing each side to soak up the mixture for about 2 minutes. 
Place the soaked bread slices into prepared skillet and cook until the undersides are golden brown, about 3 minutes. Flip, and continue cooking on the other side until equally golden brown, about another 3 to 4 minutes. Continue with all french toast, adding more butter to the pan as needed. 
Serve warm, with maple syrup and fresh berries! 
Courses Breakfast
Cuisine American
Recipe by Baker by Nature at https://bakerbynature.com/best-easy-homemade-french-toast/