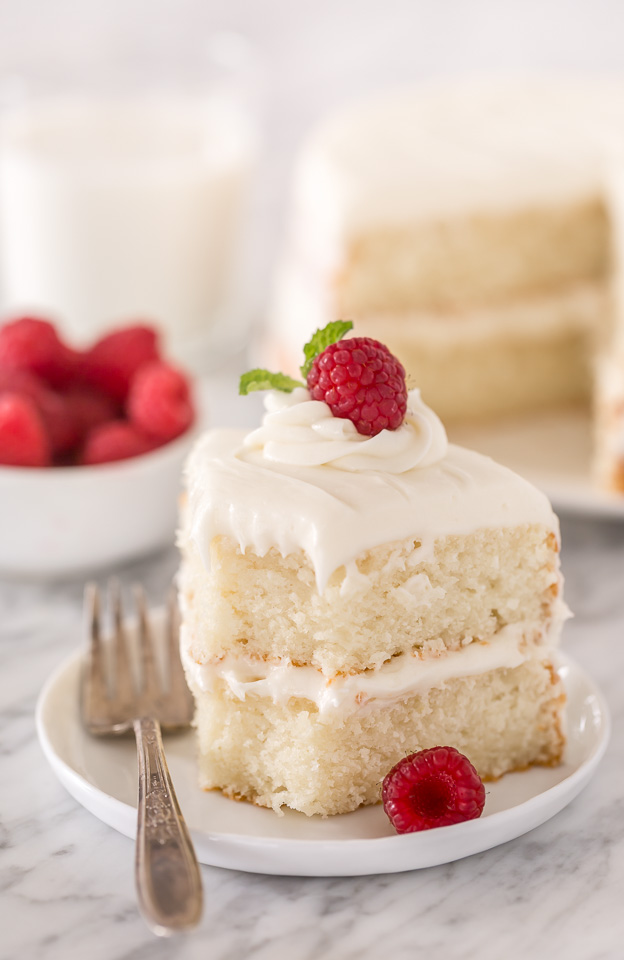 The Best White Cake Recipe
Yield 9" Layer Cake
This is the BEST white cake recipe you'll ever bake! Each slice is moist, fluffy, and so delicious. This tender snow-white cake is made completely from scratch and with simple ingredients!
Ingredients
3 cups all-purpose flour (be sure not to pack your flour into the measuring cup)
1 Tablespoon baking powder
3/4 teaspoon salt
1 cup (8 ounces) unsalted butter, softened to room temperature
1 and 1/2 cups granulated sugar
6 large egg whites, *lightly beaten 
1/2 teaspoon lemon zest, finely grated, optional
1 and 1/2 cups whole milk
1/4 cup oil (canola or vegetable)
This cake goes great with ANY frosting! I used this cream cheese frosting for the one you see in my photos!
Instructions
Preheat oven to 350 degrees (F). Generously grease the bottom and sides of two 9-inch round cake pans; set aside until needed. 
In a large mixing bowl, sift together the flour, baking powder, and salt; set aside. 
In the bowl of a stand mixer fitted with the paddle attachment, or in a large bowl using a handheld electric mixer, beat the butter on medium-high speed until smooth and creamy, about 1 minute. Gradually add in the sugar. Once all of the sugar has been added, beat on high speed for 2 minutes. 
Reduce the speed to low and add in the lightly beaten egg whites, a little bit at a time, beating well after each addition, and scraping down the sides of the bowl as needed. Beat in the lemon zest, if using. 
Add the flour mixture in three additions, alternating it with the milk, beginning and ending with the flour, mixing until just combined. Fold in the oil and mix on low until the oil is incorporated into the batter. 
Divide the batter evenly among the prepared pans and smooth the tops. 
Bake for 22 to 25 minutes, or until lightly brown around the edges and a toothpick inserted in the center of the cakes comes out clean. Cool the cakes in the pans places on a wire rack for 15 minutes. Then invert the cake layers onto cooling racks and cool completely.
Once cool, frost with your icing of choice and serve! 
Notes
*Separate egg yolks and egg whites. Place the yolks in a small bowl and save for another use, or discard them. Place the egg whites in a large bowl. Using a whisk, lightly beat the whites until they look frothy and small bubbles appear on the surface. They are now ready to be added to the batter.
Courses Dessert
Cuisine Cake
Recipe by Baker by Nature at https://bakerbynature.com/best-white-cake-recipe/