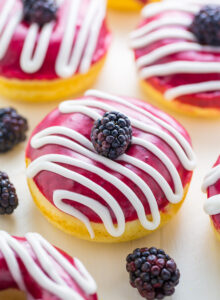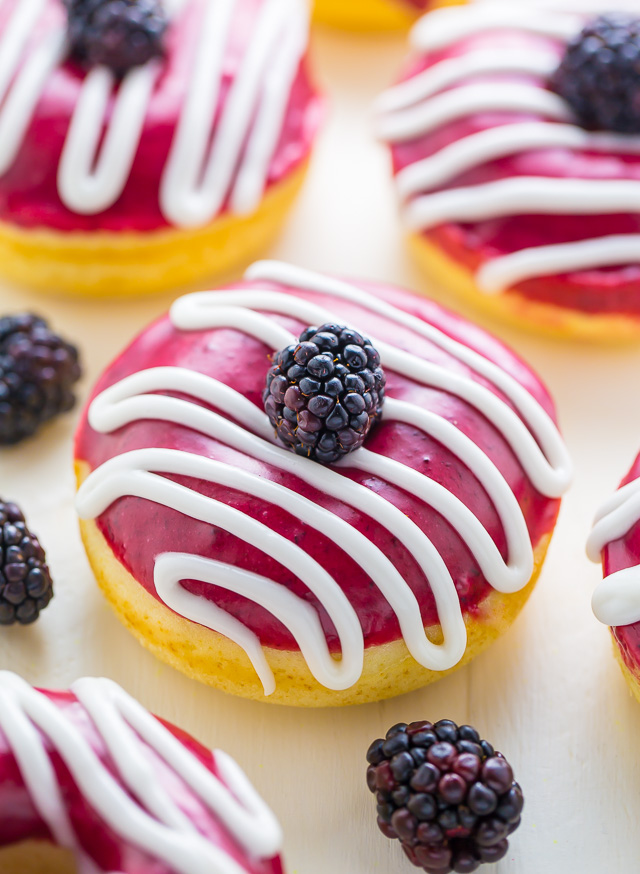 Blackberries and Cream Donuts
Yield 6 baked donuts
Baked, not fried, these beautiful blackberries and cream donuts are a must bake this Summer!
Ingredients
For the Blackberry Glaze:
1 and 1/2 cups fresh or frozen blackberries, if using frozen, do not thaw
1 tablespoon fresh lemon juice
3 cups confectioners' sugar
1 tablespoon heavy cream
1/8 teaspoon salt
For the Cream Drizzle:
1 cup confectioners' sugar
3 tablespoons heavy cream, more if needed
Decoration:
6 blackberries
For the Donuts:
2 and 1/2 tablespoons unsalted butter, melted
1/2 cup granulated sugar
1 large egg, at room temperature
1 cup plus 2 tablespoons all-purpose flour
1 teaspoon baking powder
1/4 teaspoon salt
1/2 cup whole milk
Instructions
For the Blackberry Glaze:
In a small saucepan combine blackberries and lemon juice; bring to a simmer over medium heat and cook, stirring constantly and gently smashing the berries smooth, until thickened into a deep, dark blackberry reduction, about 10 to 12 minutes. Remove from heat. Place a fine-mesh strainer over a small bowl and push the puree though, leaving any seeds/large chunks behind. Allow mixture to cool at least 10 minutes before using.
Transfer blackberry puree to a large bowl. Add in the confectioners' sugar, heavy cream, and salt and whisk smooth. If the glaze appears too thin, add in a little more confectioners' sugar; if the glaze appears too thick add in a little more cream.
For the Cream Drizzle:
In a small bowl combine the confectioners' sugar and heavy cream, whisk smooth. Add more cream if needed to reach proper consistency. It should hold its shape but be thin enough to drizzle.
For the Donuts:
Preheat oven to 350 degrees (F). Generously grease a 6-mold donut pan and set aside.
In a large bowl combine melted butter and sugar; whisk well to combine. Beat in the egg and set aside. In a separate bowl combine the flour, baking powder, and salt. Add the dry mixture into the wet mixture and stir just until combined. Whisk in the milk until combined. Be sure not to over mix your batter or the donuts will come out dry! Divide the batter evenly among the prepared molds (you may scoop the batter with a spoon or you may pour it into a ziplock bag, snip off one end, and pipe it into the molds). Bake for 10 minutes, or until the donuts have risen and spring back lightly when pressed. Cool donuts in the pan for 10 minutes before transferring to a cooling rack.
Assembly:
Dip each donut in the blackberry glaze; set aside. Pour cream drizzle into a ziplock bag and snip off a very small piece of one corner. Drizzle the cream glaze in a zigzag pattern over the top of each donut. Place a blackberry in the center of each donut and serve!
Courses Breakfast
Cuisine American
Amount Per Serving
% Daily Value
Recipe by Baker by Nature at https://bakerbynature.com/blackberries-and-cream-donuts/