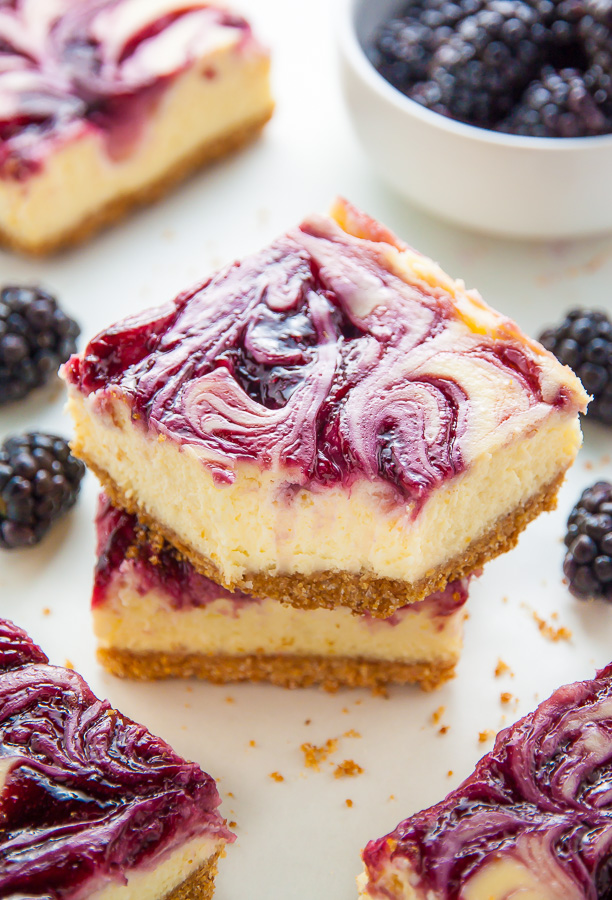 Blackberry Cheesecake Bars
Yield 12 bars
Creamy Lemon Blackberry Cheesecake Bars! Easy, convenient, and so delicious.
Ingredients
For the Crust:
2 and 1/4 cups graham crackers, pulsed into crumbs
1/2 cup granulated sugar
1/4 teaspoon salt
1/2 cup (8 tablespoons) unsalted butter, melted
For the Lemon Cheesecake Filling:
(4) 8 ounce blocks of full-fat cream cheese, very soft
1 and 1/4 cups granulated sugar
3 large eggs plus 2 egg yolks, at room temperature
2 teaspoons fresh lemon zest
1/4 cup fresh lemon juice
1 and 1/2 tablespoons all-purpose flour
For the Fresh Blackberry Swirl:
1 cup fresh blackberries
1/4 cup granulated sugar
Instructions
Preheat oven to 350 degrees (F).
For the Crust:
Line a 9×13-inch baking pan with aluminum foil, allowing two of the sides to overlap. Spray foil and any exposed pan with non-stick baking spray; set aside.
In the body of a blender or food processor, combine graham crackers, sugar, and salt; pulse until the crackers have been completely transformed into fine crumbs. Add melted butter and stir well to combine. Press down evenly into prepared pan. Bake in preheated oven for 10 minutes; set aside to cool.
For the Lemon Cheesecake Filling:
In a large bowl using a handheld electric mixer (or in the bowl of a standmixer fitted with the paddle attachment) beat the cream cheese until completely smooth, scraping down the sides of the bowl as needed; about 3 minutes. Add in the sugar, eggs, and egg yolks and beat until smooth and creamy; about 2 minutes. Turn the mixer off. Using a rubber spatula, fold in the lemon zest and lemon juice, stirring until combined. Quickly fold in the flour, stirring just until combined. Pour the cheesecake batter on top of the partially baked crust. Set aside to make your blackberry swirl.
For the Fresh Blackberry Swirl:
In a small food processor or blender, puree the blackberries until completely smooth. Press the mixture through a fine mesh strainer, discarding seeds and pulp. Stir in the granulated sugar.
Assembly:
Spoon the blackberry mixture on top of the unbaked cheesecake layer, a few dollops at a time. Use a skewer to swirl the mixture gently.
Bake for 35-40 minutes, or until the cheesecake layer is set at the edges and only slightly wiggly in the center. Place the pan of cheesecake bars on top of a wire cooling rack and cool at room temperature until the pan is no longer hot.
Place cheesecake bars in the fridge until completely cooled, about 2 hours. When ready to serve, use the overlapped aluminum foil to lift the cheesecake out and onto a large cutting board.
Cut cheesecake into 16 bars and serve.
Notes
*For best results, recipe should be followed exactly as written. Blackberry puree may be made 1 day in advance and stored in the fridge until needed. *Cheesecake bars will keep, stored in an airtight container in the fridge, for up to 3 days.
Courses Dessert
Cuisine Cheesecake
Amount Per Serving
% Daily Value
Recipe by Baker by Nature at https://bakerbynature.com/blackberry-cheesecake-bars/