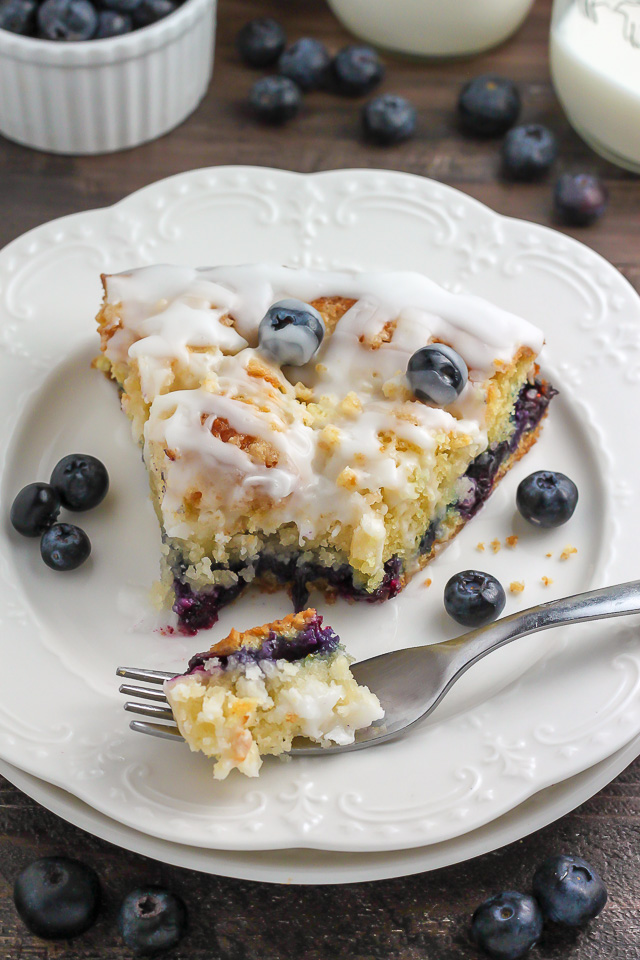 Blueberry Buttermilk Crumb Cake
Ingredients
For the Crumb Topping:
1/2 stick (1/4 cup) unsalted butter, VERY cold and cut into tiny pieces
1/2 cup granulated sugar
1/3 cup all-purpose flour
1/2 teaspoon cinnamon
For the Blueberry Buttermilk Cake:
1 cup + 1 tablespoon all-purpose flour; divided
1 teaspoon baking powder
1/2 teaspoon baking soda
1/2 teaspoon salt
5 tablespoons unsalted butter, melted
2/3 cup granulated sugar
1 and 1/2 teaspoons pure vanilla extract
1 teaspoon grated lemon zest
1 large egg, at room temperature
1/2 cup well-shaken buttermilk, at room temperature
1 cup fresh blueberries
For the Lemon Glaze:
1 cup of confectioners' sugar
1 teaspoon vanilla extract
2 tablespoons fresh lemon juice, more if needed to achieve desired consistency
Instructions
For the Crumb Topping:
In a small bowl blend together the cold butter, sugar, flour, and cinnamon; combine until the mixture resembles a coarse meal. Chill the topping in the freezer while making the cake batter.
For the Blueberry Buttermilk Cake:
Preheat oven to 400°(F) with rack positioned in the center. Generously grease and flour a 9-inch round cake pan and set aside.
Whisk together 1 cup of the flour, baking powder, baking soda, and salt and set aside. In a large bowl combine the melted butter and sugar and beat until well combined, then beat in vanilla and lemon zest. Add egg and beat well.
At low speed, mix in flour mixture in three batches, alternating with buttermilk, beginning and ending with flour, and mixing until just combined. Pour the thick batter into the prepared cake pan, smoothing top. Place blueberries in a small bowl and toss them with the remaining tablespoon of flour; scatter blueberries evenly over the top, then sprinkle with crumbs.
Bake until cake is golden and a cake tester inserted into the center comes out clean (or with just a few moist crumbs attached), about 20 to 25 minutes. Allow the cake to cool in the pan for 10 minutes, then carefully turn out onto a rack and cool for another 15-20 minutes more. Invert onto a plate, drizzle with glaze, and serve!
For the Lemon Glaze:
In a small bowl combine the confectioners' sugar, vanilla, and lemon juice; whisk until smooth, adding more lemon juice as needed to reach desired consistency. Drizzle over the crumb cake right before serving.
Courses Breakfast
Cuisine American
Recipe by Baker by Nature at https://bakerbynature.com/blueberry-buttermilk-crumb-cake/