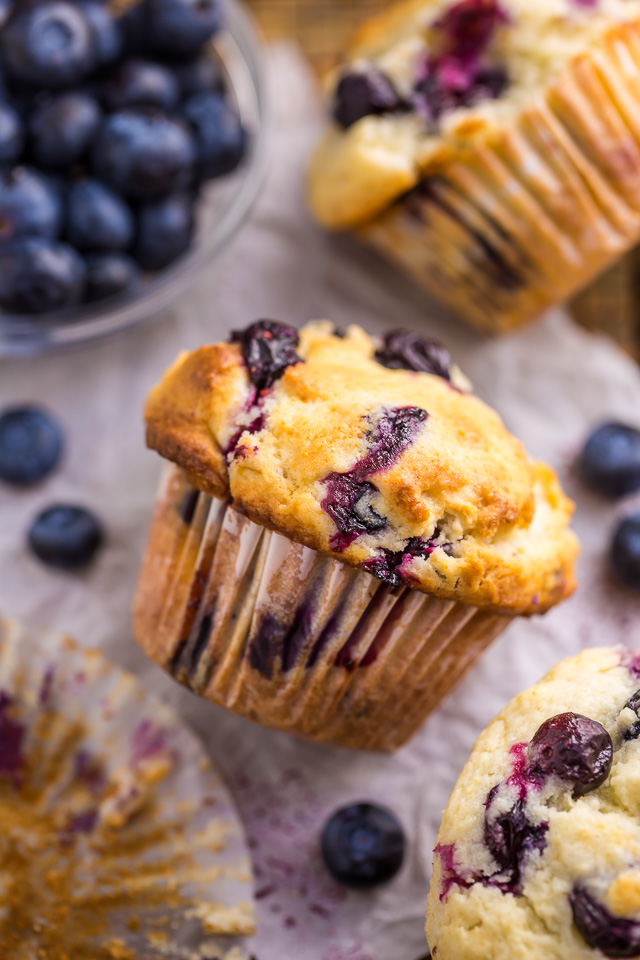 Blueberry Muffins
Yield 1 dozen muffins
The Best Blueberry Muffins are moist, slightly dense, and LOADED with juicy blueberries! Use fresh or frozen blueberries! These are delicious for breakfast or as an afternoon snack!
Ingredients
2 and 3/4 cups plus 2 tablespoons all-purpose flour
1 Tablespoon baking powder 
1/2 teaspoon salt
1/4 teaspoon ground nutmeg 
8 ounces unsalted butter, at room temperature
1 and 1/3 cups granulated sugar
2 large eggs, at room temperature 
2 teaspoons pure vanilla extract
1 cup sour cream 
1/2 cup milk
2 cups blueberries
Instructions
Preheat oven to 400 degrees (F). Line a 12-cup muffin tin with paper liners and set aside. 
In a large bowl, sift together 2 and 3/4 cups of the flour, baking powder, salt, and nutmeg. Set aside.
In the bowl of a stand mixer fitted with the paddle attachment, or in a large bowl using a handheld electric mixer, beat together the butter and sugar on medium speed until light fluffy, about 3 minutes, scraping the bowl as needed. 
Add eggs, one at a time, beating well after each addition. Add in the vanilla. Turn mixer off. 
In a spouted measuring cup, combine the sour cream and milk.
With the mixer speed on low, alternate adding flour mixture and sour cream mixture, beginning and ending with the flour, and mixing just until combined. The batter will be very thick, so don't overmix. Turn mixer off.
In a small bowl, combine the blueberries with the remaining 2 Tablespoons of flour, tossing well to ensure all berries are coated in flour. Using a rubber spatula, gently fold the blueberries into the batter.  
Divide batter evenly among prepared muffin tins.
Bake for 25 to 30 minutes, or until the tops are golden brown and a toothpick inserted in the middle of a muffin comes out clean. 
Cool in the pan, placed on a wire cooling rack, for 10 minutes. Remove muffins from the pan and serve warm.
Courses Breakfast
Cuisine American
Amount Per Serving
% Daily Value
Recipe by Baker by Nature at https://bakerbynature.com/blueberry-muffins/