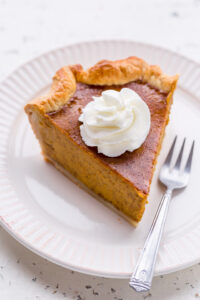 Bourbon Pumpkin Pie
Yield 9" Pie
The only thing better than Pumpkin Pie? Bourbon Pumpkin Pie! Richly spiced and silky smooth, this is always a crowd-pleaser... especially on Thanksgiving! 
Ingredients
1 recipe foolproof all-butter pie crust
(1) 15 ounce can pumpkin puree
1/4 cup (50g/1 and 3/4 ounces) granulated sugar
3/4 cup (159g/5 and 5/8 ounces) light brown sugar, packed
3 Tablespoons bourbon 
1 teaspoon vanilla extract 
2 large eggs plus 1 egg yolk, at room temperature
1 can (12-ounces) evaporated milk
2 and 1/2 teaspoons pumpkin spice
1/2 teaspoon cinnamon
1/2 teaspoon ground ginger 
1/4 teaspoon ground cardamom 
1 teaspoon all-purpose flour 
1/4 teaspoon salt 
Instructions
Preheat oven to 425°F (218°C). Have ready and refrigerated one pastry-lined 9-inch pie plate (see foolproof all-butter pie crust).
In a large mixing bowl, add the pumpkin puree, both sugars, bourbon, and vanilla and whisk well to combine. Add in the eggs and yolk, one at a time, beating well after each addition. Whisk in the evaporated milk, pumpkin spice, cinnamon, ginger, cardamom, flour, and salt.
Pour the mixture into the prepared pie shell and bake in preheated oven for 15 minutes. Then reduce the heat to 350°F (177°C) and continue baking for 55 minutes, or until the edges are set and the center barely moves when you gently shake the pan back and forth.
Place the pie plate on a wire rack and cool for 2 hours, then transfer the pie to the refrigerator and chill for at least another 2 hours before slicing.
Store pie, covered in the refrigerator, for up to 3 days.
Courses Dessert
Cuisine American
Recipe by Baker by Nature at https://bakerbynature.com/bourbon-pumpkin-pie/