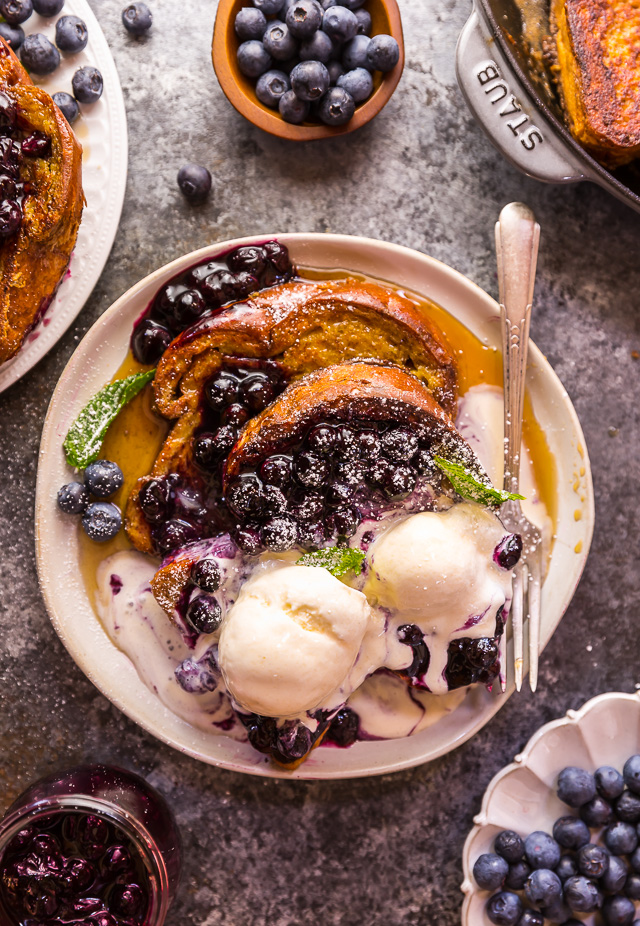 Brioche French Toast with Blueberry Compote
Yield 4 servings
Buttery slices of brioche bread and fresh blueberry maple syrup make this recipe a total showstopper! While it's a little more work than most breakfast casseroles, it's totally worth it! This Brioche French Toast with Blueberry Compote is a great recipe for a lazy Saturday, Christmas morning, or anytime you want to make breakfast extra special!
Ingredients
For the Brioche French Toast:
1/2 cup butter
3 large eggs plus 2 large egg yolks
1/2 teaspoon ground cinnamon
1/4 teaspoon ground nutmeg
3 tablespoons sugar
1/4 cup milk
1/3 cup heavy cream
2 teaspoons vanilla extract
8 slices brioche
For the Blueberry Compote:
2 cups blueberries, fresh or frozen 
1/4 cup maple syrup 
1/4 cup lemon juice 
1 Tablespoon cornstarch 
For the Brown Butter:
1/2 cup unsalted butter
1/4 cup maple syrup 
1/2 teaspoon ground cinnamon 
Instructions
For the Brioche French Toast:
Melt a few Tablespoons of the butter in a large skillet over medium-heat. 
In a large shallow bowl or pie plate, whisk the eggs and egg yolks until well combined. Add in the cinnamon, nutmeg, and sugar, and whisk until well combined. Finally, whisk in the milk, heavy cream, and vanilla.
Dip each slice of brioche into the egg mixture, making sure both sides are well coated. 
Place brioche slices into skillet and cook until the undersides are golden brown, about 3 minutes. Flip, and continue cooking on the other side until equally golden brown, about another 3 to 4 minutes. Continue with all french toast, adding more butter to the pan as needed. 
Serve warm, with blueberry compote and brown butter sauce! 
For the Blueberry Compote:
In a small saucepan, combine 1 cup of the blueberries, maple syrup, and lemon juice. Cook over a medium heat for about 10 minutes, or until the blueberries have begun to burst and the juice is slightly thickened. 
In a small bowl combine cornstarch and 1 Tablespoon of water, whisk until smooth. Gradually stir into berry mixture. Bring back to a boil and cook, stirring constantly, for about 2 minutes, or until thickened. 
Add the rest of the blueberries and cook for 5 more minutes, stirring frequently. 
Remove from heat. Spoon over French toast. 
For the Brown Butter Sauce:
Place the butter in a small saucepan over medium-high heat. Allow the butter to completely melt, then continue cooking, swirling the pan occasionally, until the butter is deep golden brown. About 5 to 6 minutes. Stir in the maple syrup and cinnamon. 
Remove from heat and drizzle over French toast. 
Courses Breakfast
Cuisine American
Recipe by Baker by Nature at https://bakerbynature.com/brioche-french-toast-with-blueberry-compote/