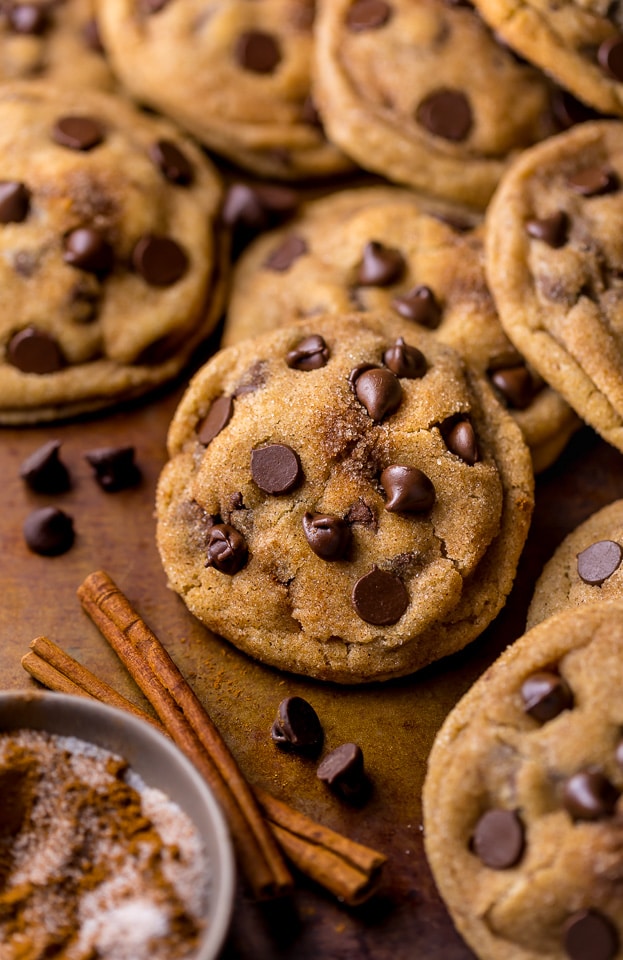 Brown Butter Chocolate Chip Snickerdoodles
Yield 2 dozen
Thick and chewy, These Brown Butter Chocolate Chip Snickerdoodles are the ultimate holiday cookie!
Ingredients
For the Cinnamon Sugar Coating:
1/3 cup (74g/2 and 5/8 ounces) granulated sugar
1 teaspoon cinnamon
For the Chocolate Chip Snickerdoodle Cookie Dough:
1 cup (227g/8 ounces) unsalted butter, melted until browned, then brought back to room temperature
1/2 cup granulated sugar
1 cup light brown sugar, packed
1 large egg plus 1 egg yolk, at room temperature
1  teaspoon vanilla extract
2 and 1/3 cups all-purpose flour 
1 teaspoon cornstarch 
2 teaspoons cream of tartar
1 teaspoon baking soda
2 and 1/2 teaspoons ground cinnamon
1/4 teaspoon salt
2 cups (340g/12 ounces) semi-sweet chocolate chips
Instructions
For the Cinnamon Sugar Coating:
In a small bowl, combine the granulated sugar and cinnamon; set aside until needed.
For the Snickerdoodle Cookie Dough:
Cut the butter in tablespoons and place them in a heavy saucepan over medium heat. Once the butter has melted, reduce the heat to low and continue cooking, until the solids sink to the bottom of the pan and turn golden brown, about 10 minutes. Remove from heat, pour browned butter into a small bowl, cover, and refrigerate until solidified, about 2 hours.
Preheat oven to 375°F (129°C). Line two large baking sheets with parchment paper and set them aside.
In the bowl of a stand mixer fitted with the paddle attachment, or in a large bowl using a hand-held electric mixer, beat the butter on medium speed until completely smooth, about 1 minute. Add in both sugars and continue beating until light and fluffy, about 2 minutes. Add in the egg, egg yolk, and vanilla and beat smooth, scraping down the sides as needed.
In a medium mixing bowl, whisk together the flour, cornstarch, cream of tartar, baking soda, cinnamon, and salt. With the mixer on low speed, gradually add the dry ingredients to the wet ingredients, mixing just until the dry ingredients are incorporated. Beat in the chocolate chips. Be sure not to over mix the dough!
Using an ice cream scoop, melon baller, or measuring spoon, scoop out one and a half sized tablespoons of dough from the bowl and roll it into a ball. Roll the dough in the cinnamon sugar topping, then transfer the ball onto a prepared baking sheet. Repeat with all cookie dough.
Bake cookies, one tray at a time, for 9-10 minutes, or until they're set at the edges but still soft in the center. Allow cookies to cool on the baking sheet placed on top of a wire rack for 10 minutes before serving warm, or transferring to a wire rack to cool completely.
Courses Dessert
Cuisine Cookies
Recipe by Baker by Nature at https://bakerbynature.com/brown-butter-chocolate-chip-snickerdoodles/