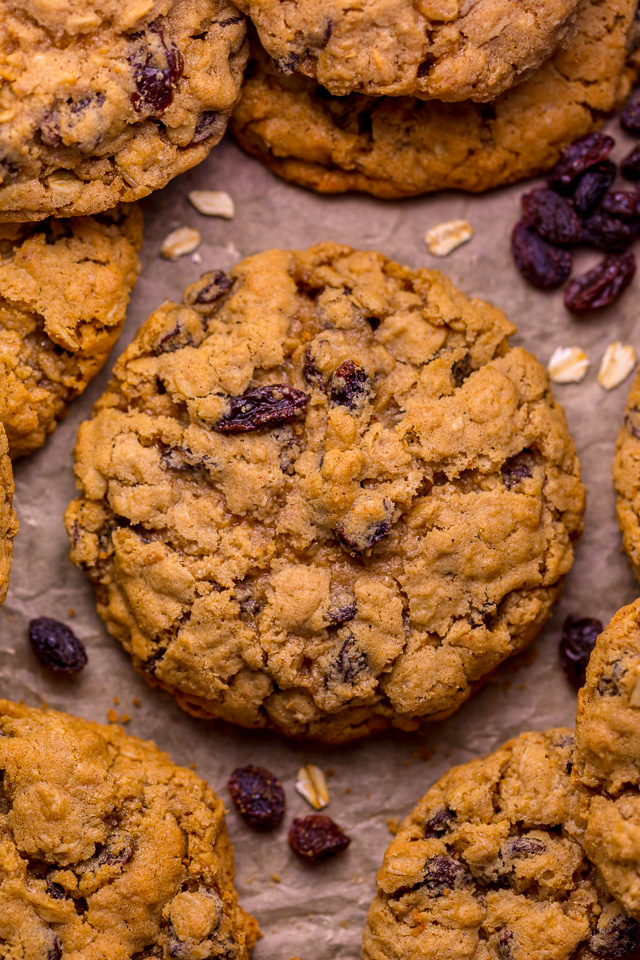 Brown Butter Oatmeal Raisin Cookies
Yield 2 dozen cookies
These are hands down the BEST Brown Butter Oatmeal Raisin Cookies ever! Thick, chewy, and loaded with plump raisins.
Ingredients
2 sticks (1 cup) unsalted butter, melted until browned then brought back to room temperature (please see post for more on this)
1 and 1/2 cups light brown sugar, packed
1/2 cup granulated sugar
2 large eggs, at room temperature
2 tablespoons milk
1 tablespoon vanilla extract
2 cups all-purpose flour
1 teaspoon baking soda
1 teaspoon baking powder
3/4 teaspoon salt
3/4 teaspoon ground cinnamon
1/4 teaspoon ground nutmeg 
2 and 1/2 cups rolled oats (not instant oats)
2 cups raisins
3/4 cup walnuts, finely chopped 
Instructions
Preheat oven to 350 (F). Line two large baking sheets with parchment paper; set aside.
In the bowl of a stand mixer fitted with the paddle attachment, or in a large bowl using a handheld electric mixer, cream together the browned butter and both sugars until light and fluffy, about 3 minutes. Beat in the eggs, one at a time, scraping down the sides as needed. Beat in the milk and the vanilla extract until combined.
In a medium bowl, stir together the flour, baking soda, baking powder, salt, cinnamon and nutmeg. On low speed, gradually beat the flour mixture into the butter/sugar mixture until just incorporated. Turn mixer off. Using a wooden spoon or strong spatula, stir the oats, raisins, and walnuts. into the cookie dough, stirring just until incorporated.
Scoop 2-inch balls of cookie dough onto the prepared baking sheets, leaving about 1 and 1/2 inches between so they have room to spread.
Bake, one sheet at a time, in preheated oven for 10 to 12 minutes, or until cookies are golden and set at the edges and still slightly soft in the center. Repeat with all cookie dough.
Cool cookies on baking sheet for 10 minutes before transferring them to a wire rack to cool completely.
Courses Dessert
Cuisine Cookies
Amount Per Serving
% Daily Value
Recipe by Baker by Nature at https://bakerbynature.com/brown-butter-oatmeal-raisin-cookies/