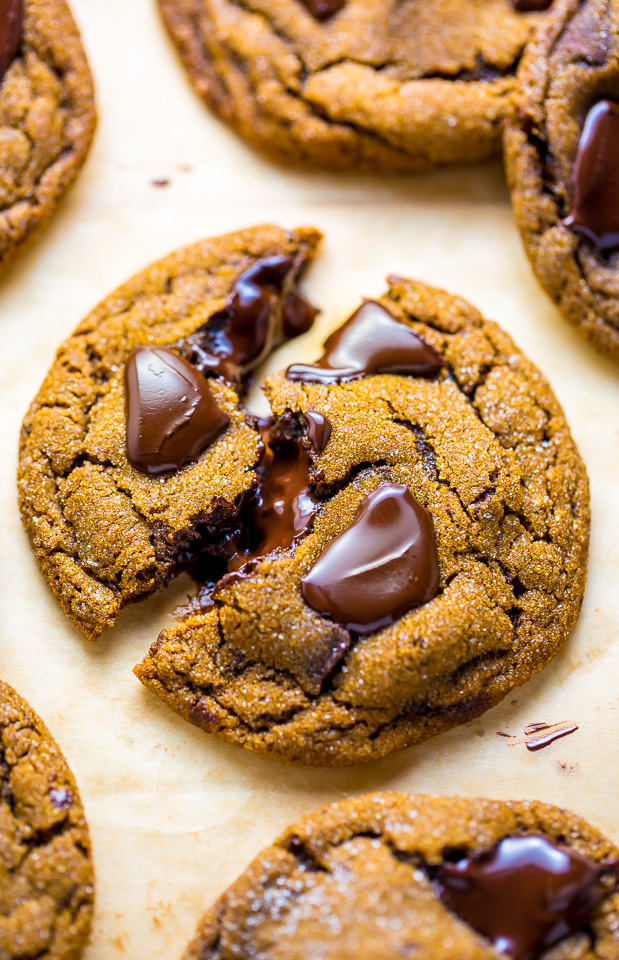 Chocolate Gingerbread Cookies
Yield 2 dozen cookies (more or less depedning on how large you roll them)
Extra thick and chewy Chocolate Gingerbread Cookies are perfect for holiday celebrations.
Ingredients
1 and 1/2 cups all purpose flour
1 and 1/4 teaspoons ground ginger
1 teaspoon ground cinnamon
1/4 teaspoon ground cloves
1/4 teaspoon nutmeg, freshly grated
1 tablespoon unsweetened Dutch-process cocoa powder
1 stick (4 ounces) unsalted butter, at room temperature
1 tablespoon fresh ginger, peeled and freshly grated
1/2 cup dark brown sugar, packed
1/2 cup unsulfured molasses
1 teaspoon baking soda
1 and 1/2 teaspoons boiling water
6 ounces semi-sweet chocolate, chopped into 1/4 inch chunks
1/4 cup granulated sugar
Instructions
Line two large baking sheets with parchment paper; set aside. In a medium bowl whisk together the flour, ground ginger, ground cinnamon, ground cloves, freshly grated nutmeg, and Dutch-process cocoa powder; set aside. In the bowl of an electric mixer fitted with the paddle attachment, beat the butter and fresh ginger on medium-speed until light and fluffy, scraping down the sides of the bowl if needed; about 4 minutes. Add brown sugar and beat until well combined. Add molasses and beat until well combined.
In a small bowl combine the baking soda and boiling water. Add half of the flour mixture to the butter mixture, then add the baking soda mixture. Beat in the remaining flour. Mix in the chocolate chunks until just combined. Be sure not to over mix the dough at any point. Cover the bowl with plastic wrap and refrigerate for at least two hours, or overnight.
When ready to bake:
Using a medium spring-loaded cookie scoop, shape the dough into 1 and 1/2 tablespoon rounds and place 2 inches apart on prepared baking sheets. Roll each ball in the granulated sugar, then chill for 20 minutes. Meanwhile, preheat oven to 325 degrees (F). Bake one sheet at a time, for 10-12 minutes, or until the edges are set and the surfaces just begin to crack. Allow cookies to cool on the baking sheet for 10 minutes before transferring them to a wire rack to cool completely.
Notes
Cookies are best served the day they are baked but will keep, stored in an airtight container, for up to 5 days.
Courses Dessert
Cuisine Cookies
Amount Per Serving
% Daily Value
Recipe by Baker by Nature at https://bakerbynature.com/chewy-chocolate-gingerbread-cookies/