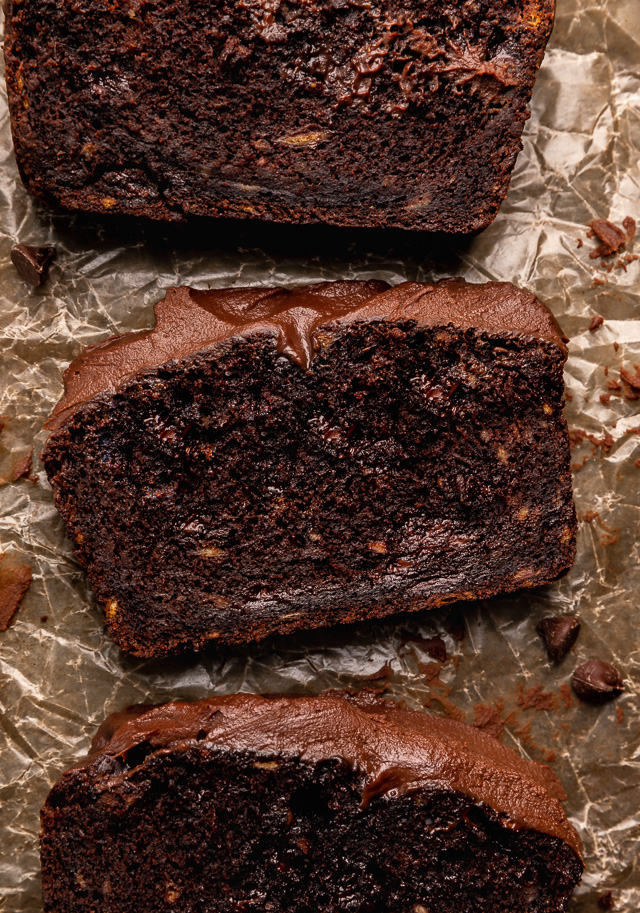 Chocolate Banana Cake with Espresso Fudge Frosting
Yield 9x5" Loaf
This Extra Moist Chocolate Banana Cake is topped with Espresso Chocolate Ganache! Baked in a load pan, this is a great snacking cake! A great recipe for the when you have ripe bananas and want to bake something other than banana bread!
Ingredients
For the Chocolate Banana Cake:
1 and 1/3 cups all-purpose flour (158 grams)
1/4 cup Dutch-processed cocoa powder (23 grams) 
1 teaspoon baking soda 
1/4 teaspoon salt 
1/4 teaspoon ground cinnamon 
1 teaspoon espresso powder 
1/2 cup unsalted butter, at room temperature (113 grams)
1 cup granulated sugar (200 grams) 
2 large eggs, at room temperature 
1 and 1/2 cups mashed ripe bananas, about 3 medium bananas (355 ml)
2 teaspoons vanilla extract 
1/2 cup sour cream, at room temperature (121 grams)
1/2 cup chocolate chips 
For the Espresso Ganache Frosting:
1 and 1/4 cups (212 grams) semi-sweet chocolate, finely chopped 
3/4 cup (170 grams) heavy cream 
2 teaspoons espresso powder (use 1 teaspoon for a mild espresso flavor)
1 Tablespoon unsalted butter, at room temperature and cut into tiny pieces 
Instructions
For the Chocolate Banana Cake:
Position a rack in the center of your oven. Preheat your oven to 350 degrees (F). Line a 9x5-inch loaf pan with parchment paper, so that two of the sides overlap the pan. Spray the bottom and sides of the pan with nonstick baking spray. 
In a large bowl, sift together the flour, cocoa powder, baking soda, salt, cinnamon, and espresso powder. Set aside. 
In the bowl of a stand mixer fitted with the paddle attachment, or in a large bowl using a handheld electric mixer, beat the butter until smooth and creamy, about 1 minute. Gradually add in the sugar and beat on medium-high speed until well combined, about 2 minutes. Stop the mixer and scrape down the sides and bottom of the bowl, then beat for another 30 seconds. 
Add in the eggs, one at time, beating well after each addition and scraping down the sides and bottom of the bowl as needed. 
On low speed, add in the mashed banana and vanilla, beating until just incorporated in the mix. 
Staying on low speed, add in the flour mixture in three additions, alternating with the sour cream in two additions, beginning and ending with the flour. Mix until just combined! 
Using a rubber spatula, fold in the chocolate chips. Then scrape the batter into the prepared pan and smooth the top with a spatula. 
Bake for 55 to 65 minutes, or until a cake tester inserted in the center comes out clean (other than melted chocolate or a few moist crumbs). Cool in the cake pan, on a wire rack, for 30 minutes. 
Unmold the cake onto the cooling rack, turn the cake right side up, and cool completely. 
For the Espresso Ganache Frosting:
In a small saucepan, combine the heavy cream and espresso powder. Bring to a boil over medium-high heat. Once at a boil, immediately remove from heat and stir in the butter. 
Pour cream over chopped chocolate and let stand for 1 minute to melt the chocolate, then whisk smooth with a metal spoon or rubber spatula. Cover the surface of the frosting with plastic wrap and refrigerate, stirring occasionally, for 45 minutes, or until firm enough to spread. 
Courses Dessert
Cuisine American
Recipe by Baker by Nature at https://bakerbynature.com/chocolate-banana-cake-with-espresso-fudge-frosting/