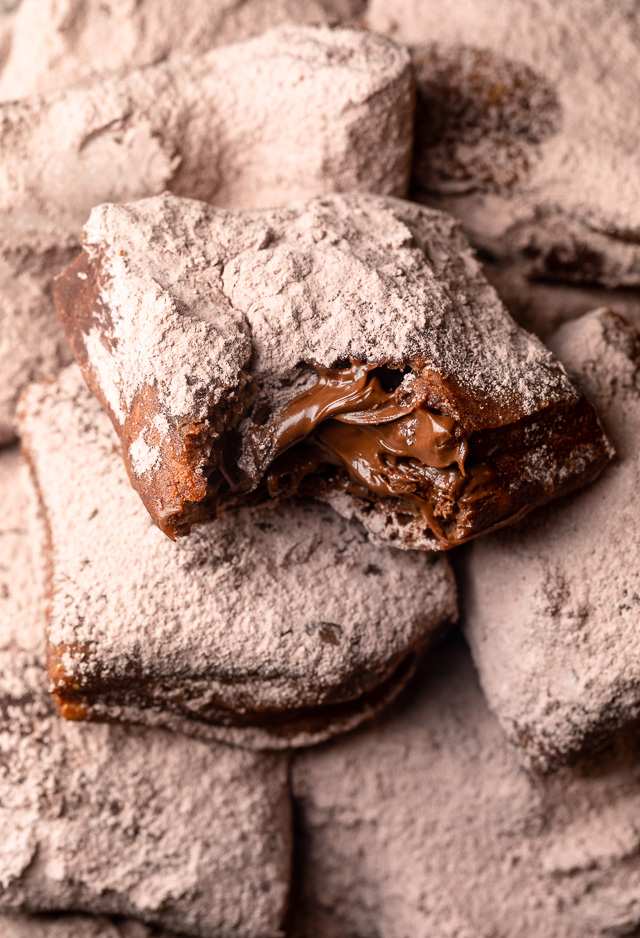 Chocolate Beignets
Yield 2 dozen
The only thing better than Beignets are Chocolate Beignets! These golden brown treats are light, fluffy, and filled with a gooey pocket of chocolate. If you love beignets and chocolate, you have to try this recipe!
Ingredients
For the Chocolate Beignets:
1 and 1/2 cups warm water, between 110 and 115 degrees (F) (340 grams) 
2/3 cup granulated sugar (131 grams) 
2 and 1/4 teaspoons active dry yeast
7 cups bread flour (845 grams) 
1 and 1/2 teaspoons salt
1/4 teaspoon ground cinnamon
1/4 cup Dutch-process cocoa powder (23 grams) 
2 large eggs, at room temperature 
2 and 1/2 teaspoons pure vanilla extract
1 cup evaporated milk (227 grams) 
5 tablespoons unsalted butter, at room temperature, cut into tiny pieces (71 grams) 
5 cups peanut oil, for deep frying (992 grams) 
For the Chocolate Filling:
1 cup (170g) semisweet chocolate, finely chopped 
1/8 teaspoon salt
2 tablespoons (25g) confectioners' sugar
1/2 teaspoon espresso powder, optional
1 cup (227g) heavy cream
1 teaspoon vanilla extract 
For the Chocolate Sugar:
1 and 1/2 cups confectioners' sugar (170 grams) 
1 Tablespoon cocoa powder, unsweetened or Dutch-process 
Instructions
For the Chocolate Beignets:
In a medium-sized bowl, add the warm water, sugar, and yeast and whisk well to combine. Set aside for about 10 minutes, or until the mixture has bubbled up and become foamy.
In a large bowl sift together the bread flour, salt, cinnamon, and cocoa powder, set aside until needed.
In the bowl of a stand mixer fitted with the paddle attachment,  beat the eggs until smooth. Beat in the vanilla and evaporated milk.
On low speed, beat in half of the flour mixture (about 3 and 3/4 cups). Then slowly pour in the yeast mixture (careful here - this mixture can splash up if added to quickly!) and beat until smooth.
Add in the butter and beat until incorporated. Finally, beat in the remaining flour mixture. Beat until dough is smooth and cohesive; about 2 minutes.
Cover the bowl tightly with plastic wrap and refrigerate for at least 2 hours, or up to 24 hours.
When Ready to Fry:
Line a large rimmed baking sheet with three layers of paper towels, set aside.
In a large enameled cast-iron pan, heat the oil until it reaches 360 degrees (F).
Remove the dough from the refrigerator. Scrape the dough out onto a lightly floured surface and knead once or twice, just until it comes together in a neat ball.
Roll the dough out into a 1/4-inch thick rectangle and then cut the dough into 3" inch squares.
Working in batches, fry the dough until they puff up and are golden brown in color, turning halfway through, about 30 to 45 seconds on each side.
Using a slotted spoon, transfer the beignets to the prepared baking sheet and repeat with remaining dough.
For the Chocolate Filling:
Finely chop the chocolate and place it in a shallow, heatproof bowl. Add in the salt and confectioners' sugar and set aside. 
In a small saucepan heat the heavy cream and espresso powder (if using) until the cream just comes just short of a rolling boil. Remove from heat and pour the hot cream over the chopped chocolate mixture. Let sit for 2 minutes, then stir smooth with a spatula or spoon. Stir in the vanilla. 
Refrigerate until cold and stiff enough to pipe, about 2 hours, or up to 24 hours. If the filling gets too hard, simply microwave for a few seconds, and then stir smooth. 
Scrape the chocolate filling into a piping bag fitted with a piping tip of your choice (design doesn't really matter here). Poke a small hole onto the side of each beignet, insert the piping tip into the hole, and squeeze the filling into the center. Repeat with all beignets. 
For the Chocolate Sugar:
In a large bowl sift together the confectioners' sugar and cocoa powder. Repeat a few times, until smooth and well combined. Dust on top of beignets and serve at once! Beignets are best eaten within a few hours of being made. 
Courses Dessert, Breakfast
Cuisine American
Recipe by Baker by Nature at https://bakerbynature.com/chocolate-beignets/