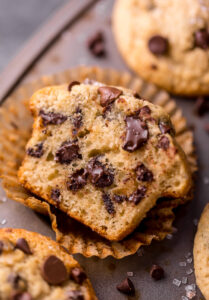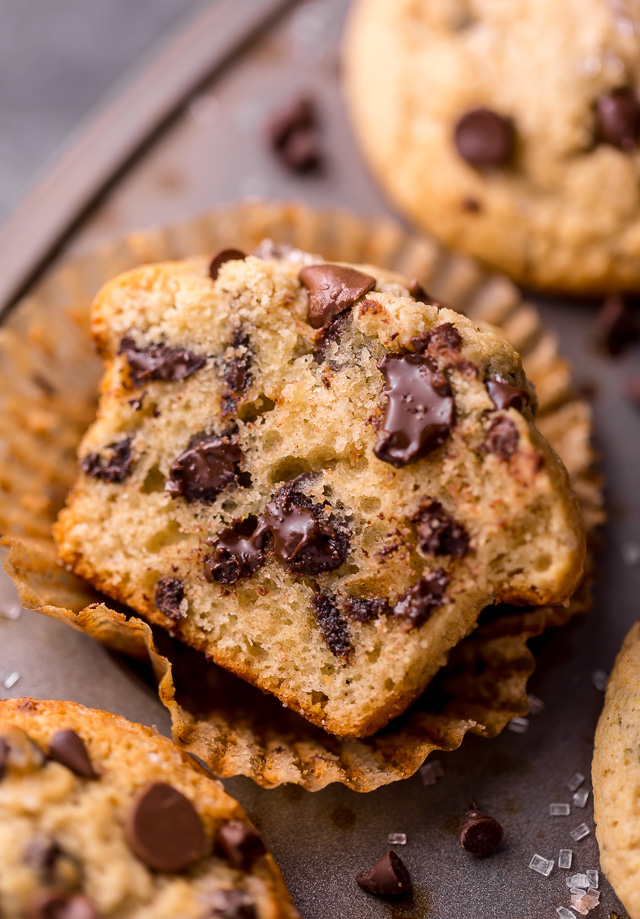 Moist Chocolate Chip Muffins
Yield 12 muffins
There are literally a million chocolate chip muffin recipes on the internet... but these moist chocolate chip muffins are truly the BEST! And that's not a humblebrag; it's a simple fact! These bakery style muffins come together in a jiffy - no electric mixer required!
Ingredients
3 cups (381 grams) all-purpose flour
1 cup (200 grams) granulated sugar
1/4 cup (50 grams) light brown sugar, packed 
1 Tablespoon baking powder 
1/2 teaspoon salt
1/4 teaspoon ground nutmeg 
1/2 teaspoon ground cinnamon 
2 large eggs, at room temperature 
1 cup (227 grams) unsalted butter, melted and slightly cooled 
1 cup (240 grams) sour cream 
1/3 cup (80 grams) milk
1/2 teaspoon lemon juice 
2 Tablespoons (28 grams) *Oil 
2 teaspoons pure vanilla extract
2 cups semi-sweet chocolate chips 
Instructions
Preheat oven to 425 degrees (F). Line a 12-cup muffin tin with paper liners and set aside. 
In a large bowl, whisk together the flour, both sugars, baking powder, salt, nutmeg, and cinnamon. Set aside.
In a separate large bowl, add the eggs, melted butter, sour cream, milk, lemon juice, oil, and vanilla; whisk well to combined. 
Fold the wet ingredients into dry ingredients and, using a rubber spatula, and gently fold the ingredients together. To avoid over mixing, stop stirring when you can still see the slightest trace of the dry ingredients. Fold in the chocolate chips. 
Divide batter evenly among prepared muffin pan, filling the molds up all the way to the top. Sprinkle with sparkling sugar, if desired. 
Bake at 425 degrees for 8 minutes, then, keeping the muffins inside the oven, reduce to 375 degrees and continue baking for another 14 minutes, or until the tops are golden brown and a toothpick inserted in the middle of a muffin comes out clean. 
Cool in the pan, placed on a wire cooling rack, for 15 minutes. Remove muffins from the pan and serve warm or at room temperature. 
Notes
*Canola Oil, Vegetable Oil, or Liquified Coconut will work.
*Wrap any leftover muffins tightly in saran wrap and store at room temperature for up to 3 days, or freeze for up to 3 months. Thaw muffins overnight in the refrigerator or on the counter.
Courses Breakfast
Cuisine American
Recipe by Baker by Nature at https://bakerbynature.com/chocolate-chip-muffins/