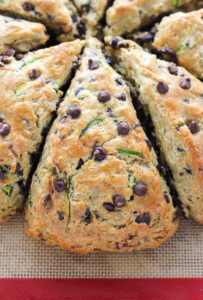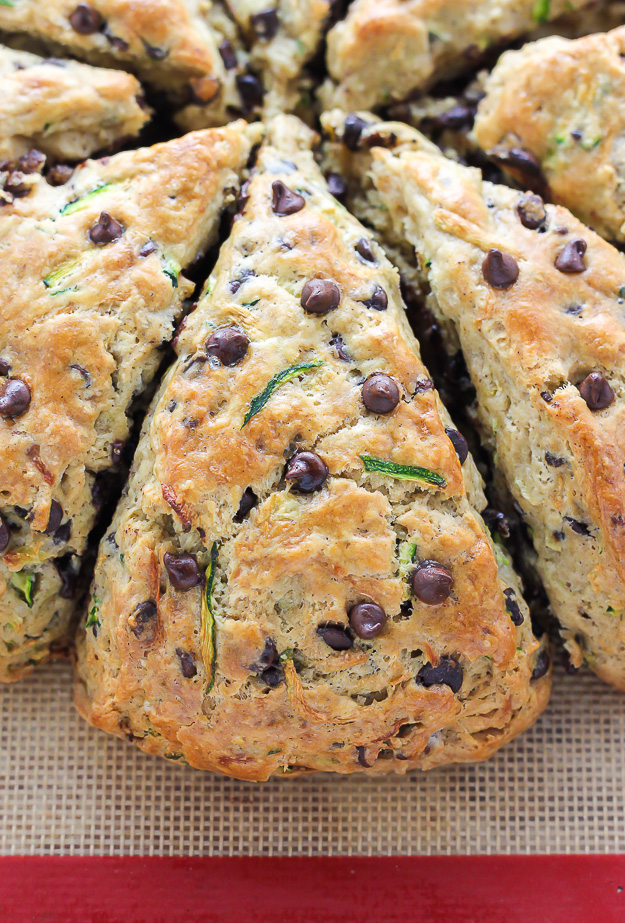 Chocolate Chip Zucchini Scones
Yield 8 scones
Classic and crumbly, these Chocolate Chip Zucchini Scones are buttery and full of flavor! Topped with a cinnamon cream cheese frosting that's just incredible.
Ingredients
2 1/2 cups + 1 tablespoon all-purpose flour, divided
1/2 teaspoon salt
1 tablespoon baking powder
1/2 teaspoon baking soda
1/3 cup granulated sugar
1/2 teaspoon cinnamon
1/4 teaspoon ground nutmeg
1 stick (4 ounces) unsalted butter, VERY cold and cut into tiny pieces
1 large egg, beaten
1/2 cup (full-fat) sour cream
2 tablespoons Whole Milk
2/3 cup zucchini, grated and drained (see post or note below for further clarification)
1/2 cup mini chocolate chips
For the egg wash:
1 large egg, beaten
1 teaspoon milk or water
For the Cream Cheese Frosting:
3 ounces cream cheese, VERY soft
2 tablespoons unsalted butter, VERY soft
1 teaspoon pure vanilla extract
1/2 teaspoon ground cinnamon
1 cups confectioners' sugar, sifted
Instructions
Preheat oven to 400°(F). Line a large baking sheet with parchment paper or a non-stick baking mat; set aside.
In a large bowl mix together 2 1/2 cups of the flour, salt, baking powder, baking soda, sugar, cinnamon, and nutmeg.
Cut the butter into small cubes then quickly work it into the mixture (using your fingers) until it resembles a coarse meal.
In a small bowl, whisk together the egg, sour cream, and milk, then add to flour and butter mixture. In a small bowl combine remaining tablespoon of flour, grated zucchini, and chocolate chips; toss to coat, then add to the scone mixture; gently fold them into dough with a spatula until combined.
Pour the shaggy dough out onto a clean, floured work surface and shape the dough (you will have to work/knead it quite a bit to get it together) into an 8-inch circle. Cut the dough into 8 wedges and carefully transfer them to the prepared sheet.
Lightly brush each scone with the egg wash.
Bake for 20-22 minutes, or until the tops are golden brown.
Cool for about 10 minutes on the pan; in the meantime you can make your frosting (if using).
For the cinnamon frosting:
In the bowl of a stand-mixer fitted with the paddle attachment, or in a large bowl using an electric handheld mixer, beat the cream cheese, butter, and vanilla on medium-high speed until completely smooth; about 2 minutes. Reduce the speed to low and gradually add the cinnamon and sifted confectioners' sugar. Once all of the sugar has been added beat on high-speed for 1-2 minutes. Once scones are cool to the touch, spread frosting on top, or scoop the frosting into a ziplock bag, snip the end off, and drizzle it over as I did in the photos shown. Eat at once.
Notes
Scones are always best eaten the day of, but will keep, in an airtight container for 3 days.
Courses Breakfast
Cuisine American
Amount Per Serving
% Daily Value
Recipe by Baker by Nature at https://bakerbynature.com/chocolate-chip-zucchini-scones/