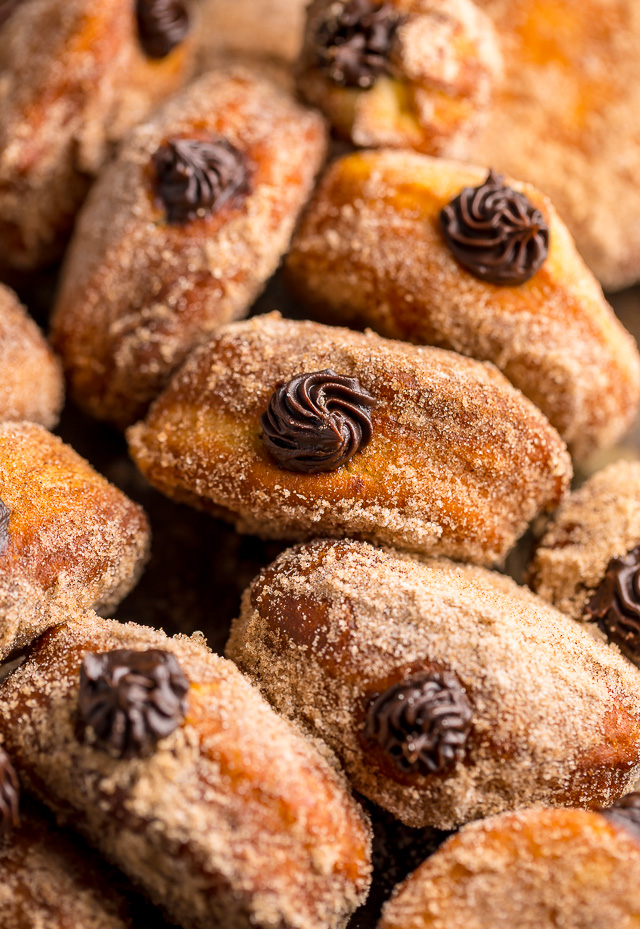 Chocolate Hazelnut Cream Doughnuts
Yield 1 dozen
Soft and pillowy homemade doughnuts are filled with a rich and flavorful chocolate hazelnut cream! 
Ingredients
For the Doughnuts:
2 packages (1/4 ounce each) active dry yeast
1/4 cup warm water (110° to 115° F)
3/4 cup warm full-fat milk (110° to 115°F)
5 tablespoons unsalted butter, at room temperature
1/3 cup granulated sugar
1 large egg plus 1 egg yolk, at room temperature
3/4 teaspoon salt
3 and 3/4 cups all-purpose flour, divided
2 cups frying oil, (I used refined coconut oil, but you may use canola or vegetable oil)
For the Hazelnut Cream:
4 Lindt EXCELLENCE Roasted Hazelnut Bars, (14 ounces), finely chopped
1 and 1/2 cups heavy cream
4 Tablespoons unsalted butter, at room temperature, cut into small pieces 
1/4 teaspoon salt 
1 Tablespoon hazelnut liqueur (optional) 
For the Cinnamon Sugar Coating: 
1 cup granulated sugar
1 Tablespoon cinnamon
Instructions
For the Doughnuts:
In a small bowl combine the yeast and warm water; set aside until it foams up, about 5 minutes.
In the bowl of a stand mixer fitted with the hook attachment, combine the warm milk and butter and, using a silicon whisk, stir until the butter has completely dissolved. Add in the sugar, egg, egg yolk, salt, yeast mixture and 3 cups flour, and beat on medium-low speed until smooth. Beat in remaining flour just until a soft ball of dough forms around the hook. Don't knead the dough yet! 
Transfer the dough to a large, lightly greased bowl, turning once to coat the top. Cover tightly with saran wrap and set aside to rise in a warm area until it appears to have tripled in size, about 1 hour.
Gently punch the dough down and turn it out onto a lightly floured work surface. Kead the dough into a smooth ball, about 7-8 times, or until it's uniform in texture.
Using a rolling pin, roll the dough out into a large rectangle, approximately 1/2 inch thick. Using a lightly floured 2 and 1/2-inch round dough cutter, cut an equal amount of circles from the rectangle. 
Transfer the cut doughnuts to a large, lightly greased baking sheet, spacing them an inch a part (they will rise). Cover pan lightly with saran wrap and set aside for 45 minutes, or until the doughnuts have almost doubled in size. 
When ready to fry, heat oil in a large, heavy bottomed pot, to 360°(F). Fry doughnuts, a few at a time, for 1-2 minutes on each side, or until golden brown. 
Quickly roll the warm doughnuts in the cinnamon sugar and set aside. 
For the Chocolate Hazelnut Cream:
Add chopped chocolate to a large, heatproof bowl and set it aside until needed. 
In a small saucepan over medium-heat, bring the cream to a low simmer. Pour half of the cream on top of the chopped chocolate and set aside for 1 minute. Using a silicon whisk, begin to incorporate the melted chocolate into the cream. Slowly add the remaining cream and continue whisking until the mixture is completely smooth and glossy. 
Add in the butter, salt, and liqueur (if using), and use a silicon spatula to stir until the butter is completely melted. The mixture should be smooth, dark and glossy. 
Cool to room temperature, then place in the fridge to chill until thick but still smooth enough to pipe, about 2 hours.
For the Cinnamon Sugar Coating:
In a medium-sized shallow bowl, combine the granulated sugar and cinnamon and set aside until needed. 
Assembly:
Scrape the chocolate hazelnut cream into a pastry bag fitted with a star tip and set aside.
Using the back of a small spoon (or your finger) make a small hole on the side of each doughnut.
Carefully fit the nozzle of the bag into a doughnut and squeeze until you see the center begin to puff up. Repeat with all doughnuts. 
Donuts are best served the day they are made, but will keep for 24 hours.
Courses Breakfast
Cuisine Doughnuts
Recipe by Baker by Nature at https://bakerbynature.com/chocolate-hazelnut-cream-doughnuts/