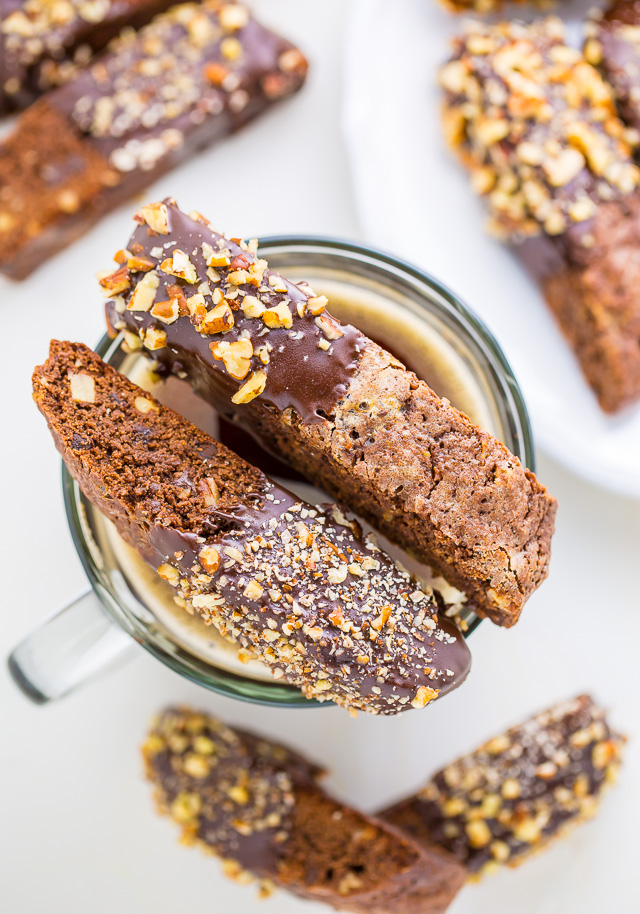 Chocolate Pecan Biscotti
Yield 16 biscotti cookies
Sweet and crunchy Chocolate Pecan Biscotti is perfect for breakfast, dessert, or your next cookie exchange!
Ingredients
For the chocolate biscotti:
1 and 1/2 cups all-purpose flour
1/2 cup unsweetened cocoa powder, sifted
1 and 1/2 teaspoons baking powder
1//4 teaspoon salt
1 stick (4 ounces) unsalted butter, at room temperature
1 cup granulated sugar
2 large eggs, at room temperature
1/2 cup pecans, chopped
1/2 cup mini chocolate chips
For the egg wash:
1 large egg
1 teaspoon water
1/2 teaspoon granulated sugar
For the chocolate glaze:
10 ounces semi-sweet chocolate, roughly chopped
1/3 cup pecans, finely chopped
Instructions
For the chocolate biscotti:
Preheat oven to 350 degrees (F). Line a large baking sheet with parchment paper; set aside.
In a large bowl add the flour, cocoa powder, baking powder, and salt; whisk well to combine and set aside. In a the bowl of a stand mixer fitted with the paddle attachment, or in a large bowl using a handheld electric mixer, beat the butter and sugar on medium speed until combined; about 1 minute. Add in the eggs, one at a time, beating well after each addition. Reduce the mixer speed to low and gradually add in the flour mixture, mixing until just combined. Add pecans and mini chocolate chips and mix until combined. Be sure not to over mix here!
Lightly flour a clean work surface. Scrape the dough out onto the prepared work space (it will be very sticky!) and gather it into a ball. Press the ball into a round, flat disk, then divide the dough in half. Shape each half into a 12-inch log, adding a little bit more flour if needed. Place the logs, 4 inches apart, on prepared baking sheet. Using the palm of your hand, gently press down on the logs and flatten them until they're about 2 inches wide. Brush the top of each log with a little egg wash and sprinkle with sugar. Place the baking sheet in the preheated oven and bake for 25 to 30 minutes, or until the top is firm, shiny, and springs back when lightly touched. Place the baking sheet on a wire rack and cool for 25 minutes. In the meantime, reduce the oven temperature to 250 degrees (F).
Once the 25 minutes are up, gently slide a metal spatula under each log to help loosen it from the parchment paper. Transfer the logs to a large cutting board. Using a serrated knife, slice the logs into diagonal 3/4 inch slices. Arrange the slices back on the parchment paper lined baking sheet, placing them cut side down and 1 inch apart. Bake for 25 minutes, or until dry and firm. Transfer the biscotti to a wire rack. Cool completely before dipping in chocolate.
For the egg wash:
In a small bowl combine the egg and water; beat well. Follow instructions above.
For the chocolate glaze:
Place the chopped chocolate in a medium-sized microwave safe bowl. Melt the chocolate in the microwave, on low power, in 15 second increments, stirring after each increment, until completely melted; whisk smooth. If you do not own a microwave, you may do the previous step on the stove top using a double boiler. Once cooled, carefully dip one side of a biscotti into the melted chocolate, allowing excess chocolate to drip back into the bowl before immediately sprinkling it with pecan bits and placing it back on the parchment paper lined baking sheet. Repeat with all biscotti cookies. Once all cookies have been dipped, place the baking sheet in the fridge for 30 to 45 minutes, or until the chocolate has set.
Notes
Biscotti will stay fresh, when stored in an airtight container, for up to 2 weeks. Biscotti may be frozen, without the chocolate glaze, for up to 2 months.
Courses Breakfast
Cuisine Italian
Amount Per Serving
% Daily Value
Recipe by Baker by Nature at https://bakerbynature.com/chocolate-pecan-biscotti/