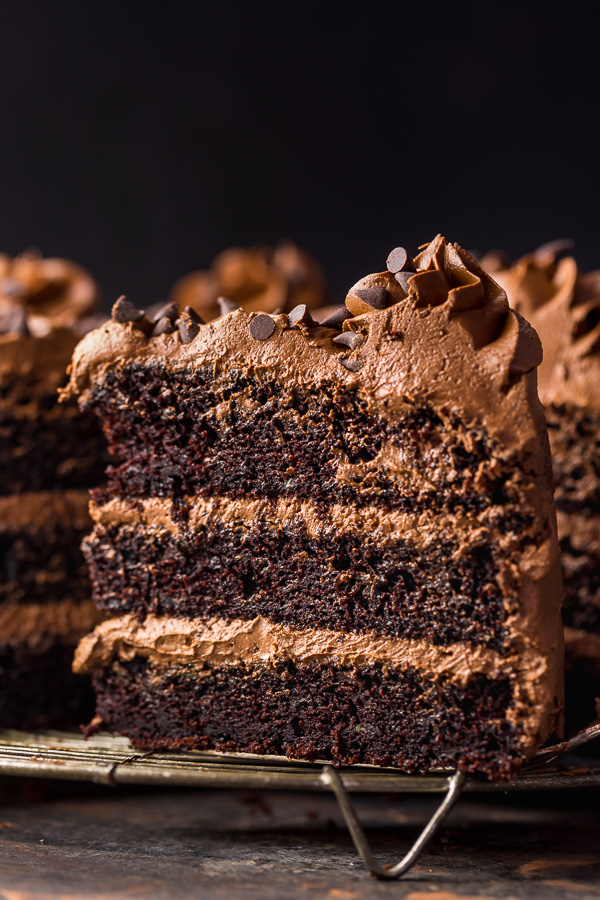 Chocolate Zucchini Cake
Yield 9" Layer Cake
This EXTREMELY moist Chocolate Zucchini Cake is topped with fluffy Chocolate Frosting! The perfect Summer chocolate cake.
Ingredients
For the chocolate zucchini cake:
2 cups granulated sugar
1 cup light brown sugar, packed
2 and 1/2 cups all-purpose flour (not packed!)
1 and 3/4 cups unsweetened cocoa powder, sifted
3 teaspoons baking soda
1 and 1/2 teaspoons baking powder
1 teaspoon salt
1 teaspoon ground cinnamon
3 large eggs + 2 large egg yolks, at room temperature
2 cups coarsely shredded zucchini, packed and NOT drained (see post for more on this)
1 cup full-fat plain Greek yogurt
3/4 cup vegetable oil (you may also sub in melted coconut oil)
2 teaspoons vanilla extract
1 and 1/2 cups hot water
For the fluffy chocolate frosting:
1 cup unsalted butter (2 sticks, 8 ounces), VERY soft
2 and 1/2 cups confectioners' sugar, sifted
6 ounces semi-sweet chocolate, melted and cooled for 10 minutes
1 teaspoon vanilla extract
1/2 teaspoon salt
2 tablespoons heavy cream (more only if needed)
Instructions
For the chocolate cake:
Preheat oven to 350°(F). Cut out three 9-inch round segments of parchment paper to line your cake pans with. Spray each pan generously - sides and bottom - with nonstick baking spray, then place the parchment paper cut out in the bottom of the pans and spray again. It's important to make sure every bit of pan and paper are sprayed so your cakes don't get stuck. Set pans aside.
In the bowl of a stand mixer fitted with the paddle attachment, or in a large bowl using a handheld electric mixer, combine both sugars, flour, cocoa powder, baking soda, baking powder, salt, and cinnamon; mix on low speed until dry ingredients are thoroughly combined. Use your hands to break up any large clumps, if needed.
In a separate bowl combine the eggs, egg yolks, zucchini, Greek yogurt, oil and vanilla extract; mix until completely combined.
Pour mixture into the dry ingredients and beat on low until just incorporated. Pour in hot water and continue mixing until completely combined; about 1 minute. The batter will be thin.
Divide batter evenly among prepared pans. Bake in preheated oven for 30 minutes, or until a wooden toothpick or cake tester inserted in the center of a cake comes out clean or with just a few moist crumbs attached.
Cool cakes for 10 minutes in the pans before removing from pans and transferring to a cooling rack. Cool cakes completely before frosting. *If you don't have enough room to bake all 3 cakes on the same rack in an even line, bake 2 at a time.
For the fluffy chocolate frosting:
In a stand mixer fitted with the paddle attachment, or in a large bowl using a handheld electric beater, cream the softened butter on medium-speed until completely smooth; about 3 minutes.
Turn the mixer off and sift the confectioners' sugar into the mixing bowl. Turn the mixer on the lowest speed and mix until the sugar has been absorbed by the butter; about 2 minutes.
Increase mixer speed to medium; add in the melted chocolate, vanilla extract, salt, and heavy cream; beat for 2 minutes then increase the speed to medium-high and continue beating for another minute. If your frosting appears too thin, add a little more confectioners' sugar; If your frosting appears too thick, add additional heavy cream, 1 teaspoon at a time.
Assembly:
Using a serrated knife, carefully trim the raised top of each cake, making each one an even, level surface.
Transfer 1 layer to a large plate or cake stand. Spread a thick layer of frosting on top, then top with another cake layer, and repeat, thickly spreading it with a layer of frosting.
Top with the final cake layer and place cake in the fridge to set for 30 minutes. Once set, finishing frosting the top and sides of the cake.
Slice and serve, or keep refrigerated for about a week.
Courses Dessert
Cuisine Chocolate
Recipe by Baker by Nature at https://bakerbynature.com/chocolate-zucchini-cake/