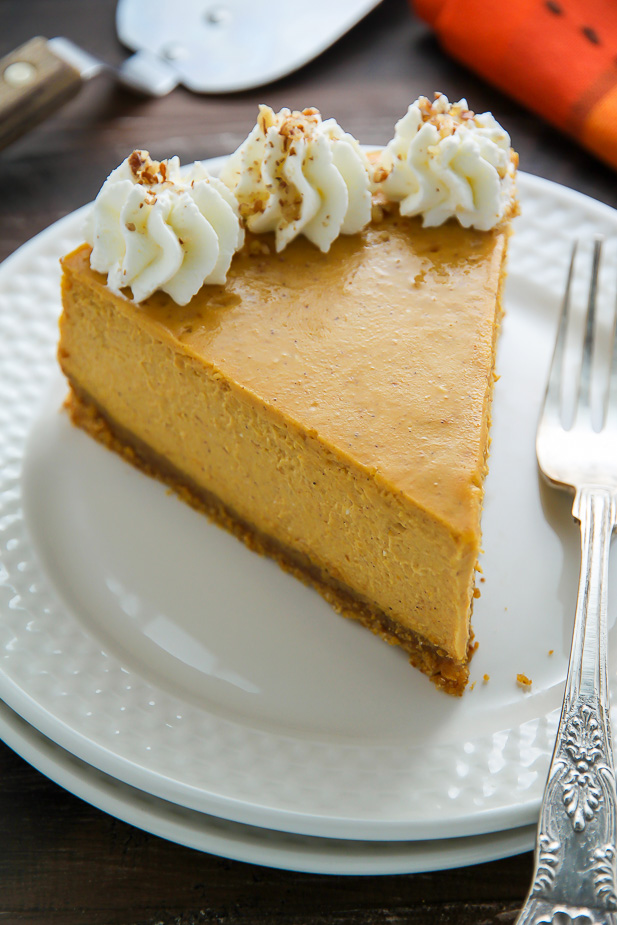 Classic Pumpkin Pie Cheesecake
Yield 9" Cheesecake
Ultra creamy and richly spiced Classic Pumpkin Pie Cheesecake! This is perfect for the holiday table.
Ingredients
For the Graham Cracker Crust:
2 cups graham crackers, pulsed into crumbs
1/3 cup granulated sugar
1/4 teaspoon salt
7 tablespoons butter, melted
For the Pumpkin Pie Cheesecake Filling:
(2) 8 oz packages of cream cheese, VERY soft
1 1/2 cups sour cream
3 large eggs + 2 egg yolks
(1) 15 oz can of pumpkin puree
3/4 cup brown sugar
3/4 cup granulated sugar
3/4 teaspoon cinnamon
1/8 teaspoon cloves
1/8 teaspoon nutmeg
1/4 teaspoon ground ginger
2 1/2 tablespoon all purpose flour
1 1/2 teaspoons vanilla extract
For the Whipped Cream:
1 cup heavy cream
1/4 cup confectioners' sugar
1/2 teaspoon vanilla
Instructions
Preheat oven to 325 degrees (F).
Make the crust:
In the body of a blender combine the graham crackers, salt, and sugar; pulse until the crackers have been completely pulsed to crumbs. Stir in the melted butter; stir well to combine. Press down into a 9-inch springform pan, pressing the crust down firmly and slightly up the sides. Wrap the pan VERY well in layers of heavy-duty tin foil; set aside.
Make the filling:
Beat cream cheese and sour cream in a blender until completely smooth. Add in the eggs, egg yolks, pumpkin puree, sugars, and spices, pulse until well combined. Add flour and vanilla and pulse for another 30 seconds, or until flour has completely disappeared into the batter. Don't over mix! Pour filling into crust, and spread evenly, smoothing the top. Place the springform pan in a large baking pan (with high sides) and fill the pan halfway with hot water; this is your water bath. Place the cheesecake in the oven and cook cheesecake for 1 hour and 20 minutes. Turn the oven off and let the cheesecake sit for 45 minutes inside the oven with the door shut. The cheesecake should be still slightly wiggly. Remove cake from oven, run a knife very gently around the edge of the cake, and let it sit in the pan for 15 more minutes before covering loosely with plastic wrap and refrigerating for at least 4 hours. When ready to serve, slice, top with a dollop of whipped cream and enjoy!
Make the Whipped Cream:
Place the heavy cream and sugar in a stand mixer fitted with the whisk attachment and beat on high until semi-stiff peaks begin to form. Add in the vanilla and beat for another minute or so. Dollop on top of cheesecake slices right before serving, or place in the refrigerator until needed. Keeps for 48 hours.
Courses Dessert
Cuisine American
Amount Per Serving
% Daily Value
Recipe by Baker by Nature at https://bakerbynature.com/classic-pumpkin-pie-cheesecake/