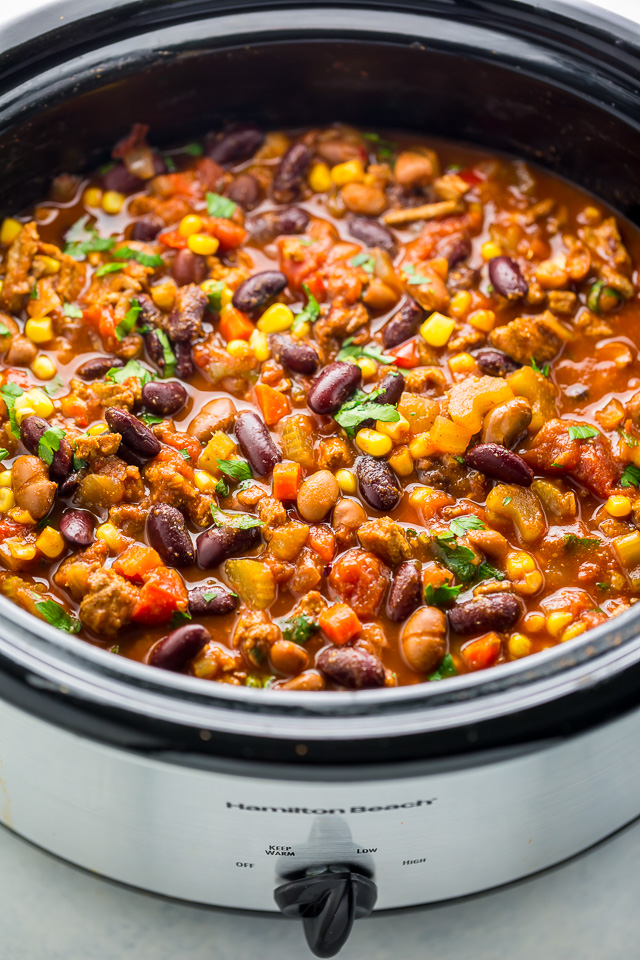 Comforting Slow Cooker Turkey Chili
Yield 14 servings
Comforting Slow Cooker Turkey Chili! Incredibly flavorful, hearty, and delicious.
Ingredients
1 pound lean ground turkey
1 tablespoon olive oil
1/2 cup celery, finely chopped
1 carrot, diced
1 large yellow onion, diced
1 red or green bell pepper, seeds and ribs removed, diced
1 jalapeno pepper, seeds and ribs removed, minced
3 cloves garlic, minced
2 tablespoons chili powder
1 and 1/2 teaspoons ground cumin
1 teaspoon Italian seasoning
1/2 teaspoon salt
1/2 teaspoon fresh ground black pepper
1/2 teaspoon cayenne pepper (use less if you're sensitive to spice)
(1) 28 ounce can diced tomatoes in tomato juice (don't drain!)
8 ounces tomato puree
(2) 15 ounce cans kidney beans, rinsed and drained
(1) 15 ounce cans pinto beans, rinsed and drained
1 cup vegetable broth
3/4 cup frozen corn
1/4 cup fresh lime juice
Cilantro or parsley, chopped, for garnish (optional)
Sour cream, for garnish, optional
Grated cheese, for garnish, optional
Extra lime wedges, for garnish, optional
Instructions
Heat a large skillet over medium-high heat. Add in the ground turkey and cook for 8 to 10 minutes, or until no longer pink, breaking the meat up with a wooden spoon as it cooks. Add in the olive oil, celery, carrot, onion, bell pepper, and jalapeno pepper; cook for another 5 minutes, or until softened. Add in the garlic, chili powder, cumin, Italian seasoning, salt, black pepper, and cayenne pepper and cook for another minute.
Transfer mixture into a 5-qt (or larger) slow cooker. Stir in the diced tomatoes, tomato puree, kidney beans, pinto beans, vegetable broth, and frozen corn, mixing well to combine. Cover and cook on low for 8 hours. Stir in the lime juice right before serving! Garnish with cilantro, sour cream, and cheese, if desired. Serve warm, with extra lime wedges.
Notes
This makes about 14 standard bowls of chili.
Courses Dinner
Cuisine American
Amount Per Serving
% Daily Value
Recipe by Baker by Nature at https://bakerbynature.com/comforting-slow-cooker-turkey-chili/