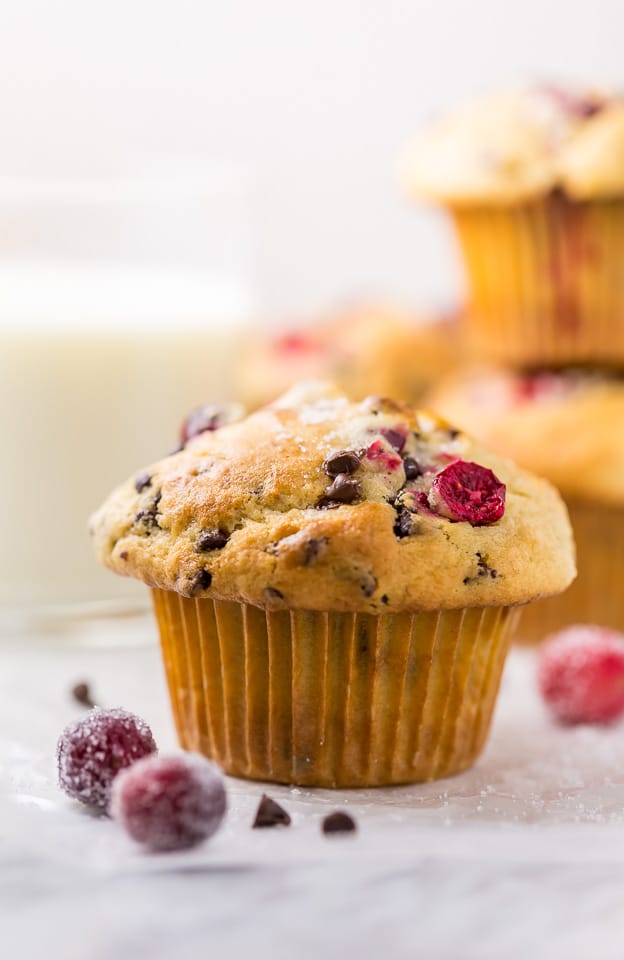 Cranberry Banana Muffins
Yield 1 dozen
These soft and fluffy Cranberry Banana Muffins are so easy and perfect for breakfast! Full of real banana flavor, fresh cranberries, and a handful of chocolate chips, they're simply irresistible!
Ingredients
2 cups all-purpose flour
3 teaspoons baking powder
1/2 teaspoon salt
1/4 teaspoon freshly grated nutmeg 
8 tablespoons (4 ounces) unsalted butter, melted
2/3 cup light brown sugar, packed
1/2 cup granulated sugar
2 large eggs, at room temperature
2 teaspoons pure vanilla extract
1 cup full-fat sour cream
2/3 cup mashed ripe banana 
1 cup fresh cranberries, roughly chopped
1/2 cup chocolate chips 
Instructions
Preheat oven to 400 degrees (F). Line a 12 cup muffin tin with paper liners and it set aside.
In a large bowl, sift together the flour, baking powder, nutmeg, and salt; set aside.
In a separate large bowl, whisk together the butter, both sugars, eggs, vanilla extract, sour cream, and mashed bananas, mixing until ingredients are fully incorporated.
Add the dry mixture of ingredients to the wet mixture of ingredients and, using a rubber spat
Fold in the cranberries and chocolate chips, mixing just until combined.
Divide the batter evenly among prepared muffin tins, filling each tin all the way to the top. 
Bake for 16 to 18 minutes, or until the tops are puffed up and lightly golden brown, and a toothpick inserted in the middle comes out clean, or with a just a few moist crumbs attached. Cool muffins at least 5 minutes in the pan before transferring to a cooling rack.
Enjoy muffins warm, or store in a covered container for up to 2 days. 
Courses Breakfast
Cuisine Muffins
Recipe by Baker by Nature at https://bakerbynature.com/cranberry-banana-muffins/