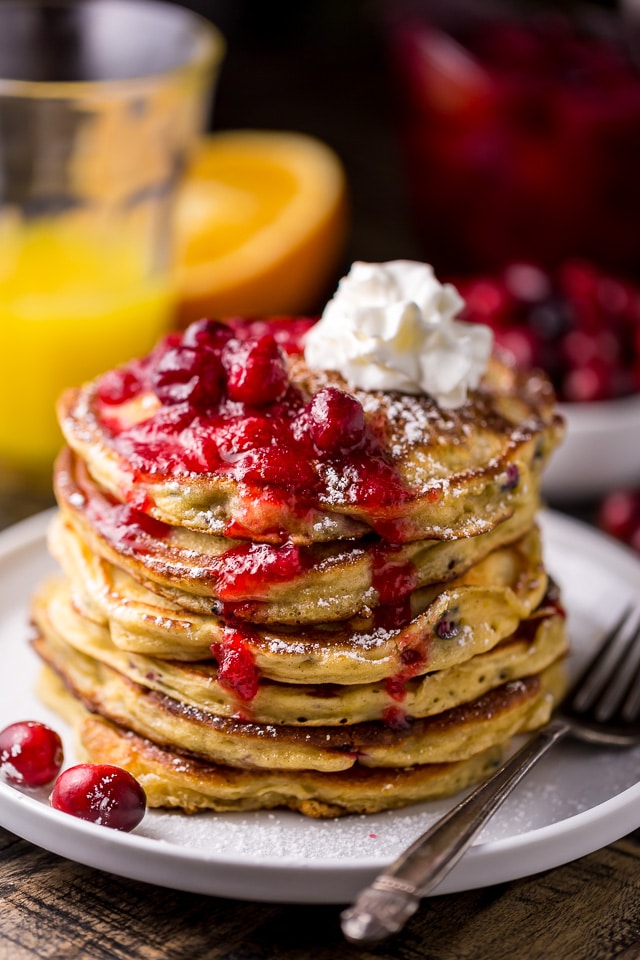 Cranberry Orange Pancakes
Yield 4 servings
Fluffy and flavorful Cranberry Orange Pancakes are covered in Cranberry Maple Syrup!
Ingredients
For the Cranberry Orange Pancakes:
2 cups (241g/8 and 1/2 ounces) all-purpose flour
1/4 cup (50g/1 and 3/4 ounces) granulated sugar
1 and 1/2 teaspoons baking soda
2 teaspoons baking powder
3/4 teaspoon salt
3/4 teaspoon ground cinnamon
3/4 cup (74g/2 and 5/8 ounces) cranberries, fresh or frozen, roughly chopped
2 large eggs, at room temperature
1 and 1/2 cups (340g/12 ounces) whole milk
1 cup (227g/8 ounces) full-fat ricotta cheese
1 and 1/2 teaspoons pure vanilla extract
1/4 cup (57g/2 ounces) orange juice
2 teaspoon orange zest, finely grated
For the Cranberry Maple Syrup:
2 cups (198g/7 ounces) cranberries, fresh or frozen (If using frozen, do not thaw first)
1/4 cup (57g/2 ounces) orange juice
2 Tablespoons granulated sugar
3/4 cup (234g/8 and 1/4 ounces) maple syrup
1 and 1/2 Tablespoons unsalted butter
Instructions
For the Cranberry Orange Pancakes:
In a large mixing bowl, add the flour, sugar, baking soda, baking powder, salt, and cinnamon; whisk well to combine. Add in the chopped cranberries and, using a rubber spatula, mix until they're coated in the dry ingredients. Set aside until needed.
In a separate large mixing bowl, add the eggs and lightly beat them with a whisk until the yolks and whites are evenly combined. Add in the milk, ricotta cheese, and vanilla and beat until well combined.
Using a rubber spatula, fold the wet ingredients into the dry ingredients, stirring just until everything is combined. Quickly fold in the orange juice and zest, stirring until evenly combined. Be careful not to over mix the batter.
Pour batter by 1/3 cupfuls onto a greased hot pan or griddle, adding only a few at a time so that they do not blend together. Cook for about 2 minutes before flipping them over, or until small bubbles form on top. Cook on the second side until golden brown, about 1-2 minutes. Repeat with all pancake batter. Serve pancakes warm, with cranberry maple syrup, plain maple syrup, or whipped cream.
For the Cranberry Maple Syrup:
In a small saucepan, bring the cranberries, orange juice and sugar to a boil. Reduce the heat and simmer, uncovered, for 5 to 6 minutes, or until they cranberries have softened and can easily be smashed with the back of a spoon. Remove from heat and stir in the maple syrup and butter. Spoon the mixture on top of the pancakes and serve at once.
Notes
To freeze: place cooled pancakes between layers of waxed paper, then place them in a freezer-safe plastic bag, squeezing out any excess air before sealing the bag and placing it in the freezer. Pancakes will keep in the freezer for 2 months.
To reheat: heat your oven to 375 degrees (F). Place the pancakes in a single layer on a large baking pan; cover with tinfoil and heat in a preheated oven for 6-8 minutes, or until warm. You may also microwave 3-4 pancakes at a time for about 40 seconds, or until heated through.
Courses Breakfast
Cuisine American
Recipe by Baker by Nature at https://bakerbynature.com/cranberry-orange-pancakes/