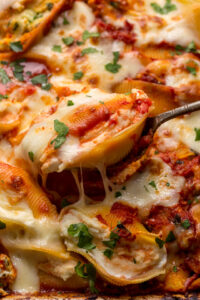 Classic Stuffed Shells
Yield 6 Servings
These Crazy Good Classic Stuffed Shells are creamy, gooey, carb-y comfort food at it's best! This family loved recipe features perfectly cooked shells, flavorful tomato sauce, and the most delicious ricotta filling! Sure to become one of your favorite pasta dishes!
Ingredients
For the Sauce:
3 tablespoons olive oil
1 large onion, finely diced
6 cloves garlic, minced
1/8 teaspoon crushed red pepper flakes (tiny pinch!)
1/3 cup red wine (optional)
2 (28 ounce) cans crushed tomatoes
1/2 teaspoon salt, add more to taste
1/4 teaspoon ground black pepper, add more to taste
2 teaspoons granulated sugar
1/2 cup fresh basil, chopped
For the Cheese Filling:
15 ounces ricotta cheese
1/3 cup finely grated parmesan cheese 
4 ounces mozzarella cheese, shredded 
2 large eggs, lightly beaten 
2 Tablespoons parsley, finely chopped
2 Tablespoons basil, finely chopped 
1/8 teaspoon salt 
1/8 teaspoon freshly ground black pepper
For the Shells:
(1) 12 ounce box jumbo shells pasta 
4 ounces mozzarella cheese. shredded 
4 ounces fontina cheese, cubed (mozzarella can be used instead)
2 Tablespoons fresh parsley, finely chopped, for garnish 
1/2 cup parmesan cheese, for serving (optional)
Instructions
For the Sauce:
Warm the oil a large saucepan over medium heat. Add in the onion and cook until softened, about 6 to 8 minutes. 
Add in the garlic and crushed chili flakes and cook for another minute, or until fragrant.
Stir in the wine, if using, and cook for 2 minutes. Then add in the crushed tomatoes, salt, and pepper, stir well to combine. 
Bring sauce to a boil, then reduce to medium-low and simmer, stirring occasionally, for 45 minutes.
Stir in the sugar and basil and cook for another 15 minutes. Taste and add salt and pepper as needed. 
Remove from heat allow to slightly cool before using it in the baked ziti. Sauce can be made up to 3 days in advance and stored in the fridge until needed. 
For the Cheese Filling:
In a large bowl, combine the ricotta cheese, parmesan cheese, mozzarella cheese, parsley, basil, egg, eggs, salt and pepper. Stir together until just smooth. Set aside until needed.
For the Shells:
Bring a large pot of water to boil. Add a 1/2 teaspoon of salt, then stir in the pasta shells. Set a timer and cook for exactly 4 minutes. Drain and quickly run under cold water to stop the cooking process. Pat the shells dry and set aside.
Assembly and Baking:
Preheat the oven to 375 degrees (F). 
Pour 1 and 1/2 cups of the tomato sauce onto the bottom of a 9X13-inch casserole dish. Set aside. 
Stuff each shell with a heaping tablespoon of the cheese filling, then place it in the baking dish. Nestle the shells as close together as possible. Repeat with all shells until you run out of cheese filling.
Top shells with remaining pasta sauce, then sprinkle with both cheeses. 
Bake the shells for 35 minutes, or until the cheese is golden and bubbling.
Let rest for 5 minutes before serving. Then sprinkle with parsley and parmesan and serve! 
Courses Dinner
Cuisine Italian
Recipe by Baker by Nature at https://bakerbynature.com/crazy-good-classic-stuffed-shells/