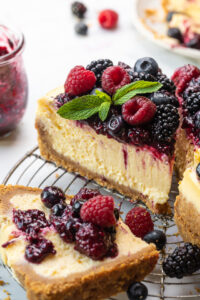 Creamy Italian Ricotta Cheesecake
Yield 9" Cheesecake
One of my favorite Easter traditions is baking a creamy ricotta cheesecake for my family! It's the perfect recipe to share with a crowd, and it's make-ahead friendly, meaning you can bake it well in advance and just pull it out of the freezer the night before you plan on serving it! Delicious on it's own, but outrageously good with a fresh berry sauce on top!
Ingredients
For the Graham Cracker Crust:
2 cups (225 grams) graham cracker crumbs 
1/3 cup (67 grams) sugar 
8 tablespoons (113 grams) unsalted butter, melted
For the Creamy Italian Ricotta Cheesecake:
4 blocks (920 grams) full-fat cream cheese, softened to room temperature 
1 and 1/2 cups (341 grams) whole milk ricotta cheese, at room temperature 
1 and 1/3 cups (266 grams) granulated sugar
2 teaspoons pure vanilla extract
5 large eggs plus 2 egg yolks, at room temperature
1/2 cup (113 grams) heavy cream 
2 teaspoons all-purpose flour 
For the Fresh Berry Sauce:
1/4 cup (57 grams) fresh lemon juice
1/4 cup (50 grams) granulated sugar
1 teaspoon lemon zest, finely grated 
12 ounces (340 grams) mixed berries, fresh or frozen
2 teaspoons vanilla extract 
1 Tablespoon Grand Marnier (optional) 
Instructions
For the Graham Cracker Crust:
Preheat oven to 350 degrees (F). Lightly spray a 9" springform pan with non-stick spray.
Wrap the bottom and sides of the pan with heavy duty tinfoil. I recommend doing several diligent layers here to ensure no water creeps through when you place the pan in the water bath. Set pan aside. 
In a large bowl, combine graham cracker crumbs, sugar, and melted butter; stir well to combine.
Firmly pat the mixture into the prepared pan. Bake in preheated oven for 10 minutes. Place partially baked crust on a cooling rack and set aside while you prepare the filling. 
Reduce oven to 325 degrees (F).
For the Creamy Italian Ricotta Cheesecake:
In the body of a high power blender, food processor, stand mixer fitted with the whisk attachment, or in a very large bowl using a hand held mixer, beat the softened cream cheese and ricotta cheese until completely smooth, scraping the bowl as needed. 
Add sugar and vanilla and beat smooth, scraping down the sides and bottom of bowl as needed. Add in the eggs and yolks, one at a time, beating well after each addition. 
Add in the heavy cream and gently stir until it's evenly combined. Finally, fold in the flour. 
Pour filling into prepared crust and, using a silicone spatula, smooth the top. 
Place the cheesecake pan into a large, deep pan. Fill the pan with 2 inches of hot water. This is your water bath and will help ensure your cheesecake comes out crack free.
Carefully place the pan in the oven and bake for 1 hour and 15 minutes.
Turn oven off and let the cheesecake sit, undisturbed, for 30 minutes, inside the oven with the door shut. The cheesecake should be still slightly wiggly.
Remove cake from oven and gently run a knife very around the edge of the cake. Place the cheesecake on a cooling rack and cool completely, then loosely cover the pan with saran wrap and chill for at least 6 (preferably 8) hours.
Cheesecake will keep, covered in the fridge, for 5 days. Cheesecake may be frozen for 2 months. Thaw overnight before slicing.
For the Fresh Berry Sauce:
In a medium saucepan over medium-high heat, bring lemon juice and sugar to a boil. Cook, stirring occasionally, until sugar has completely disintegrated into the mixture. 
Add lemon zest and berries and bring mixture to a boil. Reduce heat to a simmer and continue cooking, stirring occasionally and slightly mashing down the berries, for 10 minutes. 
Remove from heat. Stir in vanilla extract and Grand Marnier. 
Pour sauce into a bowl and cool to room temperature. 
Spoon over cheesecake right before serving. 
Courses Dessert
Cuisine Italian
Recipe by Baker by Nature at https://bakerbynature.com/creamy-italian-ricotta-cheesecake-recipe/