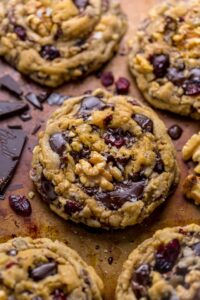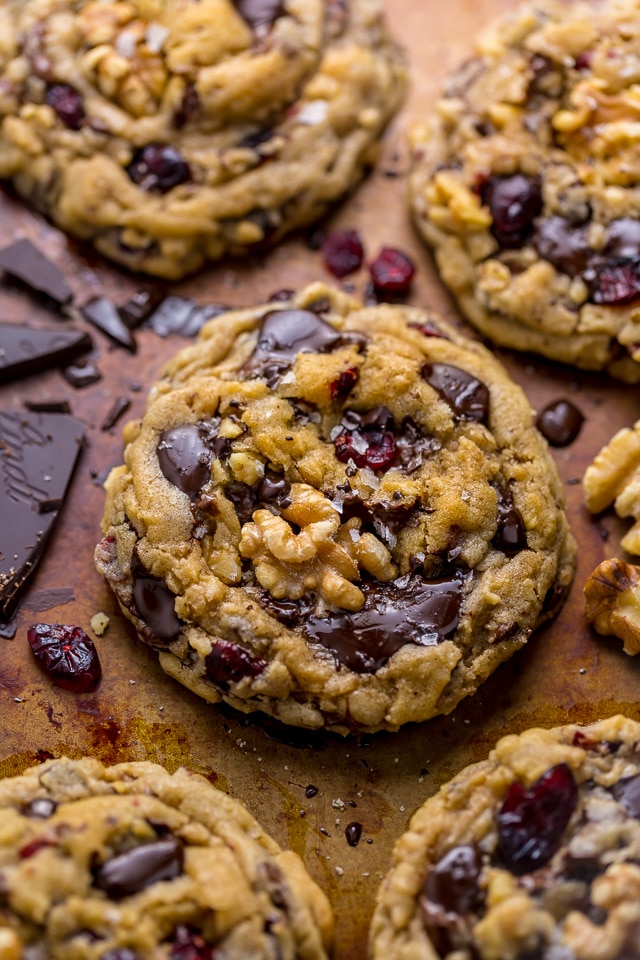 Dark Chocolate Cranberry Walnut Cookies
Yield 2 dozen cookies
These thick and chewy Dark Chocolate Cranberry Walnut Cookies are sure to be a new holiday favorite in your home for years to come!
Ingredients
2 sticks (8 ounces) unsalted butter, melted until browned, and brought back to room temperature
2 and 1/4 cups all-purpose flour
1 teaspoon salt
1/2 teaspoon ground cinnamon
1 teaspoon baking soda
3/4 cup dark brown sugar, packed
3/4 cup granulated sugar
2 teaspoons vanilla extract
1 large egg plus 1 egg yolk, at room temperature
8 ounces high-quality dark chocolate, chopped
1 cup dried cranberries
1 cup toasted walnuts, roughly chopped
1 teaspoon flaky sea salt, for sprinkling, optional
Instructions
To brown the butter:
Melt butter in a skillet over medium heat; continue cooking, stirring occasionally, until golden brown. About 6 to 8 minutes, depending on your stove top. Remove pan from heat and scrape butter - and any golden bits - into a medium sized, heatproof bowl. Place bowl in the fridge until butter has come back to room temperature; about 1 hour and 30 minutes. You'll know it's ready when the butter is solid, but just soft enough that you can scrape it out of the bowl (use a strong metal spoon).
Make the cookies:
Preheat oven to 375 degrees (F). Line a large baking sheet with parchment paper.
In a large bowl combine flour, salt, cinnamon, and baking soda; whisk well to combine then set aside until needed.
In the bowl of a stand mixer fitted with the paddle attachment, or in a large bowl using a handheld electric mixer, combine the chilled brown butter and both sugars; beat on medium speed until light and fluffy, about 2 minutes. Add in vanilla. Beat in egg and egg yolk, one at a time, beating until just combined, and scraping down the sides of the bowl as needed.
Using a rubber spatula, fold in the flour, stirring until just combined. Fold in the chocolate, cranberries, and walnuts.
Scoop 3 tablespoon sized rounds of dough onto the prepared sheet, leaving 2 inches in between each cookie for spreading. Bake for 9 to 10 minutes, or until edges are set and the center is still a little jiggly. 
Remove cookies from oven and sprinkle with sea salt, if using.
Allow cookies to cool on the pan for 10 minutes, then carefully transfer to a cooling rack. Repeat with remaining cookie dough.
Notes
For decorative purposes, you can press extra chocolate chunks on top of the cookies as soon as they come out of the oven.
Cookies will stay "fresh" for 3 days when stored in an airtight container.
Cookie dough will keep in the fridge for 72 hours. Alternatively, you may scoop and freeze the cookie dough for up to 2 months. You will need to add an extra minute or two to the bake time if baking frozen dough.
You can make smaller sized cookies, but you'll need to decrease the bake time by a minute or two.
Courses Dessert
Cuisine Cookies
Recipe by Baker by Nature at https://bakerbynature.com/dark-chocolate-cranberry-walnut-cookies/