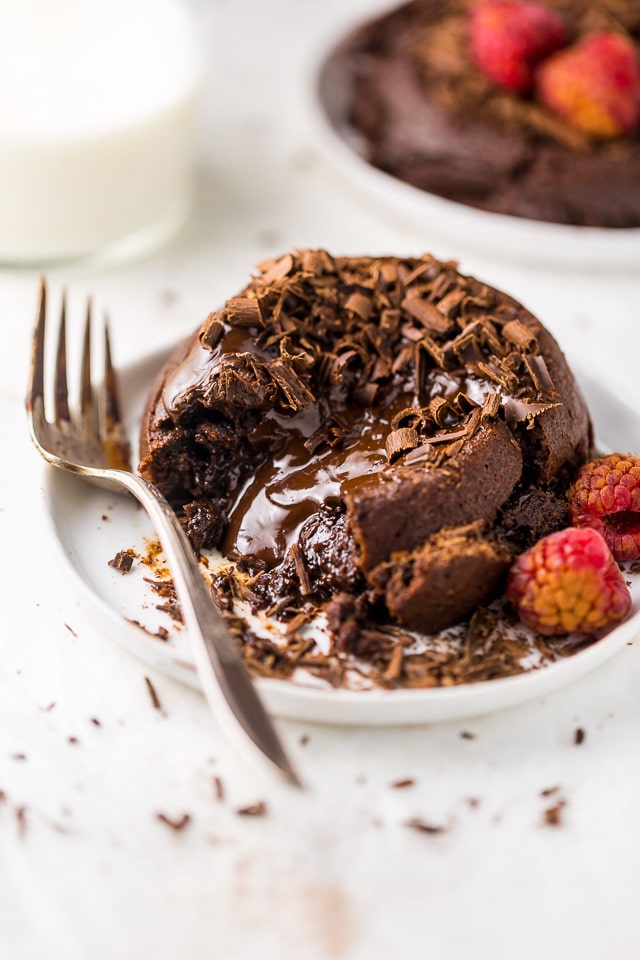 Easy Molten Chocolate Lava Cakes for Two
Yield 2 cakes
These Easy Molten Chocolate Lava Cakes for Two are so delicious and perfect for Valentine's Day! A rich, decadent, and romantic chocolate dessert recipe anyone can make at home!
Ingredients
2 ounces unsalted butter

3 ounces semi-sweet chocolate, chopped

1 teaspoon espresso powder 

1/4 cup light brown sugar, packed 

1/4 cup confectioners' sugar 

1 large egg, at room temperature 

1 egg yolk, at room temperature 

1/2 teaspoon vanilla extract 

1/4 cup flour

1/8 teaspoon salt (tiny pinch)
Instructions
Preheat oven to 450°F. Generously grease two 6-ounce ramekins with butter OR nonstick baking spray; place on a baking sheet and set aside until needed. 
Add the butter and chocolate to a large, microwave safe bowl and microwave in 20 second increments, making sure to stir well after each increment, until chocolate is completely melted. Remove from the microwave and whisk smooth. Whisk in the espresso powder. Then whisk in both sugars, stirring until well combined. Add in the egg, egg yolk, and vanilla and mix until well combined.
Toss in the flour and salt and mix until just combined, being sure not to over mix the batter.
Evenly divide the batter among the prepared ramekins and place them back on the baking sheet.
Bake for 11 to 12 minutes, or until the tops have puffed up and the edges are firm but the center is still  slightly jiggly.
Remove from the oven and cool for exactly 1 minute. Using a tea towel to protect your hands, carefully invert each ramekin onto a small plate. Top with chocolate shavings and berries, if using. Serve at once and enjoy!
Courses Dessert
Cuisine Cake
Recipe by Baker by Nature at https://bakerbynature.com/easy-molten-chocolate-lava-cakes-for-two/