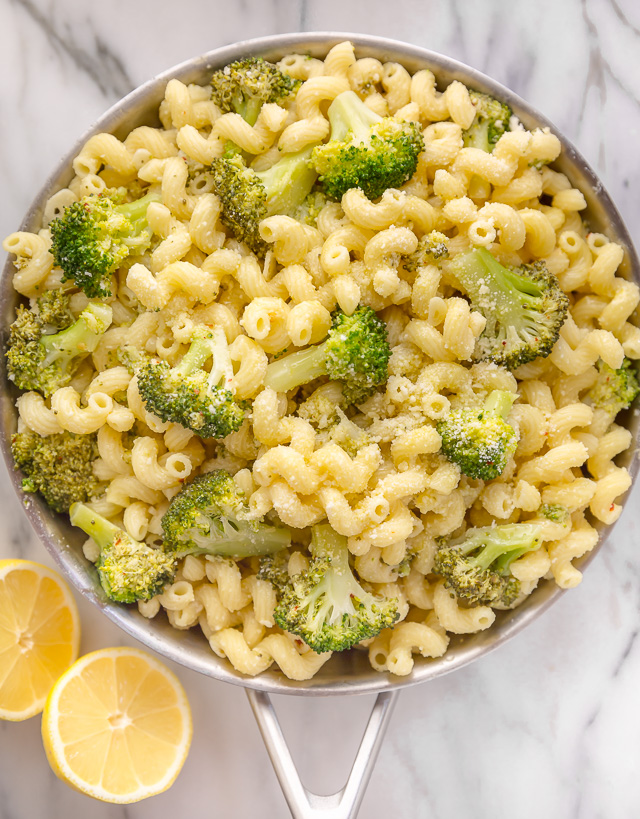 Easy Pasta with Broccoli Recipe
Yield 4 servings
This Easy Pasta with Broccoli Recipe is sure to become a staple in your home! Perfect for serving a crowd since it pleases vegetarians and carnivores! Even kids love this pasta recipe... making it a great way to sneak in veggies! 
Ingredients
1 pound broccoli, cut into bite-size pieces
1 pound pasta
1 cup olive oil
6 cloves garlic, thinly sliced
1/4 teaspoon crushed red pepper flakes, optional 
1 cup white wine or chicken broth 
3/4 teaspoon salt
1/2 teaspoon black pepper 
1/2 cup Parmesan cheese, finely grated 
3 Tablespoons lemon juice
Instructions
Fill a large pot with water and bring to a boil over high heat. Add a dash of salt, then add the broccoli florets and cook until tender, about 6 minutes. Drain the broccoli and set aside until needed. 
Bring a large pot of water to boil over high heat. Add a dash of salt, then add the pasta and cook until al dente, about 9 minutes for most pasta brands. 
While the pasta cooks, make your sauce. In a large saute pan, warm the olive oil over medium heat. Add in the garlic and pepper flakes (if using) and cook for 1 minute, or until the garlic is fragrant and starts to shimmer. Add in the broccoli and wine (or chicken broth). Season with salt and pepper and simmer on medium-low for 8 minutes. 
Drain the pasta and return it to the pot. Increase heat to medium-high and stir in the broccoli sauce. Add the cheese and lemon juice and toss until well combined. Taste and add more salt and pepper if needed. 
Transfer to a large serving platter and serve at once!  
Courses Dinner
Cuisine Italian
Recipe by Baker by Nature at https://bakerbynature.com/easy-pasta-with-broccoli-recipe/