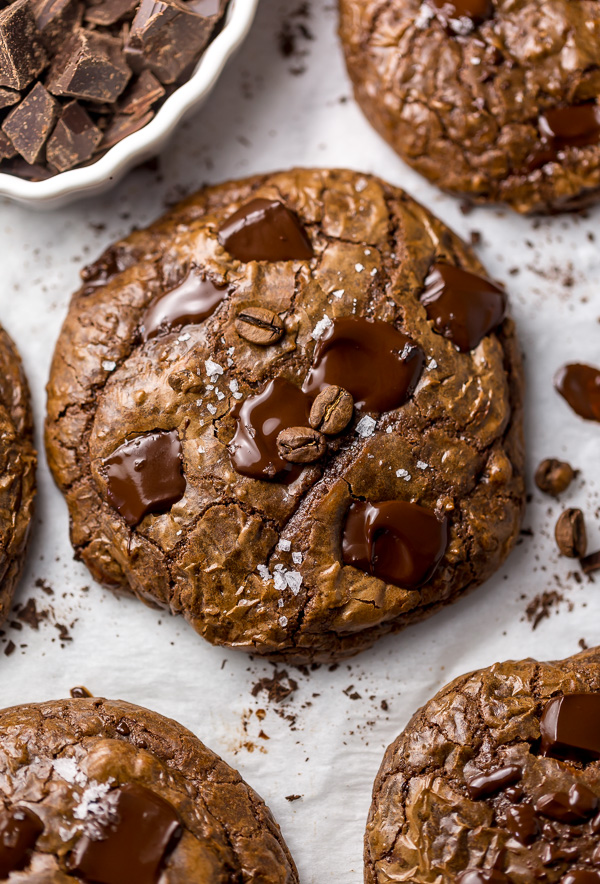 Espresso Chocolate Fudge Cookies
Yield 12 cookies
These Espresso Chocolate Fudge Cookies are thick and so decadent! A coffee lovers dream come true! 
Ingredients
1 cup plus 2 tablespoons all-purpose flour
3 tablespoons unsweetened cocoa powder
1 teaspoon baking powder
1/2 teaspoon salt
6 ounces semi-sweet chocolate, roughly chopped 
3 tablespoons unsalted butter
1 teaspoon espresso powder 
3/4 cup light brown sugar, packed 
1 and 1/2 teaspoons vanilla extract
2 large eggs, at room temperature
2 tablespoons freshly brewed coffee, slightly cooled 
1/2 cup chocolate chunks, plus more for decorating, if desired
1/3 cup espresso beans, finely chopped (use a food processor or blender for best results) 
Flaky sea salt, for sprinkling 
Instructions
Preheat oven to 325 degrees (F). Line two large baking sheets with parchment paper, lightly spray them with non-stick spray, and set aside.
In a medium-sized bowl whisk together the flour, cocoa powder, baking powder, and salt; set aside.
In a large, microwave safe bowl, combine one cup of the chopped chocolate and butter. Heat them in the microwave, on low power, in 15 second increments, mixing in between each, until butter and chocolate are completely melted and can easily be whisked smooth. Whish in the espresso powder.
Gradually, whisk in the sugar. Don't fret is the mixture looks dry here!
Add in the vanilla. Beat in eggs, one at a time, beating well after each addition. Beat in the coffee.
Add the dry ingredients into the wet ingredients, and stir to combine - be sure not to over mix here!
Fold in the chocolate chunks and espresso beans, stirring until everything is just combined. 
Scoop 1/4 cupfuls of the batter onto the prepared baking sheets. Bake one tray at a time, reducing the oven temperature to 300 degrees after you've put them in the oven. Bake for 16 minutes, or until the edges are set and the tops are dark and shiny. Press a few extra chocolate chunks on top of the warm cookies, if desired, and sprinkle with sea salt. 
Allow cookies to cool completely on the baking sheet before serving.
Cookies will keep, stored in an airtight container, for up to 2 days. 
Courses Dessert
Cuisine Cookies
Recipe by Baker by Nature at https://bakerbynature.com/espresso-chocolate-fudge-cookies/