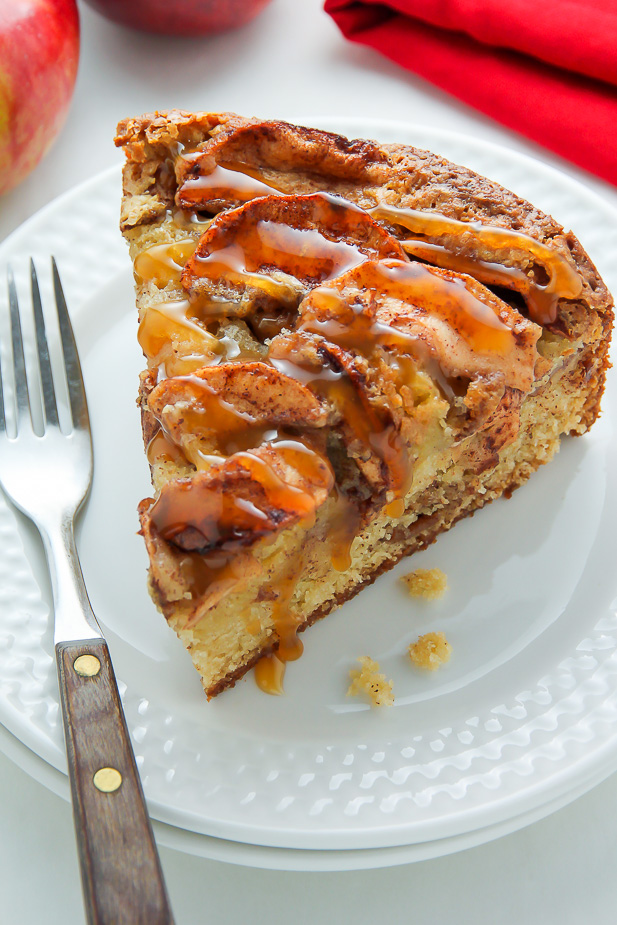 German Apple Cake
Moist and sweet German Apple Cake makes a lovely breakfast, snack, or dessert.
Ingredients
For the cake:
3 cups all-purpose flour
1 cup granulated sugar
1 1/4 cups light brown sugar, packed
2 1/2 teaspoons baking powder
1/2 teaspoon nutmeg
1/4 teaspoon ground ginger
1/4 teaspoon ground cloves
1 teaspoon salt
1 cup oil (vegetable or melted coconut)
1 tablespoon vanilla extract
4 large eggs, at room temperature
1⁄2 cup apple cider
For the apples:
4 large apples, peeled, and thinly sliced (use a few different varieties if possible)
1 tablespoon cinnamon
1/4 cup granulated sugar, separated
Instructions
For the cake:
Preheat oven to 350 degrees (F). Generously grease a tube pan or a 9" springform pan (a regular 9" baking pan will NOT work here); set aside.
In a large bowl combine the flour, sugars, baking, spices, and salt; whisk well to combine and set aside. In a separate bowl combine the oil, vanilla, eggs, and apple cider; whisk well to combine. Gently pour the wet mixture into the dry and using a rubber spatula fold the batter together until just combined. Set aside.
For the apples:
In a large bowl combine the apples, cinnamon, and sugar, mixing (I like to use my hands here) until apples are well coated in the cinnamon sugar.
Pour half of the batter into the prepared pan, the layer half of the apples, then add remaining batter, topping it with the remaining apples. Bake for 1 and 1/2 hours, or until a tester inserted in the center of the cake comes out clean. Cool cake in pan for 20 minutes, then gently run a knife around the edge of the pan, loosening any edges that may be stuck. Remove cake from pan, slice, and serve. This cake goes great with ice cream or salted caramel sauce.
Courses Dessert
Cuisine Cake
Amount Per Serving
% Daily Value
Recipe by Baker by Nature at https://bakerbynature.com/german-apple-cake/