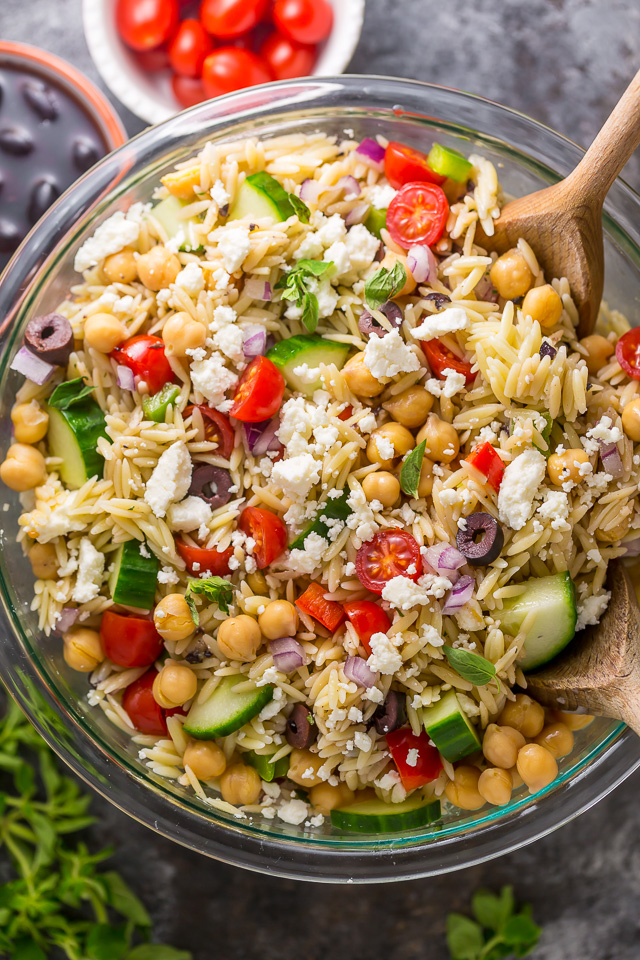 Greek Orzo Salad
Yield 8 servings
Greek Orzo Salad is healthy, delicious, and packed with fresh veggies! This pasta salad is the perfect side dish for Summer parties, picnics, and potlucks. To make it a full meal, add chicken, shrimp, or salmon!
Ingredients
1 pound orzo
1 english cucumber, sliced in half lengthwise then cut into half moons
2 cups cherry tomatoes
1/2 cup kalamata olives, pitted
1 small red bell pepper, seeds removed and diced
1 small green pepper, seeds removed and diced 
(1) 15.5 ounce can chickpeas, drained, rinsed, and patted dry 
1 small red onion, diced
(1) 8 ounce container crumbled feta
For the Red Wine Vinaigrette:
1/2 cup olive oil
2 cloves garlic, minced 
3 tablespoons red wine vinegar
1 and 1/2 Tablespoons Lemon Juice
1 teaspoon lemon zest
1 and 1/2 teaspoons dijon mustard 
1 teaspoon fresh Oregano, finely chopped (Or 1/2 teaspoon dried)
1 teaspoon granulated sugar
1/2 teaspoon salt (more or less to taste)
1/2 teaspoon ground black pepper (more or less to taste)
2 Tablespoons Kalamata olives, finely chopped 
Instructions
Place a large pot of salted water over high heat and bring to a rolling boil. Add orzo and cook until al dente, 7 to 8 minutes. 
Drain pasta and rinse under cold water until cool. 
Place pasta in a large serving bowl and set aside.
In the meantime, prepare the vegetables and dressing.
For the Red Wine Vinaigrette:
In a small bowl combine the olive oil, garlic, vinegar, lemon juice, zest, mustard, oregano, sugar, salt, pepper, and olives. Whisk well until completely combined. Add dressing to orzo.
Add vegetables, olives, chickpeas, and feta to the orzo bowl and mix well to combine. Season with salt and pepper, if desired.
Serve at once, or chill until needed.
Courses Dinner
Cuisine American
Recipe by Baker by Nature at https://bakerbynature.com/greek-orzo-salad/