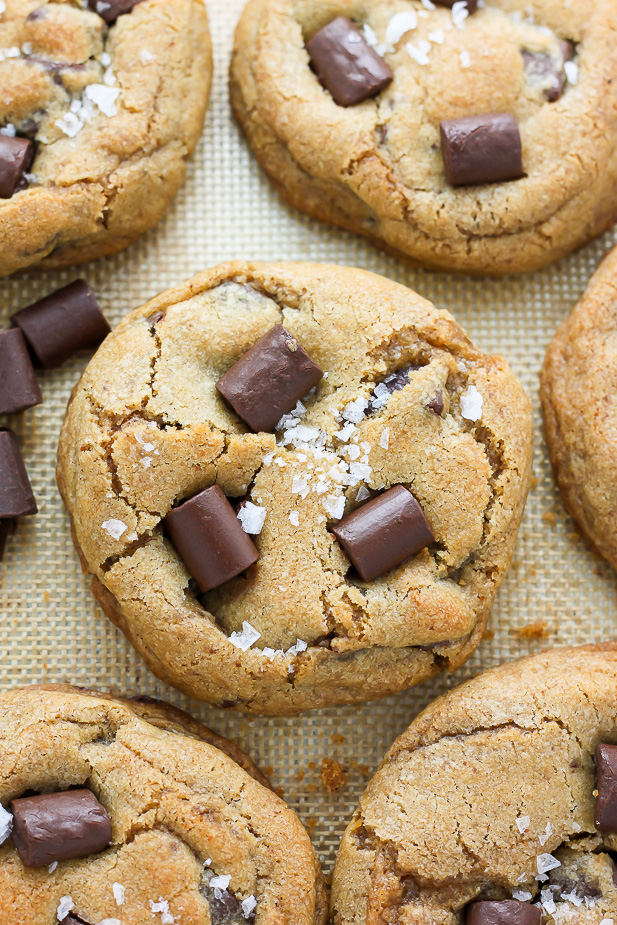 Greek Yogurt Chocolate Chunk Cookies
Yield 2 dozen cookies
Thick, chewy, and loaded with chocolate chunks, these Healthier Greek Yogurt Chocolate Chunk Cookies are a keeper!
Ingredients
1 and 1/4 cups whole-wheat flour
1 and 1/4 cups all-purpose flour
1 teaspoon baking soda
1/2 teaspoon salt
4 ounces (1 stick) unsalted butter, at room temperature
1 cup firmly packed dark brown sugar
1/2 cup granulated sugar
2 teaspoons vanilla extract
2 large eggs, at room temperature
1/2 cup *full-fat Greek yogurt
2 cups dark or semi-sweet chocolate chunks
Flaky sea salt, for sprinkling, optional
Instructions
In a medium-sized bowl combine the flours, baking soda, and salt; whisk well to combine; set aside.
In the body of a stand mixer fitted with the paddle attachment or in a large bowl using a handheld electric beater, beat the butter, sugars, and vanilla on medium-speed until light and fluffy; about 2 minutes.
Add in the eggs, one at a time, beating well after each addition, and scraping down the sides as necessary. Add in the Greek yogurt, beating just until incorporated. Reduce the mixer speed to low and add in the dry ingredients, beating just until combined.
Turn the mixer off and stir in the chocolate chunks with a wooden spoon.
Cover the bowl with a piece of saran wrap and refrigerate for at least 3 hours - up to 24 hours (allow the dough to slightly come to room temperature if in the fridge longer than 3 hours; just until it's easy to scoop).
30 minutes prior to baking, preheat your oven to 375 degrees (F). Line two large baking sheets with parchment paper; set aside.
Using a large spoon or melon baller (preferred), scoop out 3 tablespoon sized rounds of dough; using your hands roll the dough into a ball, then place on the prepared baking sheet. Repeat with all of the cookie dough, spacing them 2 inches apart on the baking sheet.
Bake cookies - one sheet at a time - for 11-15 minutes, or until golden brown. Sprinkle warm cookies with sea salt (if using).
Allow cookies to cool for 5 minutes on the baking sheet, then transfer to a wire rack to cool completely.
Notes
*This recipe requires FULL-Fat Greek Yogurt; using a lower fat variety will not yield the same results. *For thick and chewy cookies it is important to chill the dough for a minimum of 3 hours. *If you refrigerate your dough longer than 3 hours it may be too hard to scoop at first. Simply allow the dough to sit at room temperature for 15 minutes before scooping and baking.
Courses Dessert
Cuisine Cookies
Amount Per Serving
% Daily Value
Recipe by Baker by Nature at https://bakerbynature.com/greek-yogurt-chocolate-chunk-cookies/