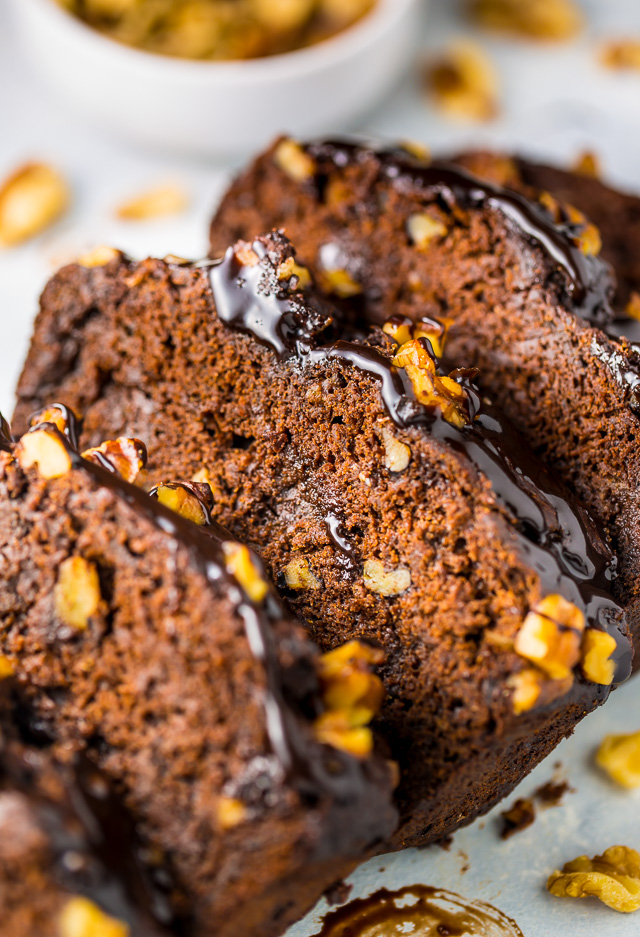 Healthy Chocolate Banana Bread
Yield 8 slices
Healthy Chocolate Banana Bread is made with ingredients you can feel good about!
Ingredients
1 cup plus 2 tablespoons whole wheat flour
1/2 cup unsweetened cocoa powder, sifted
1 teaspoon baking soda
1 teaspoon baking powder
1/2 teaspoon salt
3/4 teaspoon ground cinnamon
1/3 cup coconut sugar (use 1/2 cup for a sweeter loaf)
1/3 cup coconut oil, melted
2 large eggs, lightly beaten, at room temperature
3 teaspoons milk (cow's milk, almond milk, or coconut milk are all fine!)
2 teaspoons vanilla extract
1 and 1/2 cups VERY ripe banana, peeled and mashed (about 5 or 6 bananas)
3/4 cup chopped walnuts, optional
1/2 cup semi-sweet or dark chocolate, chopped into small chunks, optional
Instructions
Preheat oven to 350 degrees (F). Line a loaf pan with parchment paper and lightly spray with non-stick spray; set aside.
In a medium bowl whisk together whole wheat flour, cocoa powder, baking soda, baking powder, salt, and cinnamon; set aside.
In a large bowl combine coconut sugar, coconut oil, eggs, milk, and vanilla; beat until combined. Stir in the mashed bananas. Add in the dry ingredients and stir just until combined. Fold in the walnuts and chocolate chunks, if using.
Pour the batter into the prepared loaf pan, smoothing the top with a spatula. Bake for 1 hour, or until a cake tester inserted in the center of the loaf comes out clean. Allow bread to cool in the pan for 15 minutes before removing the loaf from the pan and transferring to a wire rack to cool completely. Once cool, slice and serve.
Notes
For substitution ideas, please read full post - especially tips and tricks section!
Courses Breakfast
Cuisine Bread
Amount Per Serving
% Daily Value
Recipe by Baker by Nature at https://bakerbynature.com/healthy-chocolate-banana-bread/