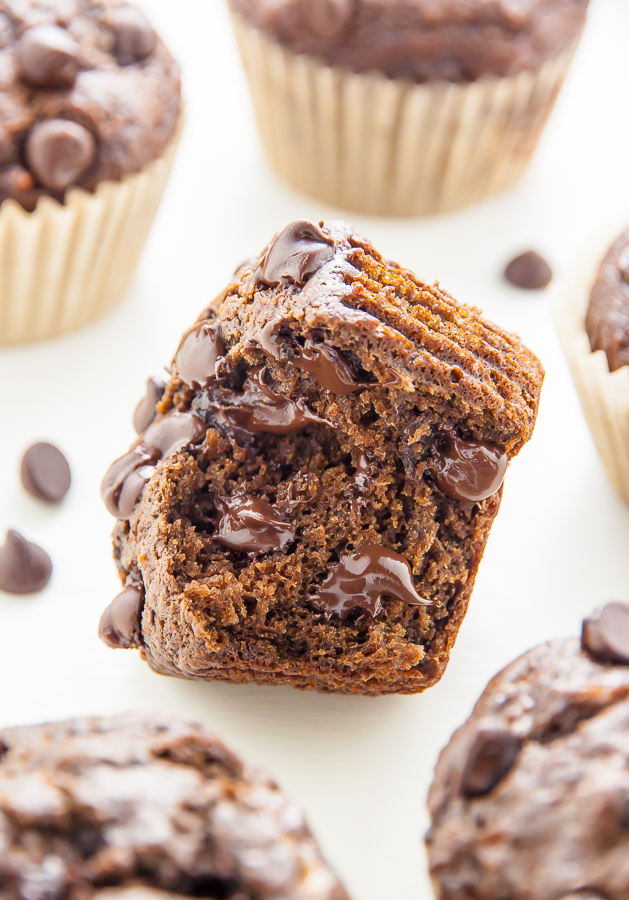 Healthy Double Chocolate Banana Muffins
Incredibly DECADENT but Healthy Double Chocolate Banana Muffins! This recipe is dairy-free, nut-free, and vegan.
Ingredients
1 and 3/4 cups whole wheat flour
1/4 cup unsweetened cocoa powder
1/2 cup coconut sugar
3 teaspoons baking powder
1/2 teaspoon baking soda
1/4 teaspoon salt
1 and 1/3 cups ripe mashed banana
1/3 cup applesauce 
1/4 cup coconut oil, melted
1/3 cup dark chocolate chips (more if desired).
Instructions
Preheat oven to 400 degrees (F). Line a muffin pan with paper liners; spray liners lightly with non-stick spray and set aside. In a large bowl whisk together the flours, cocoa powder, coconut sugar, baking soda, baking powder, and salt; set aside. In a separate bowl combine smashed bananas, applesauce and coconut oil; whisk well to combine. Add wet mixture to flour mixture and stir just until moistened. Fold in chocolate chips.
Divide batter evenly among prepared muffin cups. Bake at 400 degrees for 10 minutes, then reduce the heat to 350 degrees and bake for another 10 minutes, or until a toothpick inserted in center comes out clean. Be sure not to over bake or muffins will become dense! Allow muffins to cool for 5 minutes in the pan before transferring them to a wire rack. Serve warm or at room temperature.
Courses Breakfast
Cuisine Muffins
Amount Per Serving
Calories 181
% Daily Value
Recipe by Baker by Nature at https://bakerbynature.com/healthy-double-chocolate-banana-muffins/