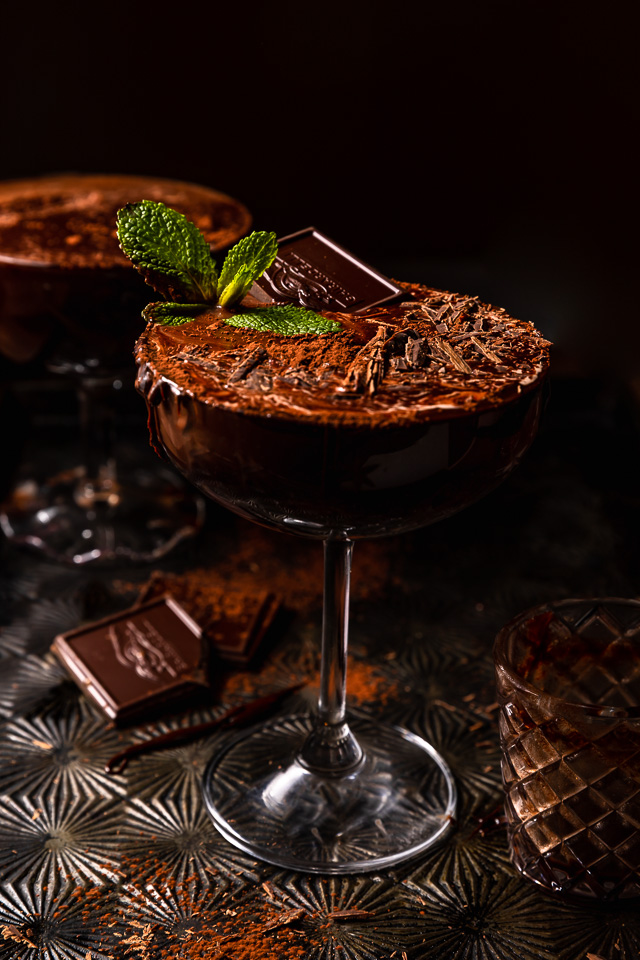 Homemade Chocolate Martini Recipe
Yield 1 Cocktail
Chocolate lovers will go crazy for this decadent Homemade Chocolate Martini Recipe! Made with a homemade chocolate syrup instead of chocolate liqueur, they're not too sweet and won't give you a stomach ache after one sip! Garnish the martini glasses with cocoa powder, chocolate curls, or a sprig of fresh mint!
Ingredients
1 cup water
1/4 cup Dutch-process cocoa power
1/2 ounce 60% dark chocolate, chopped
1/8 cup granulated sugar
1/8 cup light brown sugar, firmly packed
1 teaspoon vanilla extract
1 and 1/2 ounces vodka (I like using vanilla vodka but regular is fine)
1 and 1/2 ounces dark creme de cocoa
1 and 1/2 ounces half and half
Instructions
In a small saucepan, combine the water, cocoa powder, chocolate, and both sugars. Bring to a boil. Remove from heat and stir in the vanilla.
Strain through a fine mesh strainer and let cool. You can store this in the fridge for up to a week!
When ready, fill a cocktail shaker full of ice. Pour in the vodka, creme de cocoa, half and half, and 2 ounces of the chocolate syrup.
Shake vigorously, then strain into a cocktail glass! Doll it up with shaved chocolate curls and a mint sprig, and drink right away!
Courses Cocktail
Cuisine American
Recipe by Baker by Nature at https://bakerbynature.com/homemade-chocolate-martini-recipe/