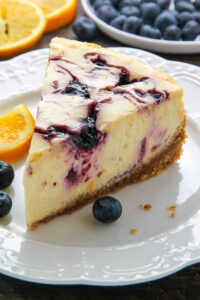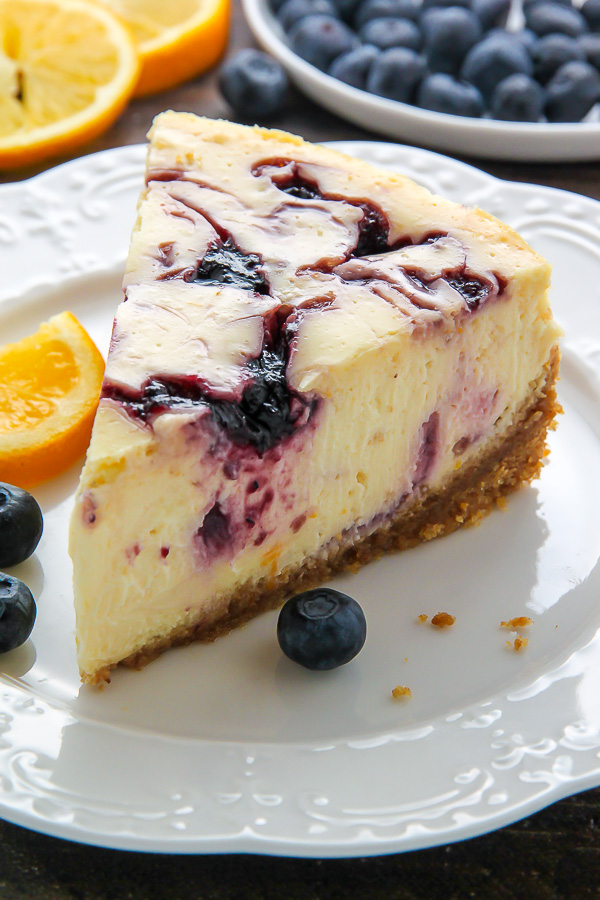 Lemon Blueberry Swirl Cheesecake
Sweet and supremely creamy, this easy-to-make Lemon blueberry swirl cheesecake is the perfect addition to any dessert table!
Ingredients
For the Crust:
2 cups Graham Crackers, pulsed into crumbs
1/3 cup Granulated Sugar
1/4 teaspoon Kosher Salt
6 tablespoons Unsalted Butter, melted
For the Lemon Cheesecake Filling:
3 (8 ounce) packages Full-Fat Cream Cheese, very soft
1 cup Full-Fat Sour Cream, at room temperature
1 1/4 cups Granulated Sugar
2 teaspoons Pure Vanilla Extract
3 large Eggs + 2 Egg Yolks, at room temperature
2 tablespoons All-purpose Flour
3/4 cup Fresh Lemon Juice
2 teaspoons Fresh Lemon Zest
For the blueberry swirl:
3/4 cup fresh or frozen blueberries
3 tablespoons granulated sugar
Instructions
Preheat oven to 325 degrees (F).
For the Crust:
In the body of a blender or food processor, combine graham crackers, sugar, and salt; pulse until the crackers have been completely transformed into fine crumbs. Add melted butter; stir well to combine. Press down into a lightly greased 9-inch springform pan; set aside.
For the Lemon Cheesecake Filling:
In the body of a high power blender, food processor, stand mixer fitted with the whisk attachment, or in a large bowl using a hand held mixer, beat the softened cream cheese and sour cream until smooth. Add sugar and vanilla; beat until smooth, scraping down the sides and bottom of bowl as needed. Add in the eggs and yolks; beat until smooth. Stir in the flour, mixing just until combined.
Quickly stir in the lemon juice and zest, mixing just until it's incorporated in the batter.
Pour filling into prepared crust, and spread the top smooth. Add blueberry swirl. Wrap the bottom of the pan in tin foil (I highly recommend doing several diligent layers here; no one wants a wet/soggy crust).
Place the cheesecake pan into another large pan (it should be wide enough to comfortably fit the springform pan holding the cheesecake and deep enough to hold a few inches of water without risk of a spill) . Fill the pan up with very hot water; it should rise half way along the cheesecake pan. This is your water bath and will help ensure your cheesecake comes out crack free. Be sure to pour the water in slowly, as you don't want any of it to splash up and get into the actual cheesecake!
Place pan into the preheated oven and bake for 1 hour and 20 minutes. Turn the oven off and let the cheesecake sit, undisturbed, for 45 minutes inside the oven, with the door shut. The cheesecake should be still slightly wiggly.
Remove the cheesecake from the oven, run a knife very gently around the edge of the cake, and let it sit in the pan for another 15 minutes before covering loosely with plastic wrap and refrigerating for at least 6 hours.
For the blueberry swirl:
In a small food processor or blender, puree the blueberries until completely smooth. Press the mixture through a fine mesh strainer, discarding seeds and pulp. Stir in the granulated sugar. Spoon the blueberry mixture on top of the unbaked cheesecake, a few dollops at a time. Use a skewer to swirl the mixture as much or as little as you'd like. Bake cheesecake as directed above.
Notes
*It is very important to bring your ingredients to room temperature when baking cheesecake - especially the cream cheese. I recommend sitting the blocks of cream cheese out on the counter for at least 2 hours prior to baking. *Full-Fat cream cheese and sour cream is what was used for this recipe and what I find yields the best results. Using reduced-fat or non-fat versions will alter the taste and texture of this recipe. *Meyer lemons may be used in place of regular lemons (In fact, that is what I used the final time testing this recipe). *Cheesecake (without any whipped cream on top) may be sliced and frozen for up to one month. *If you have any questions about the water bath prior to baking, please feel free to ask and I will walk you through it. *Table salt may be used in place of kosher salt.
Courses Dessert
Cuisine Cheesecake
Amount Per Serving
% Daily Value
Recipe by Baker by Nature at https://bakerbynature.com/lemon-blueberry-swirl-cheesecake/