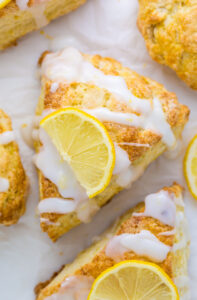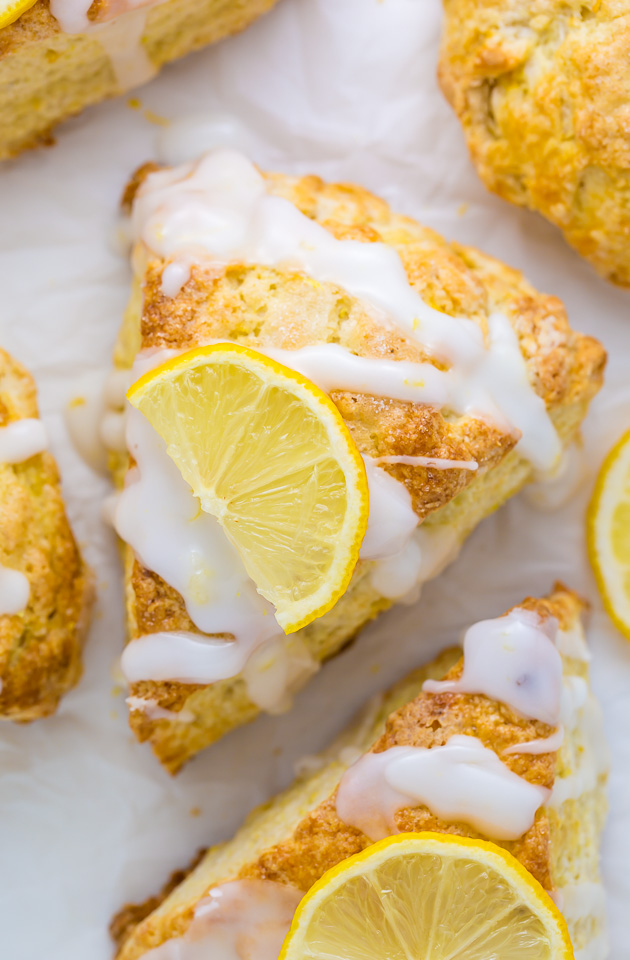 Lemon Ricotta Scones
Yield 8 scones
Soft and fluffy Lemon Ricotta Scones! Perfect for breakfast.
Ingredients
For the egg wash:
1 large egg, beaten
1 teaspoon milk or water
2 teaspoons granulated sugar
For the lemon ricotta scones:
2 and 1/2 cups all-purpose flour
1/2 teaspoon salt (kosher or table salt is fine)
1 tablespoon baking powder
1/2 teaspoon baking soda
1/3 cup granulated sugar
2 teaspoons lemon zest
1 stick (4 ounces) unsalted butter, VERY cold and cut into tiny pieces
1 large egg, lightly beaten
1/2 cup (Whole Milk) ricotta cheese
3 tablespoons fresh lemon juice
1/2 teaspoon lemon extract (optional, but amps up the lemon flavor)
2 tablespoons sugar, for sprinkling
For the lemon glaze:
2 tablespoons fresh lemon juice
1 teaspoon lemon zest
3/4 cup confectioners sugar
Instructions
For the egg wash:
Preheat oven to 400°(F). Line a large baking sheet with parchment paper; set aside.
In a large bowl mix together flour, salt, baking powder, baking soda, sugar and lemon zest.
Cut the butter into small cubes then quickly work it into the mixture (using two forks or a pastry cutter) until lit resembles a coarse meal.
In a small bowl whisk together the egg, ricotta cheese, lemon juice and lemon extract (if using), then add to flour and butter mixture. Use a fork to stir everything together until just moistened. Don't worry if it looks clumpy at this point!
Pour the shaggy dough out onto a clean, lightly floured work surface and shape the dough into an 8-inch circle. Cut the dough into 8 wedges and carefully transfer to the prepared sheet.
Lightly brush each scone with the egg wash, then sprinkle the top of each scone with sugar.
Bake for 18-20 minutes, or until the tops are lightly golden brown.
Cool for 10 minutes on the baking sheet. In the meantime, make your glaze.
For the lemon glaze:
In a small bowl whisk together the lemon juice and confectioners sugar. Drizzle over warm scones and serve at once.
Notes
Scones may be frozen, without the glaze, for 2 months. Store in an airtight container in the freezer.
Courses Breakfast
Cuisine American
Amount Per Serving
% Daily Value
Recipe by Baker by Nature at https://bakerbynature.com/lemon-ricotta-scones/