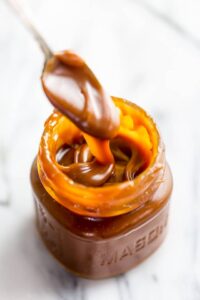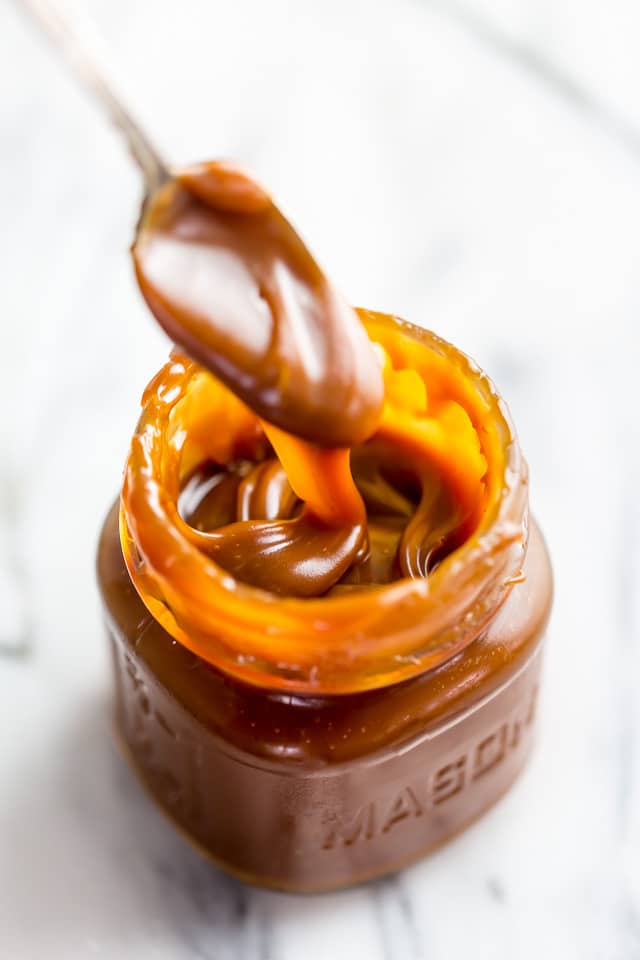 Easy Homemade Salted Caramel Sauce
Yield 1 cup
This is an easy and foolproof recipe for Salted Caramel Sauce! If you have 20 minutes, you can make this!
Ingredients
1 cup granulated sugar
1/2 cup water
4 ounces (1 stick) butter
1/2 cup heavy cream
1/2 tablespoon pure vanilla extract
1 teaspoon flaky sea salt
Instructions
Whisk together granulated sugar and water in a medium-sized saucepan with tall sides.
Cook over medium-low heat until the sugar is completely dissolved, about 3 to 5 minutes, but maybe a little longer depending on your stove.
Add in the butter and bring the mixture to slow boil over medium-heat. Continue cooking until the mixture turns a deep golden brown/copper color, about 9 to 10 minutes, maybe longer depending on your stove. Do not stir during this process!
Once the caramel reaches this color, remove from heat and immediately add in the heavy cream. Be very careful during this step - the caramel will hiss and bubble up aggressively!
Finally, stir in the vanilla and sea salt. Vigorously whisk the mixture smooth and set aside to cool. Store caramel in the fridge until needed.
Notes
You may use salted or unsalted butter.
You may make this caramel sauce up t0 2 weeks in advance. Just be sure to tightly cover it (I love storing mine in mason jars)  and store it in the refrigerator.
Heavy cream can be found in the diary aisle in most grocery stores. Whipping cream may also be used. Do not use milk!
All stoves run a little differently, so be sure to watch the caramel as it evolves, and time accordingly. You might need to add an additional 5 or even 10 minutes to the boil time if your stove top runs low.
Courses Dessert
Cuisine Candy, Sauces
Recipe by Baker by Nature at https://bakerbynature.com/make-easy-salted-caramel-sauce/