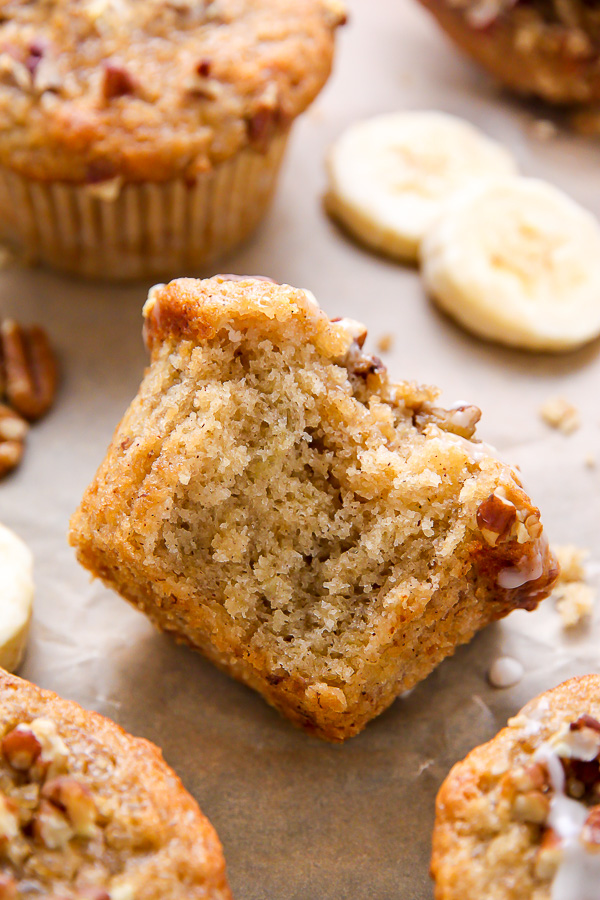 Maple Pecan Banana Muffins
Yield 1 dozen
Moist and flavorful maple pecan banana muffins make a wonderful breakfast, snack, or even dessert.
Ingredients
For the muffins:
1 and 3/4 cups all-purpose flour (be sure not to pack your flour)
1 cup light brown sugar, packed
1 tablespoon baking powder
1/2 teaspoon salt
1 teaspoon ground cinnamon
1/2 teaspoon ground nutmeg
1 cup mashed banana (please use very VERY ripe bananas)
1/2 cup almond milk
1/2 cup coconut oil, melted
1 teaspoon pure vanilla extract
2 and 1/2 tablespoons maple syrup
1/2 cup toasted pecans, chopped
Garnish (optional):
1/4 cup pecans, roughly chopped
1/4 cup turbinado sugar
For the cinnamon glaze (optional):
1 cup confectioners' sugar
1-2 tablespoons water
1/2 teaspoon cinnamon
1/8 teaspoon salt
Instructions
Preheat oven to 400 (F). Line a twelve-muffin tin with paper liners; lightly spray liners with non-stick baking spray and set aside.
In a medium-sized bowl mix together the flour, brown sugar, baking powder, salt, cinnamon, and nutmeg. In a separate medium-sized bowl, whisk together the mashed banana, almond milk, coconut oil, vanilla extract, and maple syrup. Pour the wet ingredients into the dry and mix until just combined, being sure not to over mix. Fold in pecans.
Divide the batter evenly among the prepared muffin liners. Sprinkle each top with a tablespoon of chopped pecans and a tablespoon of turbinado sugar, if using. Bake for 18 to 20 minutes, or until a toothpick or cake tester inserted in the center comes out clean, or with just a few moist crumbs attached. Drizzle with glaze right before serving, if using. Serve warm.
For the cinnamon glaze (optional):
Combine all of the ingredients in a small bowl and whisk smooth. If the glaze appears too thick, add a little more water; if the glaze appears too thin, add a little more sugar.
Notes
*Soy, coconut, or cow's milk may be used in place of the almond milk. *Canola or vegetable oil may be used in place of the coconut oil.
Courses Breakfast
Cuisine American
Amount Per Serving
% Daily Value
Recipe by Baker by Nature at https://bakerbynature.com/maple-pecan-banana-muffins-vegan/