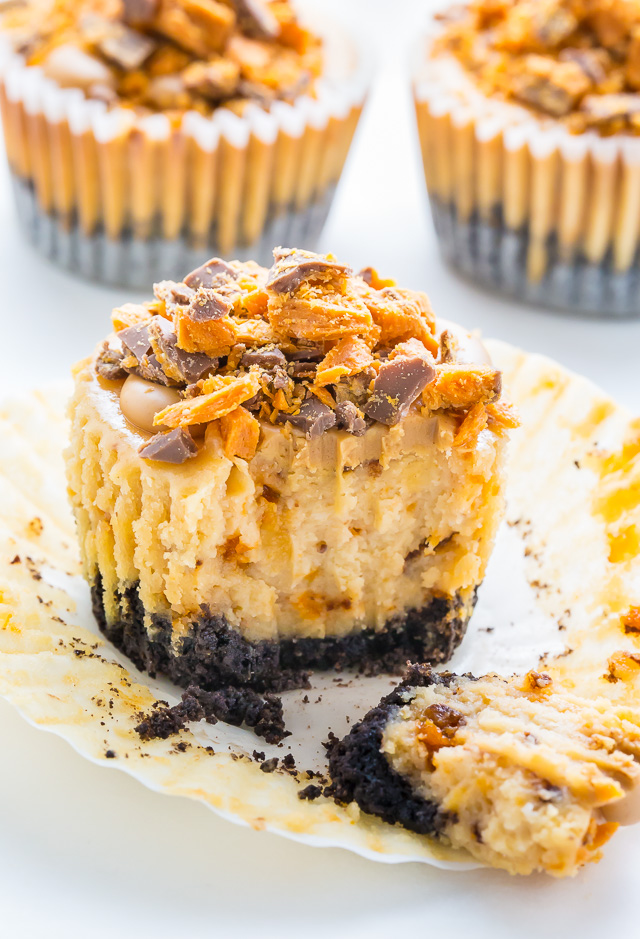 Butterfinger Cheesecake Cupcakes
Yield 1 dozen cheesecake cupcakes
Mini Peanut Butter Butterfinger Cheesecakes! These tiny treats pack a TON of flavor!
Ingredients
For the Oreo Crust:
14 Oreo cookies
2 tablespoons unsalted butter, melted
For the Peanut Butter Butterfinger Cheesecake Filling:
12 ounces Full-Fat Cream Cheese, very soft (use brick-style cream cheese for best results)
1/2 cup full-fat sour cream, at room temperature
1/3 cup creamy peanut butter
3/4 cup Granulated Sugar
2 large Eggs plus 1 Egg Yolk, at room temperature
1 and 1/2 tablespoons All-purpose Flour
2 full-size Butterfinger candy bars, chopped into bits
For the Peanut Butter Glaze:
1/2 cup creamy peanut butter
1 tablespoon confectioners' sugar
Garnish:
1 full-size Butterfinger candy bar, chopped into bits
Instructions
Preheat oven to 325 degrees (F). Line a 12-cup muffin tin with paper liners, lightly spray liners with non-stick spray and set aside.
For the Oreo Crust:
Add the Oreo cookies to the body of a small food processor or blender and pulse until the cookies are fine crumbs. Stir in the melted butter, mixing well to combine. Add 1 tablespoonful to each lined muffin cup. Press the crust firmly into an even layer. Bake in preheated oven 5 minutes then remove from oven and set aside to cool. In the meantime, make your filling.
For the Peanut Butter Butterfinger Cheesecake Filling:
In the body of a high power blender, food processor, stand mixer fitted with the whisk attachment, or in a large bowl using a hand held mixer, beat the softened cream cheese, sour cream, and peanut butter until smooth. Add sugar and beat smooth, scraping down the sides and bottom of bowl as needed. Add in the eggs and yolk and beat until combined. Turn the mixer off and, using a rubber spatula, gently stir in the flour, mixing just until combined. Stir in the butterfinger bits until they're incorporated in the batter. Divide the filling evenly among cups - pouring it on top of the prepared crust layer - adding about 1/4 cup of batter to each mold. The molds should be very full but not overflowing. Gently wiggle the pan back and forth to level the cheesecake filling. Bake in preheated oven for 22 to 24 minutes, or until cupcakes are puffed, set at the edges, and just a little jiggly in the center. Remove from oven and cool mini cheesecakes in the pan, placed on top of a cooling rack, completely, before transferring them to the refrigerator to chill for at least 2 hours. Once cool, top each cheesecake cupcake with a teaspoon of peanut butter glaze and garnish with chopped butterfingers. Store in the refrigerator, in an airtight container, until needed. Cheesecakes will keep, without the glaze, for 5 days.
For the peanut butter glaze:
Place the peanut butter in a small sauce pan over medium-low heat. Cook, stirring occasionally, until completely melted. Whisk in confectioners' sugar.
Notes
Recipe may be doubled. Cheesecake can be made ahead of time and stored in the fridge for up to 5 days WITHOUT the peanut butter glaze. Make and add glaze and garnish right before serving.
Courses Dessert
Cuisine Cheesecake
Amount Per Serving
% Daily Value
Recipe by Baker by Nature at https://bakerbynature.com/mini-peanut-butter-butterfinger-cheesecakes/